Located in Hayward California, ERZ Performance began as a home-based business in 2002. Now, they are boasting a 6,000 square foot warehouse and to help them drive sales online, they asked OC Designs Online to help them build a custom eBay store design.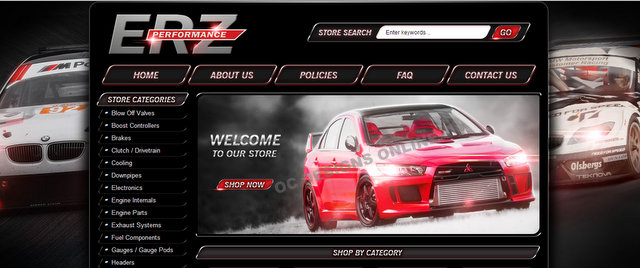 Car enthusiasts are always looking for ways to pump their ride and want better, stronger and more powerful performance parts. This is what ERZ Performance specializes in and as far as parts go, they've got the inventory you need!
From blow off values to boost controllers to engine parts to exhaust systems to fuel components, if you want your ride to go faster, ERZ Performance is your one-stop store!

Each and every one of our clients have different needs and for this car performance parts ecommerce retailer, we needed to find the right design to help them get noticed on eBay but also one that aligns with their corporate website—a strong and bold design that offers an engine-touch appearance!
Much like their website, for this eBay store design we made sure we inserted cars that scream power for the background of the storefront.
At the top is their eye-grabbing logo to the left and a search the store tool to the right. Next is the store's navigation bar where shoppers can learn more about ERZ Performance, read about their polices, contact the seller or browse their FAQ section. When shoppers mouse over these navigation headings, a bright red flash reels them in!
To the left sidebar is the store category menu with sub-headings where buyers can quickly shop by the type of performance parts they're looking for—each sub-heading turns a stunning red with a mouse-over.
To the center is the welcome text where we embedded a red-hot performance car—the image appears as if this hot-rod is driving—we even included the "smoke" behind the wheels. This area also includes a welcome to our store text and a bold red shop now button.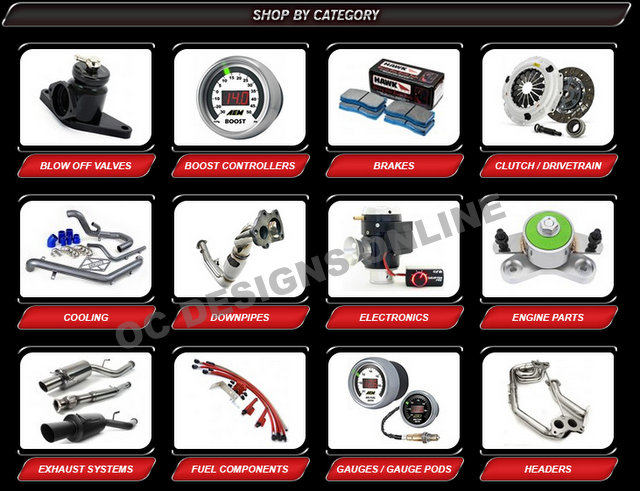 The mid-section of the store is another area where shoppers can browse parts by categories—all with stunning imagery and clickable boxes for easy navigation—and each box has its own red contrasting color to help this eBay storefront stand out.
To the left of the mid-section we inserted important why buys such as the type of payments they accept, a place for shoppers to sign up for a free newsletter and their customer service hours. Shoppers also learn they offer 24/7 tech/sales support and easy online ordering.
The bottom of this eBay store design offers a repeating logo and a mini sitemap to make store navigation a breeze.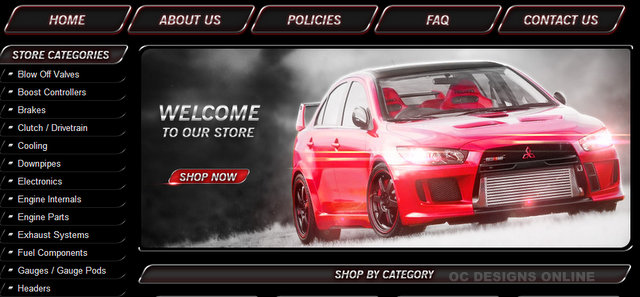 As with any online retailer, in order to compete with top sellers on eBay—no matter what you sell—a customized eBay store design helps retailers get noticed and also helps to build a brand identity.
At OC Designs Online, we are your #1 source for custom eBay store designs, so browse our portfolio and then contact us for an affordable quote—it's that easy to turn a bland eBay store into something special that drives sales.