OCDesignsonline has worked with many different companies on eBay, both large and small, but we were honored recently to have been contacted by one of the best companies in the computer industry, Microsoft, for a new eBay storefront design.
Microsoft, currently headed by Satya Nadella, creates products such as the XBOX, Windows computers, the Surface Pro, and much more. They "believe in what people make possible" and we couldn't agree more. With the power and customizability of these products, anything is possible.
We recently had the pleasure of putting together a search engine optimized (SEO) and mobile responsive design for this prestigious company and are excited to share with you some of the details that help this design perform above the rest.
Read about some of our design choices below and then make sure to contact us to get a quote on a design of your own. We have years of experience in many different platforms and industries, including eBay and computers, so you can trust us to sell you a design that works perfectly for what you are selling.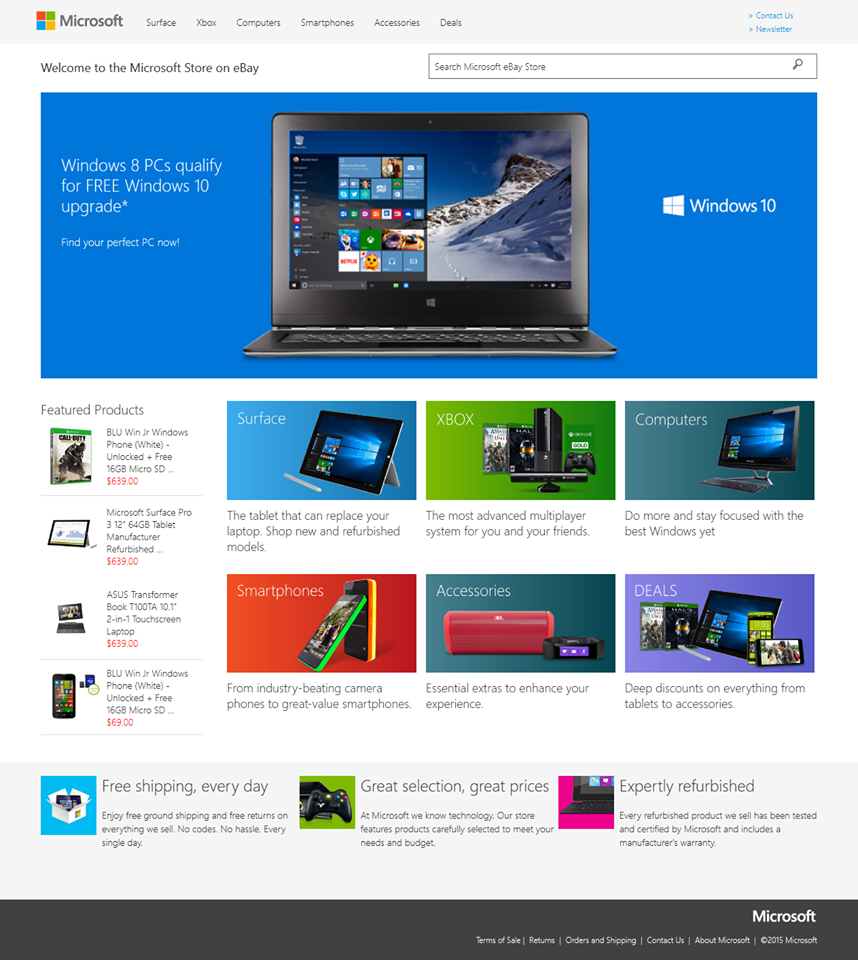 We combined current assets with eBay best practices to create the perfect design
Since Microsoft is an already established brand, we worked with their current photo assets to create a design that matches their home store and already established brand image. As a designer, it's important to work with everything at your disposal and with an already-stellar brand like this you have to make sure you are working to match the kind of design their customers expect.
For Microsoft's eBay design, that meant working with bold colors, a certain typography style, and utilizing white space to help each section stand out rather than creating a design with stock photography.
Additionally, with the high volume of mobile shoppers changing the eBay landscape, we made sure to create a design that would respond to different screen resolutions for the optimum experience. We discuss why it is an eBay best practice to have a mobile responsive design in one of our other posts, 3 things all eBay sellers need to be successful, so make sure to read that piece for additional details.
With a client like Microsoft, their store needed to perform on smart phones, tablets, and other resolution sizes. Responsive designs have moveable elements, so no page ever looks cluttered.
Each section is SEO optimized to create the best performing results
Beneath each category, we added a short blurb describing what they'd find in that section so that when this site is indexed by Google and other search engines the right keywords are grabbed in association with the site. Having their store policies also indexable helps people that are searching for particular deals (like free shipping) on computers and other electronics.
Beneath the search bar and welcome image, we also installed a Featured Products widget to promote discounted deals from Microsoft (like their refurbished Surface Pro or other products) and their new releases. Having an area for featured products is really helpful for larger stores when there is a lot of different avenues to explore as it helps the store show a glimpse of what they represent at a glance, which helps more potential customers convert.  
If you want to work with a company trusted by Miscrosoft, contact us for a free design quote.
Request a free quote now to get started
OCDesignsonline has a wide array of eBay listing templates to choose from on the site. Take a moment to browse our portfolio and request a free quote. Also, don't forget to find us on Facebook, follow us on Twitter and check out our Google+ Page too!