Yahoo! is in the ecommerce business and with the perfect Yahoo! Ecommerce store design you can stand above your competitors and sell more!

There's a reason tons of ecommerce retailers are turning to Yahoo! Ecommerce store solutions and some of those reasons are the ability to have your own page domain name and custom email, the ease of both customer and retailer control over shopping carts and you can also use social media like Facebook, Twitter and Pinterest right in your Yahoo! storefront!
At OC Designs Online, we've helped many ecommerce retailers with eBay, Volusion, Shopify and ChannelAdvisor store designs and now we're happy to say we also offer custom Yahoo! Ecommerce store designs—just like the one we created for the Accessory Tree.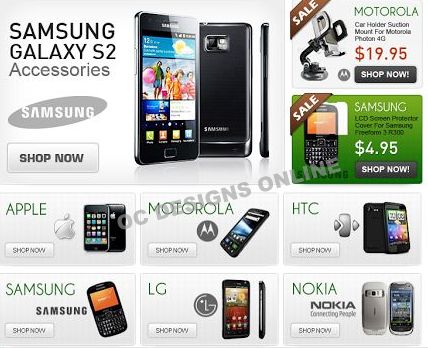 Based in California, the Accessory Tree carries cell phone cases, covers, holsters, wall chargers, car chargers, data cables and just about any cell phone accessory consumers need.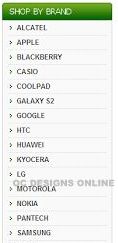 Yahoo! Ecommerce stores offer a lot and our graphic designers are excited about the area they have to work with! For the Accessory Tree we chose a colorful "tree" and sky background to enhance the store's design. What's nice about every Yahoo! Ecommerce store design is the continual store theme stays with the shopper as the browse the store or view products.
At the top of the store to the left is Accessory Tree's logo with their motto of "premium accessories for all." In the middle is the must-have search the store tool and to the top right shoppers can login to their account or view their shopping cart.
The top navigation bar is an essential element in every Yahoo! store design and is a place where shoppers can learn more about the Accessory Tree, read their shipping polices, are offered another place to view their cart and browse Top Shelf products, which is a great shop by brand name tool.
To the left sidebar, a shopper can easily find the accessories they need with the shop by brand heading and sub-headings. The mid-section of this Yahoo! store design really gets exciting because there's so much shoppers can do! For example, they can browse what's on sale, or choose from one of the many clickable boxes and browse favorite brands like Samsung, HTC, Motorola, Apple and more—all with exciting product imagery.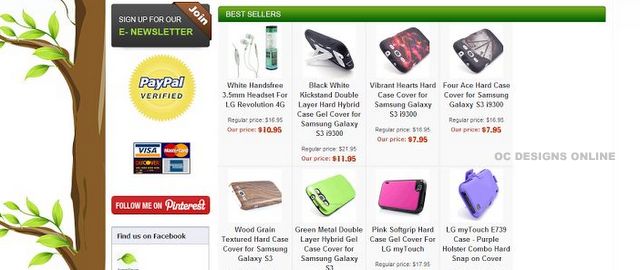 Also to the left sidebar is an easy-to-use shop by carrier tool with more sub-headings—a great way to find your cell phone carrier and then find those must-have accessories instantly.
Within a Yahoo! store design there is also ample room for the "welcome to our store" text. Beneath this welcome section shoppers can browse Accessory Tree's best sellers—again with clickable boxes and product imagery.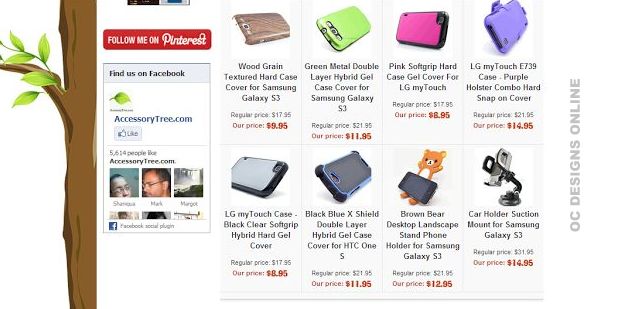 To the left of the best sellers is a place where shoppers can sign up for a free newsletter and learn about the types of payments Accessory Tree accepts—and learn they are also PayPal verified—a trusted essential in ecommerce selling.
Next to the left comes the social media elements we are excited about. Shoppers can instantly "like" or follow this Yahoo! ecommerce retailer on Facebook or find them on Pinterest.
The bottom of this Yahoo! store design is rounded out nicely with the background "tree" embedded into the earth with grass and animal design elements. Finally, the brown earth (under the grass) section offers a helpful tools for brand building and more social media icons for Facebook and Twitter—and a place where the Accessory Tree can post customer testimonials.

Building a brand on any ecommerce platform is best thing online retailers can do, and we think those who shop the Accessory Tree will remember this store and return again and again.
Custom Yahoo! store designs will help you tower over your competitors so whether you are new to Yahoo! Ecommerce or have an existing store, request an affordable quote from OC Designs Online and leave the professional graphic design to us!
Be sure to browse our ecommerce portfolio and don't forget to find us on Facebook!