Every day is like Christmas when you work in design, particularly because we get to make unique designs for all kinds of stores for dozens of clients monthly. This kind of variety makes work exciting and we are overjoyed that what we create helps our customers excel in the digital space.
Today we are sharing the design we created for Ultimate Autographs, a store that sells sports autographs. This black and grey design helps our clients sell more and we are going to share a few of the reasons why below.
Why Shop With Us? banners help share value
The logo for this client features a fountain pen, something that can be used for autographs. It's subtle, but once it is noticed, it brings a nice connotation to the store. This welcome image we created for Ultimate Autographs features a pop of red, sharing a small representation of the store customers are shopping in.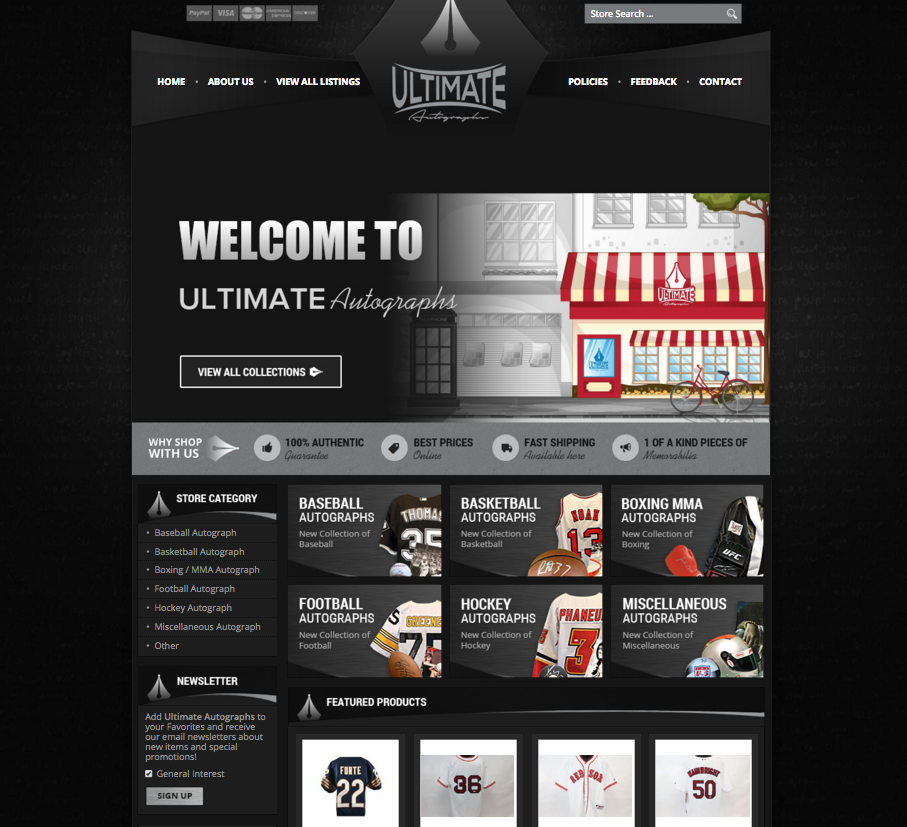 Beneath the welcome image, we created a "Why Shop With Us?" banner that shows the value that prospective customers can gain from our client, like their authenticity guarantee and one of a kind pieces of memorabilia. Sharing these aspects of a store in an engaging way helps new customers feel trust in their decision to shop with our client, helping them sell more.
The custom listing template takes this store to the next level
Custom eBay listing templates help stores sell more because most shoppers find listings through search functions, meaning a listing template is often a seller's first impression. These first impressions can make or break an eBay seller because if it is an unorganized and unhelpful space the listing template can turn a customer away from shopping.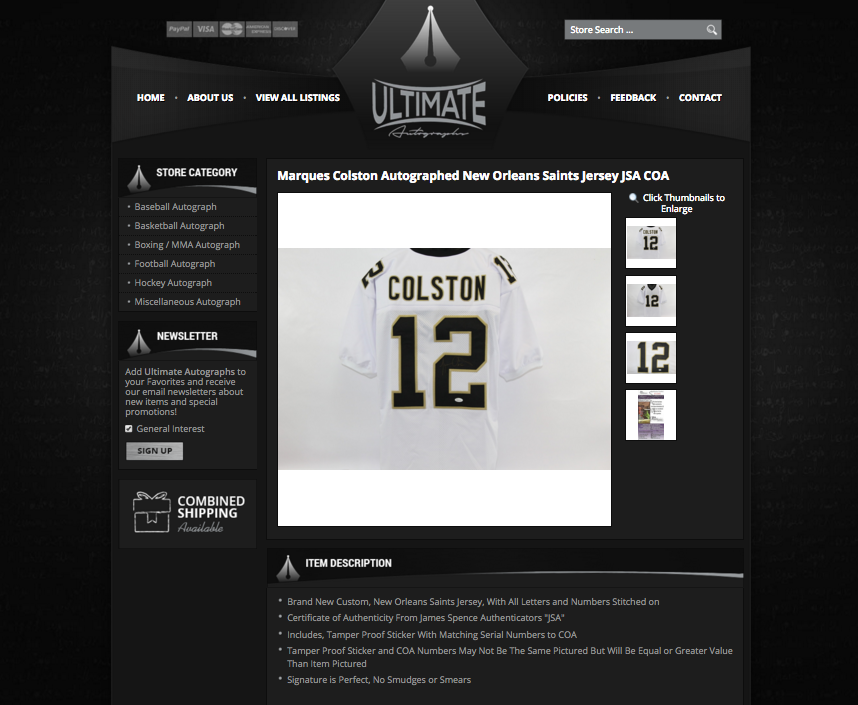 Our eBay listing templates help customers stand out, with unique designs that show customers everything they want to know while also encouraging them to look for more products from our client. Our templates help customers sell more, especially since they were tailored made to match the storefront – which free online templates won't do.
If you want your store to sell more, having a custom made design with a matching template is a very important part of your journey. Contact us as soon as you can to get started.
Other sports clients we've represented:
Request a free quote now to get started
OCDesignsonline has a wide array of eBay listing templates to choose from on the site. Take a moment to browse our portfolio and request a free quote. Also, don't forget to find us on Facebook, follow us on Twitter and check out our Google+ Page too!