Welcome back, OCDesignsonline friends and clients! We are here to start the new year with a design story for one of our recent clients, Five Deals. This client sells electronic items, video game products, sports and outdoor equipment, as well as photo and video equipment. Five Deals offers a 100% satisfaction guarantee and 24-hour shipping options for many products, we were excited to help them sell even more with this new design tailored to their needs and products.
This blue and yellow design helps products stand out
The welcome image we created for this store features engaging angles and strategically placed shadows to help the computer in the photo stand out, looking more 3D. Beneath the welcome image, we also have a clickable category area that features the categories our client represents used to engage customers to explore the shore for their shopping pleasure.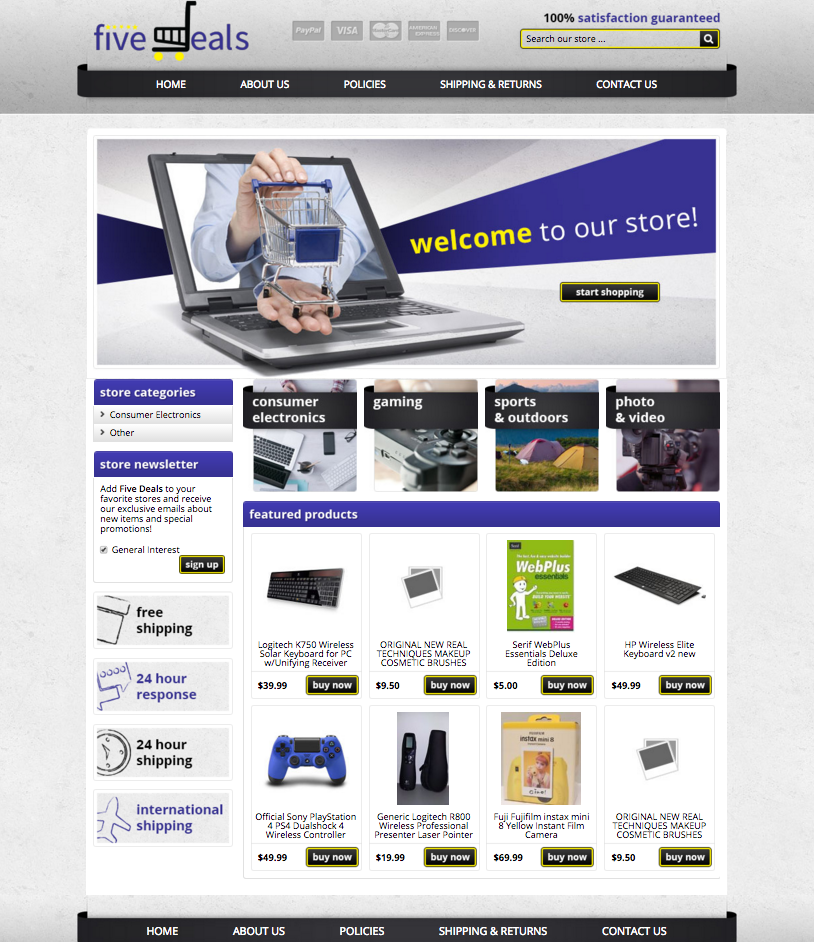 The Featured Products widget, in particular, helps eBay storefront owners sell more because it helps share products and limited edition deals at a glance. These areas are more clickable to customers, increasing average cart sizes and helping encourage more impulse sales.
Additionally, the banners to the left of the store share some of the benefits this store can offer customers – helping those browsing this store find more trust in becoming patrons with our client.
OCDesignsonline knows what works and what doesn't when it comes to selling on eBay. We've worked in this industry for years, tweaking our processes until we found the optimum formula to bring more sales and professionalism to our clients. We can do the same for your store. Contact us right away to gather your free design quote and get started on your new storefront design for the new year.
Other similar clients designed from our team:
Request a free quote now to get started
OCDesignsonline has a wide array of eBay listing templates to choose from on the site. Take a moment to browse our portfolio and request a free quote. Also, don't forget to find us on Facebook, follow us on Twitter and check out our Google+ Page too!