The great thing about eBay is that it can help shoppers find unique products that they may not have been able to find in popular mass retailers. eBay sellers have the unique privilege of being in complete control of their stock, meaning that they can make the best conglomeration of products for any hobby or niche market.
Today we are sharing some of the design story behind the eBay storefront design we created for Your Favorite T-Shirts, a store that sells unique branded products for many different TV shows, movies, comics, and other humor based shirts.
This store features a Top Sellers widget to encourage shoppers
In this black, brown, and blue design we have set up a clickable category image area to share examples of product sold, an attractive welcome image with a value-adding phrase, and much more.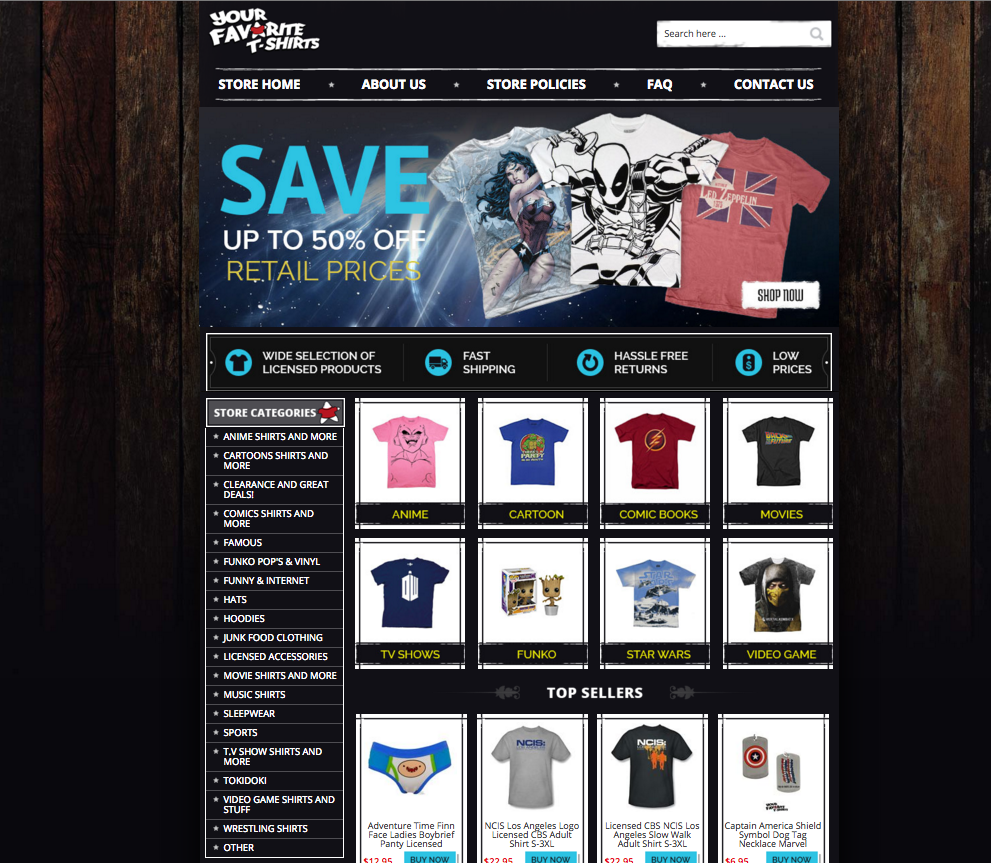 The section of featured Top Sellers helps our client sell more because it helps potential customers know right away that certain popular items are available at our client's store. It performs differently than a Featured Products section would because it shows something that customers influence – not just what products the seller thinks you should be interested in.
The expanded category list shows everything a customer would want to know
We've also helped customers find exactly what they need to find, by having the custom clickable category images feature themes while the full list of store categories to the left also shows  different types of products, like all hats or all hoodies. This way all customers can get the bet of both worlds, shopping by function or by theme.
Shopping on eBay should be a wonderful experience for your customers. We can help your store shine and perform with a well-thought out design from our team. Contact us right away so you can get a design to help you sell more this new year.
Other similar client examples:
Request a free quote now to get started
OCDesignsonline has a wide array of eBay listing templates to choose from on the site. Take a moment to browse our portfolio and request a free quote. Also, don't forget to find us on Facebook, follow us on Twitter and check out our Google+ Page too!