Hello current and prospective design clients, today we are sharing with you a design write-up that features the new eBay storefront we created for Burlap and Lace Boutique, a thrift-store fashion company that is family owned and operated.
We love working with clients that don't only help customers find great products, but also have a secondary mission. The family behind Burlap and Lace use their store as an education tool for their children, teaching them about financial responsibility and life. 
Check out their new store design below and make sure to get a free design quote afterward so we can get started on your new well-performing store.
This cheerful and friendly design appeals to many audiences
With a pale yellow backdrop, unassuming typeface, and a trendy shopper in the welcome image, this design appeals to many kinds of customers. While the casual photography style of in the product descriptions works well for regular eBay customers, the welcome image shares a commonality with very fashion oriented shoppers. Than the typeface and addition of children's products helps this store do well with parents as well, because it isn't an intimidating shopping experience filled with only on-trend items.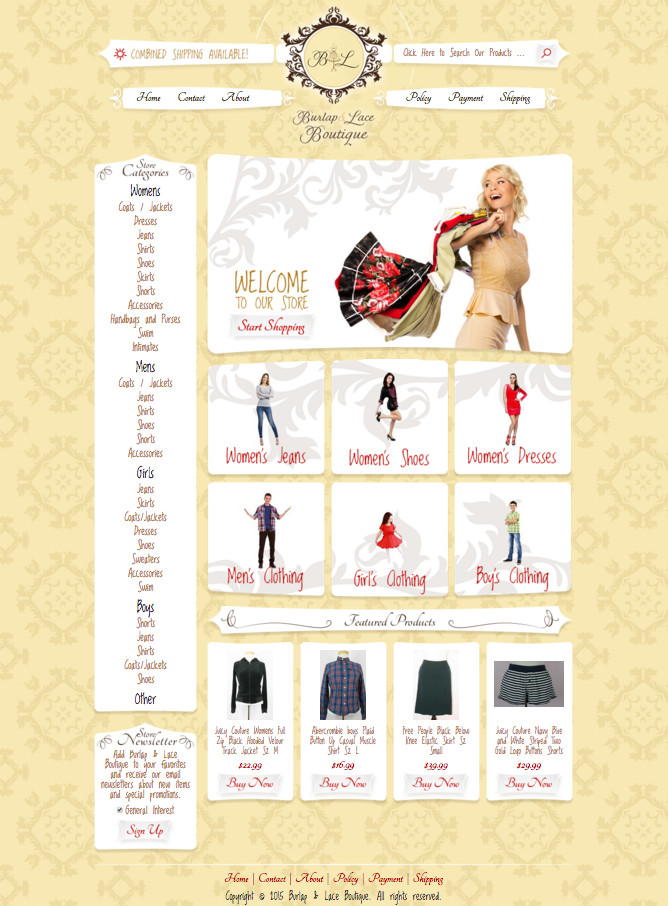 We love the versatile connotations this professional design brings for our client, helping them sell more. The Featured Products area beneath the clickable category images also helps this eBay store boost sales because it features some of their products at a glance, helping new patrons see what kind of products this seller offers and what may be on sale or in limited stock.
This store is selling more with their custom listing template
The custom listing template we created for our client matches their storefront, helping them share a cohesive brand story with their customers.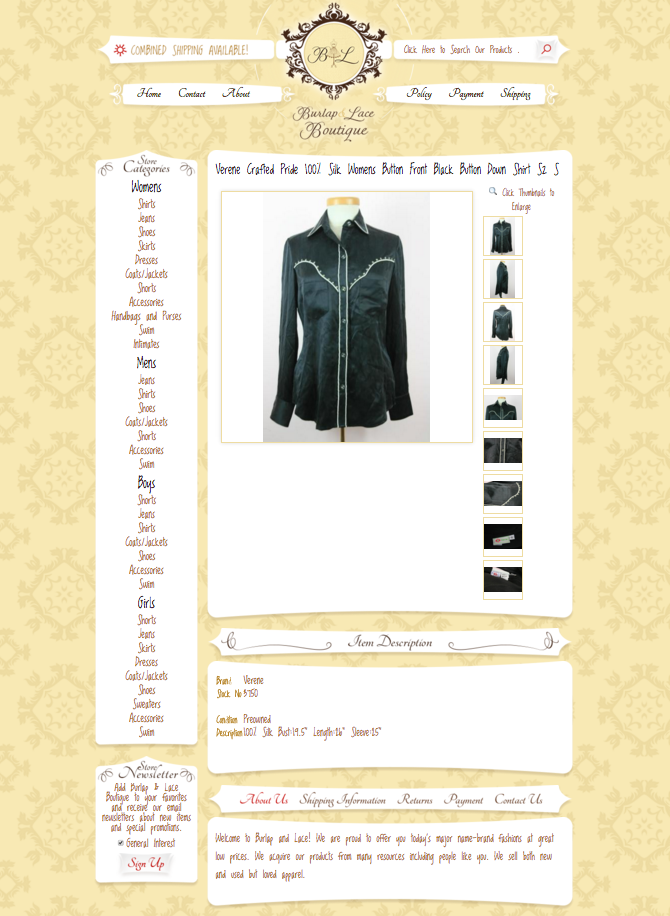 Since many eBay shoppers find products first, not stores, having a description area that matches the store is essential to bringing in more customers. The listing template we created for our client helps encourage shoppers to view more from this seller, shopping around and adding more than they normally would to their cart.
Other designs from our team that you may want to explore:
Request a free quote now to get started
OCDesignsonline has a wide array of eBay listing templates to choose from on the site. Take a moment to browse our portfolio and request a free quote. Also, don't forget to find us on Facebook, follow us on Twitter and check out our Google+ Page too!