The fun thing about eBay is that shopping on this site can be almost like treasure hunting. Once you find the motherload, you get excited! That is how we felt when we started looking through Brands Palace's eBay store in preparation for their new eBay storefront design.
Our client sells brand name fashion brands at sale prices so that everyone can buy the clothing and jewelry items they love at a discount. Love it! In today's post we are sharing the process behind creating their sales boosting design.
The color palette is important
For Brands Palace we choose a bold purple and a muted pink to create a fun atmosphere for girly girls to shop. Since the purple was so bold, we only used it in the heading areas so that it does not overwhelm the eye.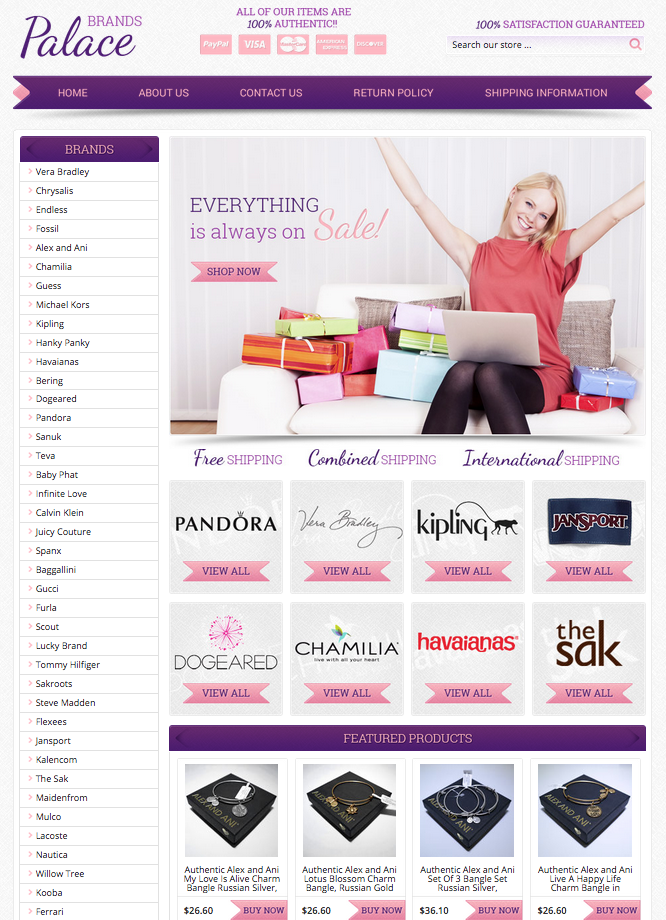 For the header image we chose an image of a happy girl that loves to online shop. The clothing she is wearing works for many seasons and is not overly trendy, meaning that it will work year round without having to be changed. The tones of her dress and tights also matches the color palette of the store.
Featured brands and products bring in higher sales
In this design we created a long list of brand categories to the left so that potential customers can find the brand that suits their style. Having all brands out in the open also makes these sections easy to index by search engines, which increases unique search impressions for the brand.
Additionally, we also featured the logos of a few brands in a featured brand section so that some of their high performing categories could be browsed by prospective customers.
Below that we added a featured products section. Having a featured products, or even daily deals, section increases sales because it brings to light more of what a brand has to offer and increases average cart sizes.
Contact us for a free quote now
OCDesignsonline has a wide array of eBay listing templates to choose from on the site. Take a moment to browse our portfolio and request a free quote. Also, don't forget to find us on Facebook, follow us on Twitter and check out our Google+ Page too!