There is nothing worse than a customer adding products to their cart and then leaving without making that final push to checkout. Here we are going to share a few tips on how you can help prevent this from happening in your store with a few actionable tips so that your eCommerce platform gets the most amount of sales possible.
Potential problem: Customers feel insecure with payment options
One reason why a customer could be abandoning their cart is the lack of payment options and/or security logos to assure them their money is secure. Offering more ways to pay, like different credit cards and/or a Paypal integration can easily solve this. While adding some payment options may require additional fees on your part, having more people shop with your store could make up for those fees in the long run.

Having a Paypal certified logo or other safe shopping verification can also help customers feel more trusting of someone they haven't shopped with in the past. Having these certification logos readily available, as part of your design, is a smart choice. This can be done with some coding or you can contact an eCommerce designer to make sure it is visible on your site while also giving your store a little face lift.
Potential problem: You store isn't optimized for mobile
Now, more than ever, shoppers are either researching or purchasing products using their phone or tablet devices, which is why we recommend getting a responsive design as one of the three resolutions every store owner should have in 2016. Having a design that adapts to the size of the screen is an essential in this changing environment because otherwise your store can appear very clunky, disorganized, and hard to shop with.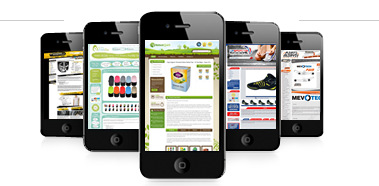 Responsive designs help stores sell more because the framing of the store moves automatically, depending on the screen resolution it's viewed on. This is something all eCommerce platforms have to have if they want to be a success in this changing environment.
Potential problem: Shipping costs are too high
Lastly, many customers abandon carts because of surprise processing charges or shipping fees. One way to combat this problem is too, obviously, lower shipping charges. But if that is not an option for the product in question, offering a limited edition coupon code on social media or to new mailing list subscribers could help incentivize customers to make sure they don't abandon their cart.
Or, you could make shipping costs more apparent to customers before they start browsing so that they know what to expect and aren't left feeling surprised at the checkout. You can do this by having an FAQ page with this information or by having a banner on the front page of your store advertising how much a customer would have to spend to qualify for free or reduced shipping.
The majority of these changes can be made with the help of a design team, if you'd like to know how you can get started – request a free quote from OCDesignsonline.