Our team at OCDesignsonline recently created a new storefront for Fashion For Play, an eBay store that sells 100% authentic sportswear clothing, and the design is perfect for their company image. Learn about our design process for this store below and then inquire about how you can get your own store redesigned as well.
Daily deals and featured products shine in this eBay design
Along with some category pages for different official sporting teams, we brought featured products up front and center in this custom eBay store design to create an environment that increases sales.
Sharing sale items or featured items on your storefront helps our client feature products that may have a higher profit margin or are easy add-ons for shoppers, this encourages a fuller shopping cart. Additionally, we added a sign underneath the category listings that says combined shipping is available. Many eBay stores don't provide this option so sharing this openly with our client's customers also helps them increase product turnover.
It goes without saying but we also created a lovely logo that shows a fun and chic vibe for this sportswear store, in a bright blue so that it can appeal to both male and female shoppers.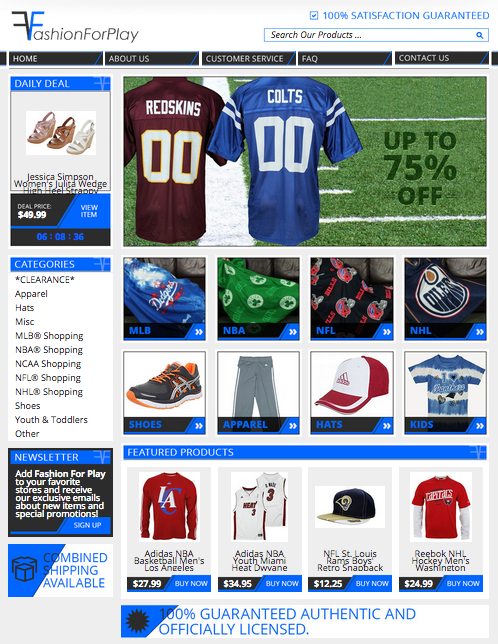 Custom FAQ page helps customers feel informed about their decisions
Being upfront with customers is an important aspect of an eBay seller's store, which is why we encourage all stores we design for to have an FAQ and about page. In this design for Fashion For Play, we listed the FAQ in an easy to find area. This may seem like something easy to overlook but it makes a noticeable impact for clothing stores in particular since they have similar questions that need answering (like sizing and restock policies). Treat your customers as they want to be treated, and they will come back for more. We were happy to help Fashion For Play reach this end.
Contact OCDesignsonline for a free quote today on your new eBay design
OCDesignsonline have a wide array of eBay listing templates to choose from on the site. Take a moment to browse our portfolio and request a free quote. Also, don't forget to find us on Facebook, follow us on Twitter and check out our Google+ Page too!