OCDesignsonline has worked with so many amazing clients over the years, bringing our design portfolio to include so many different kinds of looks. Today we are sharing a very fun and trendy design we created for JustOneApparel, a fashion forward store that is taking the eBay world by storm with their new custom eBay storefront design and custom listing template from our team.
This bold design stands out in the best way
Many people think of pink as being a no-no in designs because this popular color is often blinding when used in excess. Well, we think pink is amazing in design when done in the right hue. We chose a softer jewel-toned pink for this feminine design, along with a some darker purple accents to make it workable for our client.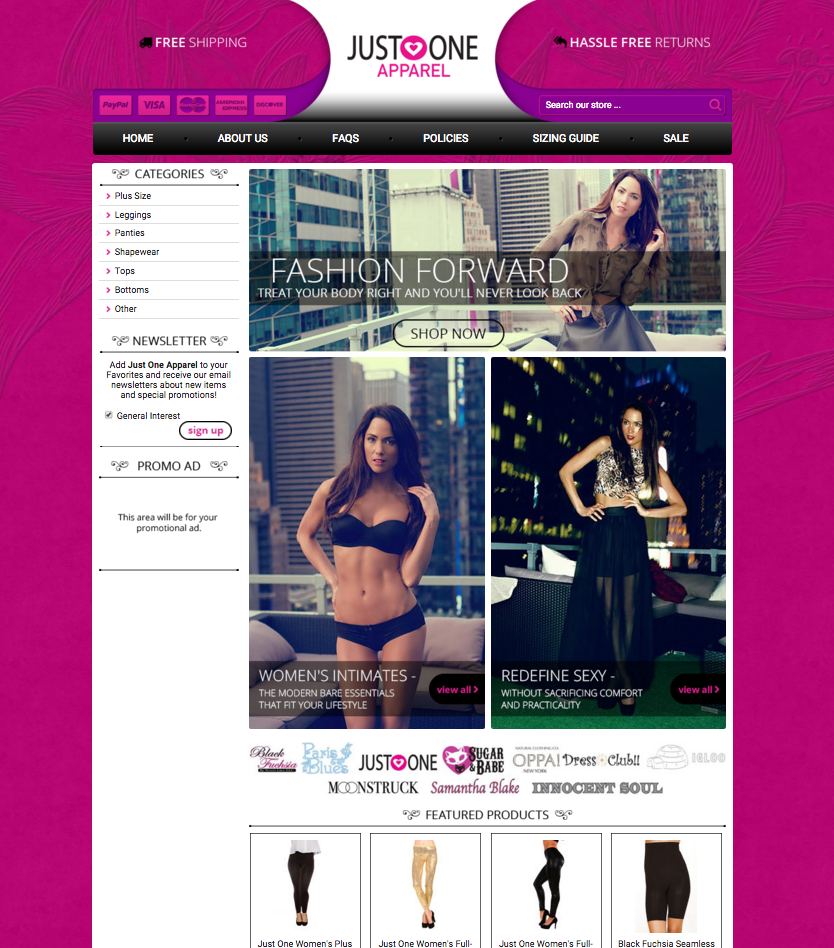 To have everything blend together, we added some filters to the images used in the welcome and clickable category sections so that the tones all matched.Beneath the welcome images, we created a little banner of some of the brands that our client stocks in their store so that customer's can gain more trust with our client and their store quickly. The Featured Products widget also works well with this design because it shows customers some of JustOneApparel's product at a glance, helping our client experience larger than average cart sizes.
The custom listing template takes this store even further
We love when our clients go all the way and request a matching listing template because this one feature makes a huge difference in sales. Many customers find a product listing before they even look at the store, so having it created to match helps bring a more cohesive and professional brand look. This is something a free copy and past template can't bring to a store.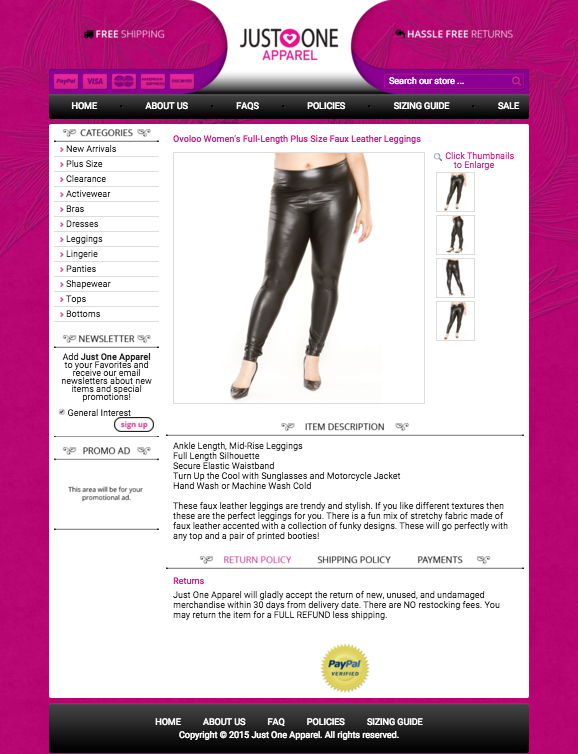 We loved creating this energetic and unique design and we're overjoyed to hear it is helping our client sell more.
Other designs from our team:
Request a free quote now to get started
OCDesignsonline has a wide array of eBay listing templates to choose from on the site. Take a moment to browse our portfolio and request a free quote. Also, don't forget to find us on Facebook, follow us on Twitter and check out our Google+ Page too!