When giving a gift there's a number of things to take into account. Age, gender and interest are often considered before making a purchase. However, there are a handful of other factors into choosing the perfect gift. Finding a timeless gift makes the purchase more valuable for both parties. Money isn't wasted and a simple thoughtful item can be a reminder of friendship and love over a lifetime. Lasermark Giftware specializes in unique, quality gifts and glassware for a board range of recipients. The e-commerce store has teamed up with OC Designs Online for a more personal touch to their Australia eBay shop. Now, giving a great gift is easy and intimate!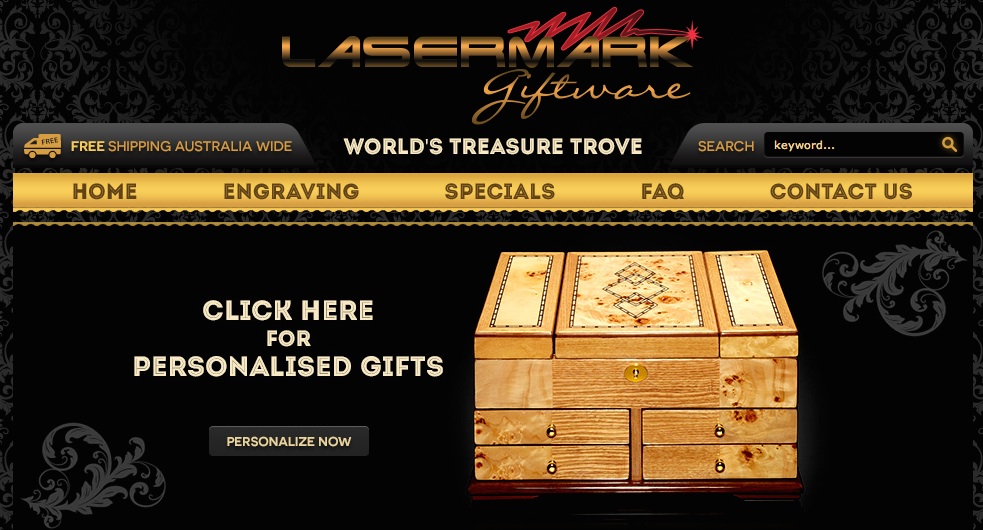 The eBay template chosen brings a classic, sleek look to the eBay giftware shop. A large image of a jewelry box greets customers while instantly introducing shoppers to products within the store. The text in the welcome pane acknowledges the store's ability to personalize gifts. A "Personalize Now" tab rests below the text making it simple to find products to personalize within the store inventory.
This eBay shop design has a yellow panel that reaches across the top of the page introducing store topics to online shoppers. Engravings, store specials and a FAQ section are all easily accessed from the top of the page. The only question now is what item you want to purchase!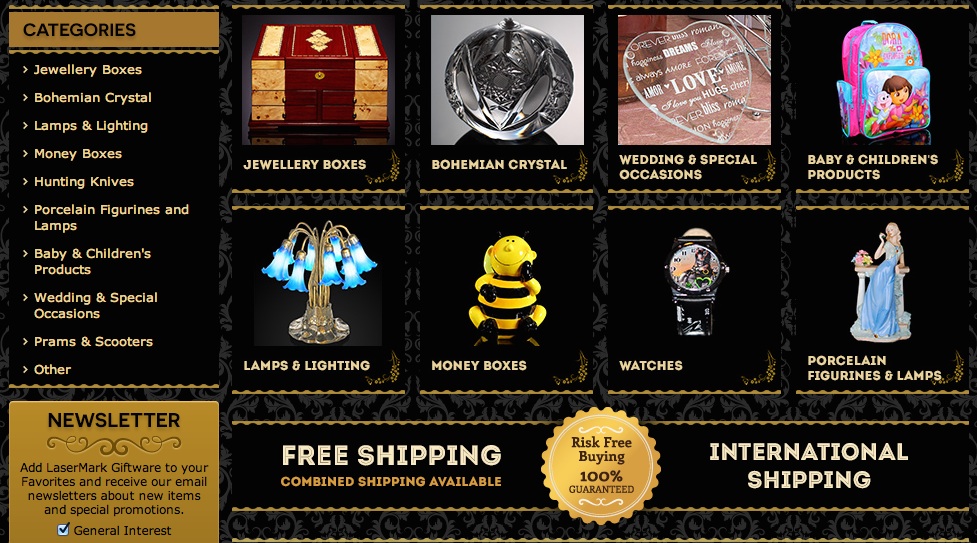 Categories line the midsection of this eBay store design. The column on the left hand side of the page lists out the gift categories while neighboring a more detailed section in the middle of the page. Toward the middle online shoppers can still find store categories but with visuals of the products. Each of the eight tabs can be clicked on to be guided to the desired area of the store. Shoppers can't miss the golden guarantee tab in this eBay shop design. The golden tab highlights the "Risk Free Buying" guarantee which instills trust and loyalty with shoppers!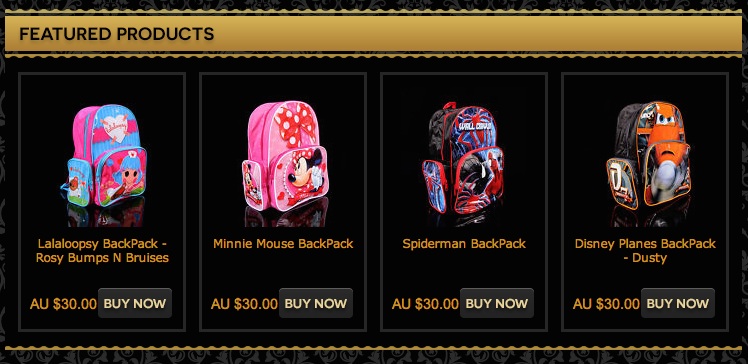 The footer of this eBay store design brings products directly to the the customer. The Featured Products section is great for showcasing popular products or products that some customers may not think to browse and shop. This section features Disney, comic book and cartoon character backpacks that would easily delight many children!
Partner with OC Designs Online for a unique design that meets your needs as well as the needs of your customers. Take some time to browse our portfolio of classic store designs, and then request a free quote.
Don't forget to find us on Facebook, follow us on Twitter and check out our Google+ Page too!