Communication through a cell phone is often how many of us make it through our day-to-day. Smart phones allow concerts to be shared with friends that are unable to make it and smiley faces received after a first date can brighten any day. In order for this to happen all the pieces need to be in place. However, daily dilemmas and obstacles can take their toll on a cell phone. They're easily dropped, exposed to extreme temperatures and can find their way into sticky situations. That's when one can turn to Sabella Wireless. The eBay store has partnered with OC Designs Online for a clean and clear storefront design. They browsed through a plethora of eBay templates and found the perfect fit for them!

The header to this eBay store design is fresh and fun. The store logo lays in the top left hand corner with a cartoon of a lady holding onto the "S" in Sabella. The logo keeps a light-hearted and relaxed feel for the storefront. Below the logo is a panel introducing multiple tabs to the online shopper. Subjects such common questions, policies and customer support are all addressed upfront. In the panel and to the right customers can find a search tab. This allows customers to search for topics and inventory with ease and simplicity!

The welcome pane and midsection to this eBay shop design is beaming with a vibrant yellow! A round button in the center of the tab displays "100%" to bring attention to the fact that the shop has a satisfaction guarantee. On the left hand side are two tabs that contribute to effortless shopping. The top tab displays the store categories so finding the perfect cell accessory is a cinch. Below this tab is a green section dedicated to keeping customers coming back for more. The store newsletter informs customers of new deals and daily steals found at Sabella Wireless.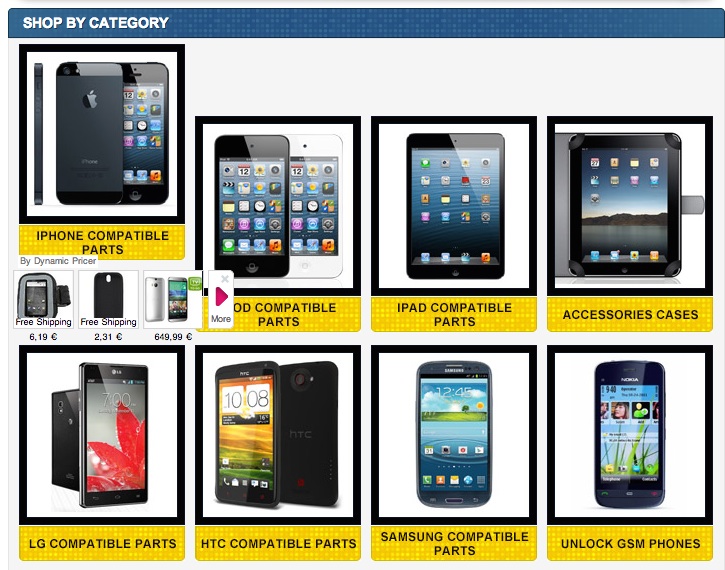 The footer of this eBay store design puts cell accessories in the spotlight! Each tab is accompanied by a yellow label to highlight the product category. Online shoppers are visual and this eBay shop design keeps that in mind. Each tab has a high quality photo to lure customers in to see more.
Are you looking to bring an easier and stylish look to your e-commerce shop? Want to make sure it's affordable and easy? OC Designs has over 250,000 templates to choose from and customer satisfaction is at its highest. Come browse our portfolio and then request a free quote.
Don't forget to find us on Facebook, follow us on Twitter and check out our Google+ Page too!