Automobiles are constantly evolving and adapting to style. As time goes on and years turn into decades we see how models of certain vehicles adjust to their era. However, most people aren't able to buy a new car every time a new model is released. People purchase a car based off many factors such as safety, gas mileage and style. Once the purchase is made it's typically looked at as an investment and something that will be kept for years. Metro Restyling offers a solution for those looking to spruce up their automobile. Thanks to vinyl, hopping into a stylish, sleek car is now affordable and easy. Metro Restyling has teamed up with OC Designs Online for a fresh look of their own. Shopping for auto vinyl has never been more exciting!

After browsing endless eBay templates Metro Restyling has chosen the perfect eBay shop design for the store. The logo has a round emerald green and black symbol that rolls in from the left side. The logo is fun, interactive and gets customer attention through movement. Below the logo is a green and black panel. The top green panel introduces shoppers to store topics such as shipping, feedback and FAQs. The black panel directly beneath the green has somewhat of a larger font to highlight perks with shopping at Metro Restyling. Free and fast shipping along with a large selection of authentic products are just a few advantages of buying vinyl though Metro Restyling!
This eBay store design also offers a way to stay connected. In the top right hand corner of the header customers can find three social media tabs. Facebook, Twitter and YouTube logos can be found and selected in order to stay connected with the shop.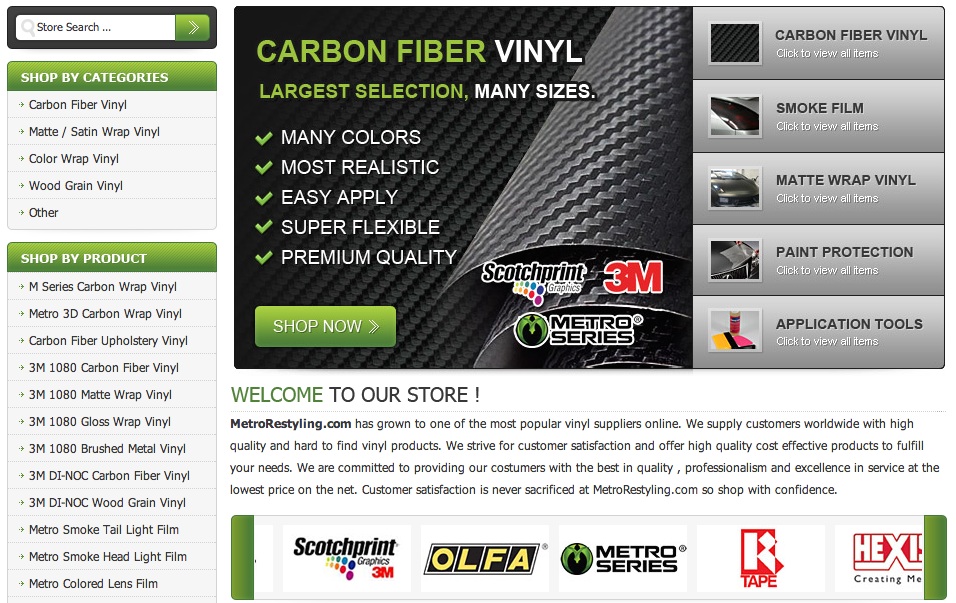 The welcome pane of this eBay shop design greets customers with a variety of sections and tabs. Shop by categories and products on the left hand side of the pane, click on brand names lining the bottom of the store greeting, or simply select a topic of interest lining the right hand side of the pane. This section instills brand loyalty and trust with a personal greeting from the shop!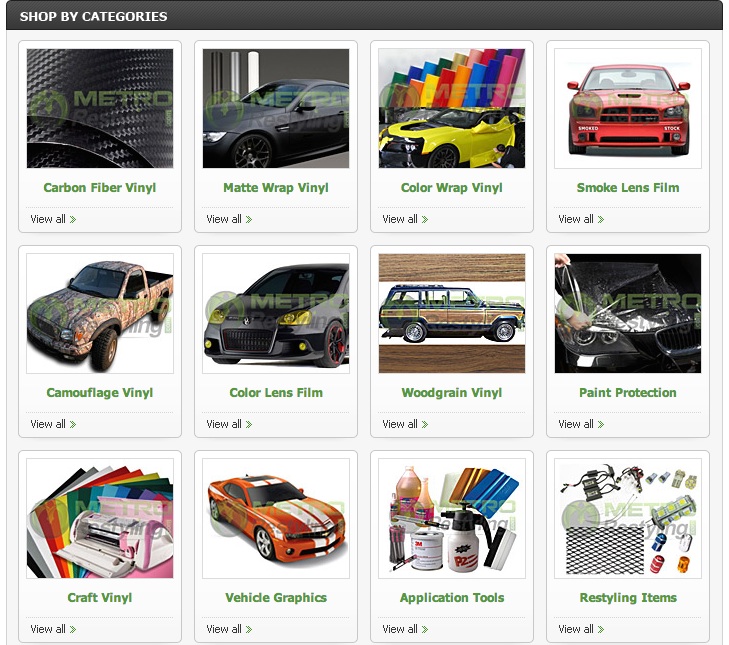 OC Designs Online knows that online shoppers are visual customers. That's why this eBay store design offers a category section featuring product photos. Each picture captures the category as a whole and nudges shoppers to take a closer look into the sleek, top quality vinyl options.
OC Designs Online brings variety, ease and simplicity to shopping. Take some time to browse our portfolio of stylish store designs, and feel free to request a free quote.
Also, don't forget to find us on Facebook, follow us on Twitter and check out our Google+ Page!