Integrated Building Systems, Inc. is a load-bearing wall panel and concrete composite floor system. With its cost and schedule advantages, clients have the option of choosing a complete Design Build or Design Assist System with single source responsibility for success.
While the specifics of the company may be more difficult to understand for those who haven't paid their architecture dues, their highly organized site courtesy of OC Designs Online helps them draw in new clients of all walks of life.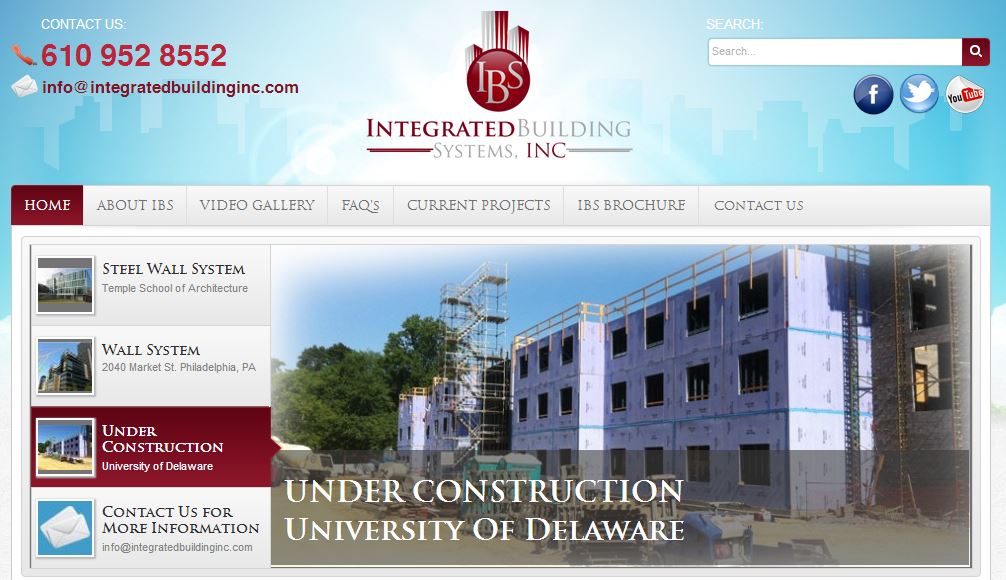 The custom logo takes center stage and is counterbalanced by contact information on the left and a custom search bar on the right. Here, customers can enter keywords or phrases to help them refine their search.
Below, a cluster of three social media plug ins invite users to connect with IBS online. Drifting down to the main navigation page, a collection of tabs including a video gallery, list of current projects and IBS brochure invite guests to take a closer look.
The site's main feature gives future clients a sneak peek into some of the corporation's current high-level projects. This is a great way to show the trust which has been afforded to the IBS professionals.
The feature is also a fantastic way to let the work speak for itself. With clients to the tune of major universities and architecture schools, these load bearing structures have certainly proved their necessity.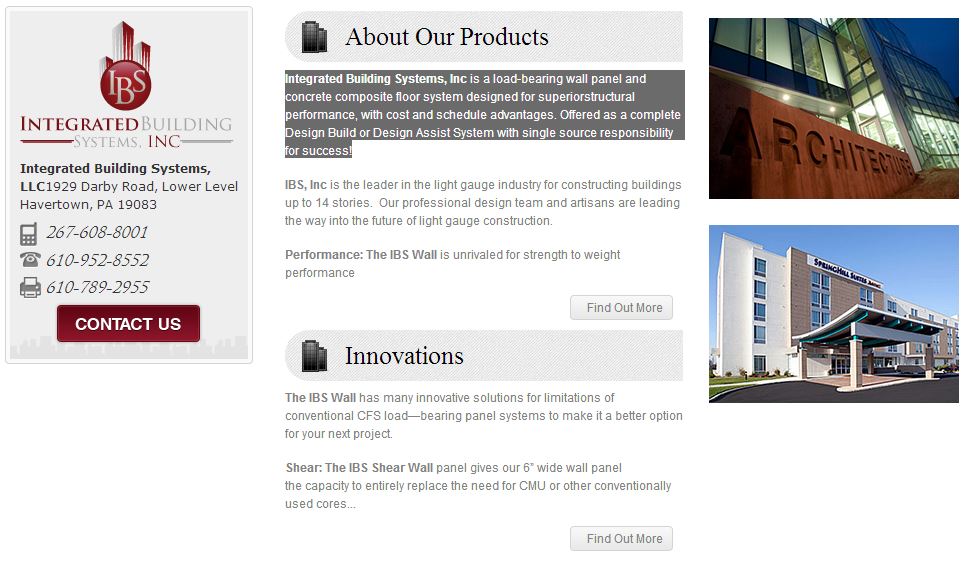 With a detailed swatch of contact information in the left side bar, interested parties are presented with a variety of ways to get their questions answered and make the initial contact.
A mini tutorial next door offers users a brief look inside the products themselves, their innovations and the option to 'find out more' by clicking the grey link just below.
Hi-res graphics including state of the art architectural feats sit to the right, piquing the interest of web browsers.

Finally, a burgundy custom footer boasts a mini site map and repeats the classic, IBS logo to reinforce brand recognition and leave clients with an air of professional sophistication.
Let OC Designs Online show you what a carefully crafted one-page web design can do to boost your site traffic! We are experts in the template designs guaranteed to grow your online business and we invite you to browse our ever-growing portfolio.
Contact us today about your design—it's easy to request a free quote!
We also invite you to like us on Facebook and don't forget to follow us on Twitter!