"C is for cookie, that's good enough for me…" Sesame Street's beloved Cookie Monster was onto something when he sang his ode to everyone's favorite sweet treat. Chocolate chip, peanut butter, sugar, even oatmeal cookies are all part of the delicious landscape of sweet and snackable baked goods. When Gimmee Jimmy's Cookies came to our OCDesignsonline team and said, "Can you help us with our custom eBay store and website?", we were happy to jump in with our design experience and know-how.
This Internet cookie marketplace has benefitted from the help we've given them. Not only are they now far more visible online than they previously were, but they have a working website that allows customers to quickly and easily make purchases in a method that is familiar through a trusted web platform.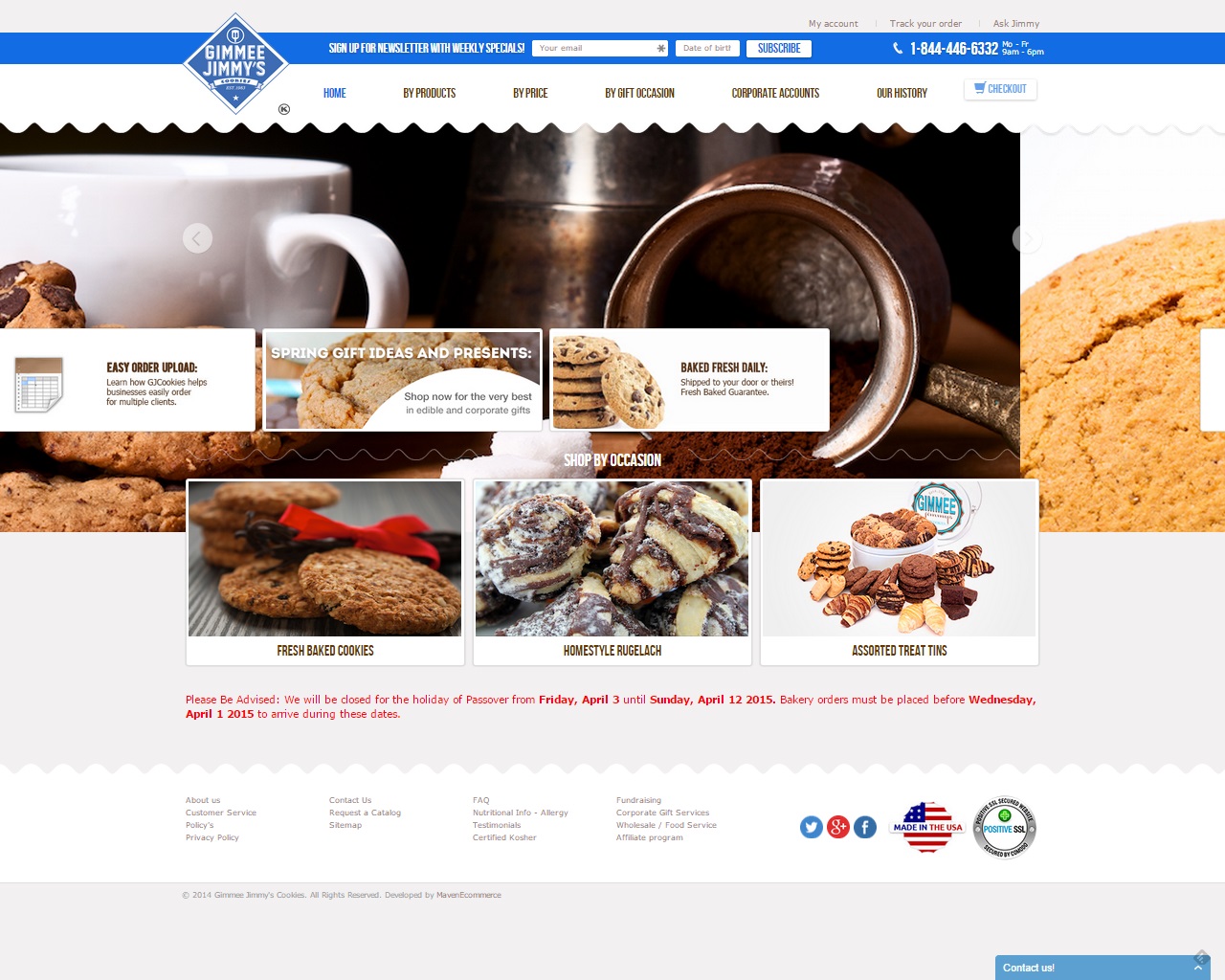 Our custom webstore for Gimmee Jimmy's Cookies
For the custom webstore, we wanted to keep things light, airy, and easy to navigate. When customers land on the page, they are greeted by a scrolling banner that features different images of cookies and listings of specials and deals on the cookies offered at Gimmee Jimmy's. At the very top of the page, we made sure there was a place where customers could easily subscribe to our client's newsletter, making it easy for the team at Gimmee Jimmy's Cookies to build their sales and marketing list. We also created the sign-in area for customers' accounts, a place where customers can track their orders, and a place where customers can contact customer support.
Customers can easily find information about their favorite products
We wanted to make it easy for customers to find what they are looking for. The top menu directs customers to popular destinations. Customers can search by product, price, or gift occasion. They can also learn about how they can create corporate accounts, facilitating easy gifting of cookies to others. We also included "about us" type information about our client's business in the history tab.
Browsing by image makes it even easier to shop the webstore
We wanted the custom webstore we created for Gimmee Jimmy Cookies to be visually appealing. Thus, we relied upon creating image-based buttons to help our customers navigate the store. Images communicate where customers can find the order form, gift ideas (or other featured information), unique selling points, and a few different categories of product that can be found on site. We also made sure to create a space where our client could convey salient ordering and shipping information for their customers.
The bottom menu works hard for our client's needs as well
We also included navigation topics at the bottom of the custom webstore. Customers can easily determine how they can request a catalog, learn about nutritional information, and how they can use Gimmee Jimmy's Cookie products to fundraise for their organization. We also included buttons linking the page to the company's social media sites.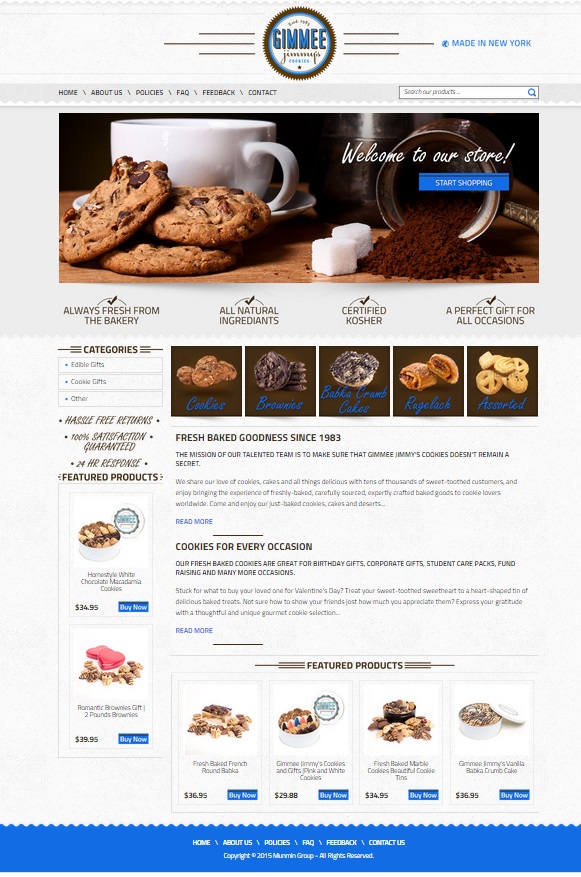 We also gave Gimmee Jimmy's a Custom eBay Store
Even though we created a custom webstore for Gimmee Jimmy's, we wanted our client to receive as much traffic as possible. Many who open eBay stores in addition to their own websites see an increase in their profits and find that they are more easily found by potential customers.
For the eBay store design we created for Gimmee Jimmy's, we began with the company's logo, which is blue and brown. We wanted to highlight those colors throughout our client's store, so we used them for the banners and "buy now" buttons. The brown forms the backdrop for images, and we used it for the font color. This way, the whole site hangs together.
About the header we created for Gimmee Jimmy's Cookies
We used the company's logo and a search bar at the top of the page, so customers who want to get right down to business finding their favorite cookies could do so. We also made the menu bar easy to navigate for our customers wanting to learn more about our client's products. We included an enticing image of cookies to help draw customers further into the custom eBay store. Underneath the image, we thought we'd found the perfect place to list the company's unique selling points.
Buttons help customers find what they're looking for
We created buttons for the page that keep in theme with the rest of the custom eBay store. They feature the different categories of cookies and cookie-like products Gimmee Jimmy's Cookies. Under the navigation buttons, we created text so that customers could learn more about the store from which they were considering ordering. We also created plenty of room for featured products so that customers could click on and purchase some of the more popular products offered by Gimmee Jimmy's Cookies.
Let us create a custom webstore or eBay store for you and your small business
At OCDesignsonline, we are here to help you run a successful business. Whether you're looking for someone to help create a custom webstore for your products or services, or you're looking to have someone create an eBay storefront that will draw customers in and help you to close the deal, we can help. We have a wide array of eBay listing templates to choose from, and we're sure you'll get lots of ideas when you browse our portfolio. Take notes, and when you find something you like, go ahead and contact us to request a free quote. In the meantime, you can "like" us on Facebook, follow us on Twitter and check out our Google+ Page to receive regular updates about our design success stories!