When you're looking for quality equipment for your outdoor sporting adventures, it's always good to get a great deal. When our client, PME Sporting Goods approached us at OCDesignsonline for help with a new website design, we were happy to help them. We wanted to create a website that was both fabulous and functional, so we worked hard, and we're proud of what we came up with for them.
We started by making an interesting background that fits with the types of products that our client sells. Since many of the products carried by PME Sporting are for outdoor sports like fishing and boating, we used the image of a wood deck juxtaposed against water to create a great backdrop for the website. We chose green, both because our client's logo has green in it but also because it brings the outdoors to the new website design.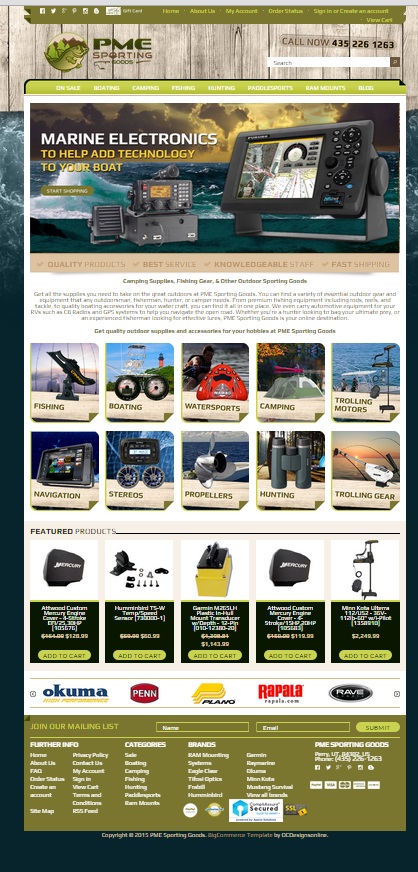 Grabbing attention right away with a good header
We used a slideshow image for the header, because that is a great way of grabbing customers' attention when they first arrive on the site. It's also a great way of communicating to customers about the types of products that our client carries. With the slideshow, we are able to feature different images – both of people sporting and of equipment – to draw people in. Above the header image is the site menu, which breaks down into small categories, making it easy for customers to find those products for which they search on our client's page.
About the store and image category buttons make it easy to navigate
When customers scroll down on the site, they can see a blurb telling them more about PME Sporting Goods and the kinds of products they carry. This kind of welcoming message is a great way to tell customers that you're glad they've arrived at your site and that they've decided to hang around. Scrolling down a little further, customers will find custom category buttons featuring each of the types of products carried by our client, making it really easy for customers to browse the site's products
Featured items help boost sales and bring in repeat business
Whenever we post about featured items, we talk about how they are a great way to bring back repeat visitors to a site. Customers will want to come see what's new, on sale, popular, or of particular interest to them. Featured items also are a great way to boost sales with the kinds of products that might otherwise get buried deep in a website.
Contact OCDesignsonline today for a free quote on a new website design for your business
At OCDesignsonline, we have many different great ideas for website design from which you may to choose on our site. Take a moment to browse our portfolio and request a free quote. For even more ideas, follow us on Facebook, Twitter and Google+!