Buy.com is a worldwide marketplace where individual ecommerce retailers can showcase and sell their wares—and OC Designs can help by creating custom Buy.com store designs much like we did for Pete's Shoes.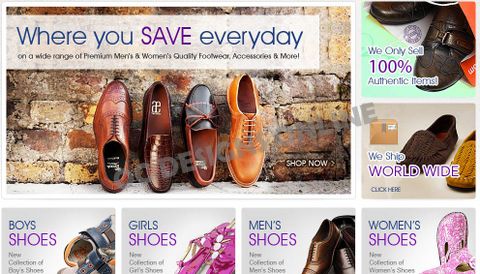 The very top of this Buy.com store design immediately offers the shopper some options. They can search the store, share the store on Facebook or Twitter pages or click on "Store Info" and choose to view the store summary or go to Buy.com's homepage. If one clicks on the Store Info tab, it will take the shopper to Pete's Shoes' company info, feedback, shipping, returns and customer service policies.

Below these choices this Buy.com store really starts to stand out with the Pete's Shoe's logo and how they are a "Step above the rest," and that they offer free shipping and returns on US/Domestic orders. Next, comes a blue clickable bar that allows viewers to learn more about Pete's Shoes and view all listings and below that, this Buy.com store welcomes shoppers in by telling them they'll save every day, that this ecommerce retailer only sells 100 percent authentic items and informs the shopper they sell both women's and men's quality footwear, accessories and more.
A little further down on the storefront of this Buy.com store design, we inserted clickable boxes for girl's, boy's, men's and women's shoes to help shoppers find what they want quickly. Most importantly is a menu list of the brands they sell at Pete's Shoes; including these brand names helps to build consumer trust and a following.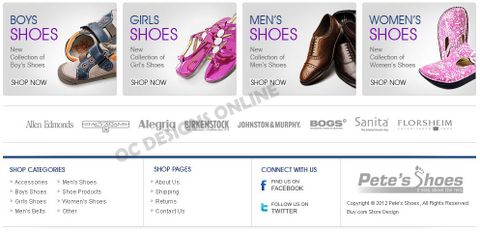 The store design for this Buy.com retailer is wrapped up with a site map of sorts and another Pete's Shoe's logo along with more social media links.
Buy.com stores allow ecommerce retailers to reap the rewards of being part of the entire Buy.com partnership, meaning Buy.com takes care of the shopping cart and checkout procedures. Both seller and buyer are notified when a sale occurs and the behind the scene tools of Buy.com make these ecommerce storefronts stand out.
If you want to reach a wide audience of online shoppers, ask us about creating a Buy.com store design for your ecommerce store. Simply Request a Quote and we also invite you to view our outstanding portfolio of ecommerce stores created by OC Designs Online.