At OC Designs Online we know not all eBay stores are equal and that's why we ask our clients what they want to see in an eBay store design to increase sales, get noticed and stand out—maybe not look quite like an eBay store!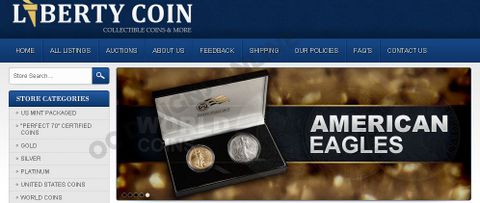 We did just that with Liberty Coin and some of the elements we included are simply amazing. In addition to their eBay store, we also designed a custom category design and for Liberty Coin, being different just makes "cents!"
For their storefront, we included the top menu bar including easy click on tabs so online shoppers can view all listings, visit listings in an auction format, read more about Liberty Coin; learn about how and where they ship and read and leave feedback. Liberty Coin also wanted an FAQ section within their eBay store design so we did that too along with "our policies" and "contact us" tabs.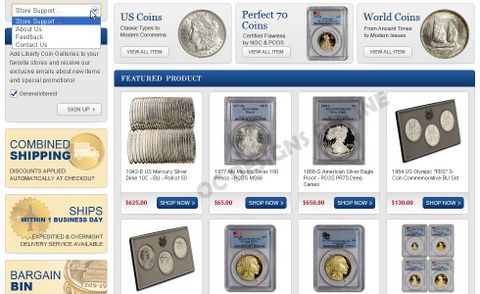 We also included a great welcome text section with an eye-catching slideshow revealing a sampling of just some of the coins they sell—it's a moving pictorial—it's a good way for online shoppers to stop and watch, stay in the store and buy!
Under the welcome slideshow section we inserted clickable boxes on the various types of coins they sell and the sidebar menu offers an in depth look at store categories, a place to sign up for their newsletter and a drop down box menu so online shoppers can quickly jump to the desired page.

Next comes the featured products section (also with clickable boxes) and to the sidebar, important why buy tools like how Liberty Coin offers combined shipping, that they ship within one day and even a place for shoppers to visit what they call the "Bargain Bin."
At the bottom of this eBay store design, we included the numerous numismatic associations they belong to, the types of payments they accept, a toll-free telephone number along with hours they are available (very important) and a bottom menu site map.
Liberty Coin wanted OC Designs online to develop a custom category listing and we're proud of this one because gone are those red buy-it-now buttons and instead, tasteful blue buttons that follow the colors and design of Liberty Coin's eBay store design.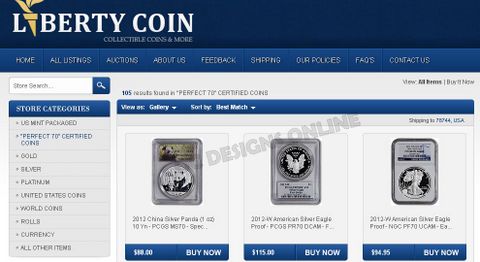 It's important to note that even when shoppers click on the category listing we designed, they never lose the elements on Liberty Coin's home page storefront—an essential so buyers can see and feel like they are still within Liberty Coin and not some other eBay coin store.
Tired of the same old eBay store design that looks like all other eBay store designs? If so, simply Request a Quote from OC Designs Online—you'll be surprised at how affordable they are and be sure to browse our eBay store design portfolio and our FAQ web page to help answer some common questions about eBay store designs, category listing design and eBay listing templates.