Since 1990 Minal Jewels has been selling jewelry and watches online and OC Designs Online was happy to spark up their eBay store design with some customization. Along with supplying jewelry to Zales, Gordon, Wal-Mart, Friedman's and many more, they began selling jewelry online and can now boast over 200,000 Internet transactions.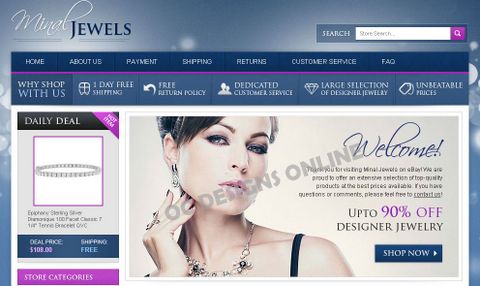 Who doesn't want fine jewelry at wholesale rates? That's what Minal Jewels does and directly to retail customers. This top-rated eBay seller has a 99.6 percent positive feedback score and with their new eBay store design, we're sure that number will keep on rising!
Right when shoppers enter this online jewelry eBay retailer they are grabbed with some important ecommerce elements. Their logo is prominently placed on the top left-hand side and beneath that are store menu tabs where shoppers can learn more about Minal Jewels and browse their payment, shipping and return pages. We also topped off the top menu bar with a must-have customer service tab and something all eBay retailers should do—an FAQ section. And of course a useful "Search the Store" tool.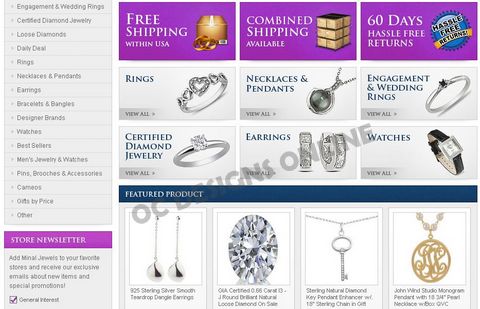 A bar on why shop with us is next and instantly allows online shoppers know Minal Jewels offers free one-day shipping, easy customer returns, dedicated customer service and a large selection of designer jewelry at unbeatable prices.
Next on this eBay store design is their daily deal to the left and in the center a marvelous and eye-catching welcome text where shoppers instantly learn they can buy quality jewelry at up to 90 percent off retail prices.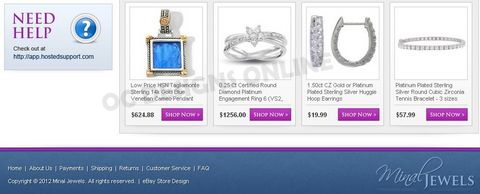 We utilized complimentary purple and blue colors throughout this storefront even on the clickable store category listings and featured products where buyers are once again reminded they offer hassle-free returns, free and combined USA shipping.  The store category menu makes it easy to navigate the store and shoppers can even search for jewelry based on pricing—lowest to highest or vice versa.
Customers can sign up for a free newsletter from Minal Jewels and we also inserted something this online retailer can really take advantage of—a Need Help section which takes shoppers to frequently asked questions or ask one of their staff an instant question.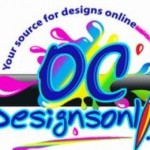 We rounded out this eBay store design with a sitemap menu and again reiterated that they are a Top Rated eBay Seller!
OC Designs Online has created many eBay store designs for jewelers and we can help with your online jewelry too! Simply Request a Quote and don't forget to follow us on Facebook and visit our stunning portfolio of eBay store designs. We also invite you to follow us on our Google+ Business Page!