As professional eBay and eCommerce web designers, we run into a lot of the same questions in our day to day business. One of those questions is "What is the difference between an eBay store design and an eBay template design?" So we are going to answer for you today. It's important to understand every aspect of your store, especially if you are in the market for an eBay HTML template design and want to find a budget-friendly design.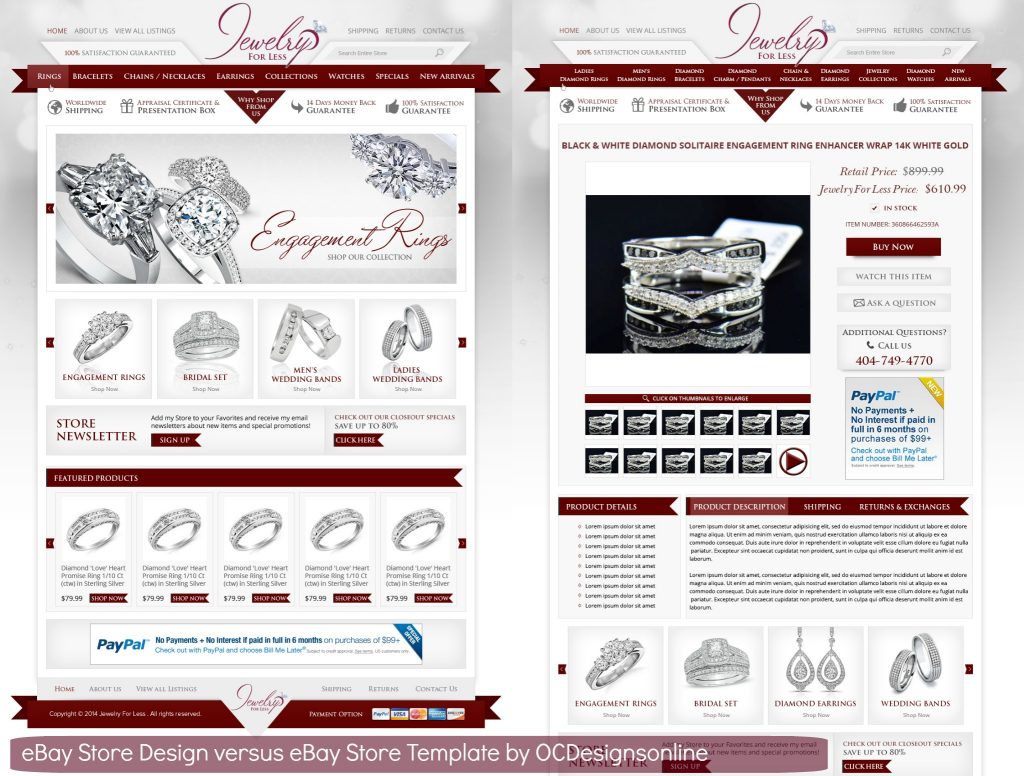 So, what is an eBay template?
Simply put, an eBay template is the first line of defense when a customer finds your product in eBay search. It's the page your product lives on, where the potential customer can find more photos and information about your eBay product listing. But it isn't that simple when it comes to design. Like we said, many customers will get their first impression of your store through this template – so it needs to perform certain capacities.
A successfully designed eBay template should be:
Mobile optimized (this is no longer an add-on, it's a necessity in this mobile landscape)
Free of active-content (as per eBay's 2017 guidelines)

Have multiple product photos

Relevant details about the product

Store policies to help build trust with the customer

Something to draw the customer to look at your eBay storefront for more

MUST match your eBay store design for brand continuity
This kind of custom work is near impossible to find in a standard eBay templates made for the masses. It's not just about having pretty graphics, it's about helping your products perform better in the competitive marketplace.
Now, how is this different from an eBay store design?
eBay store designs are created to help sell the image of your store, as well as encourage more clicks to other product pages. While template design helps sell one product, your store design should encourage browsing and larger shopping cart checkouts. We have whole other article on this topic. Why are shoppers abandoning their shopping carts? Click to find out.
An eBay store design should:
Share the spirit of the store and its products

Match the HTML listing template look and feel

Encourage clicks to other products and category pages

Utilize white space to help products stand out

Share store policies easily for consumers
Overall, it's about the presentation. You have to share products in the right way so that customers are then encouraged to click-through to the listing templates and find out more, while also representing the store in a positive way so that consumers will want to come back for more.
So now that you have a more clear representation of the differences between an eBay store design and an eBay template, you can feel more secure when shopping for your own design.

OCDesignsonline offers free quotes on our designs and we offer packages for eBay sellers that want to save on both an eBay storefront design and an eBay HTML listing template. Send us a message or give us a call! We are ready to talk with you about your store's goals.