There is a large and thriving community of autoparts sellers on eBay and we have been lucky enough to design a large amount of stores within this landscape. Today the OCDesignsonline team is here to share with you a few of the details from the design we created for the seller, Parts Player. This cheerful design stands out versus others in this industry in the best way possible.
This blue and green design helps our client stand out
For this client we created a vibrant SEO focused design that encourages clicks and sales. Additionally, we created a guided search area that helps customers find exactly what they need for their make and model, which encourages them to browse with engaging and clickable image category areas.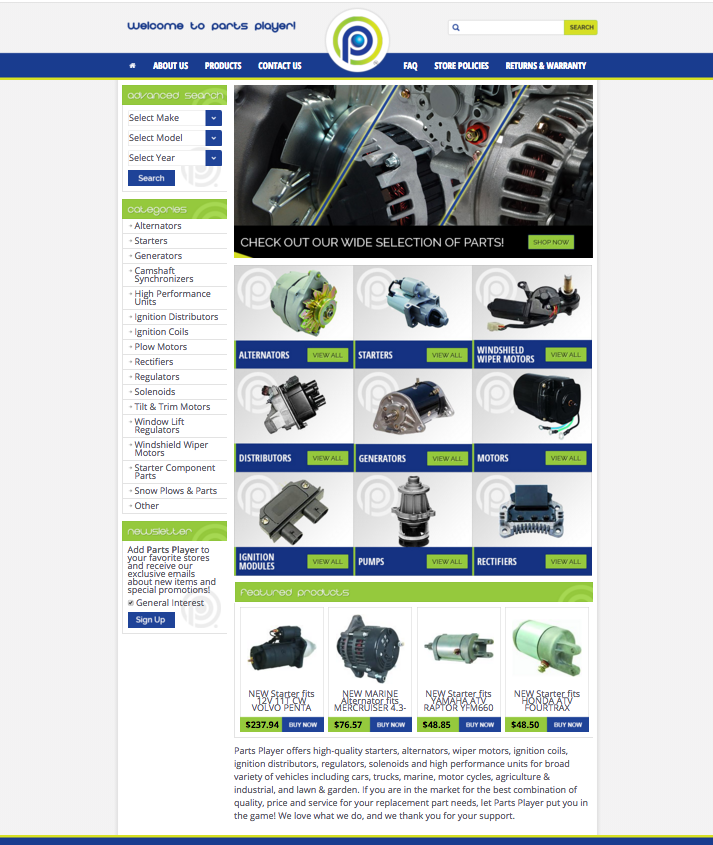 The Featured Products section encourages more clicks and relevant indexed keywords for our client, as well as helping customers see more of what our client is like at a glance.
The expanded category area in addition to the clickable categories helps our client rank higher on Google because of the indexed keywords naturally presented in this design. The about us blurb at the bottom of this page also helps with search engine optimization, showing that Parts Player can sell parts not only in the automotive industry but also in areas like agriculture and industrial, helping them expand upon their client base.
Other similar client design stories you may want to explore:
Request a free quote now to get started
OCDesignsonline has a wide array of eBay listing templates to choose from on the site. Take a moment to browse our portfolio and request a free quote. Also, don't forget to find us on Facebook, follow us on Twitter and check out our Google+ Page too!