Today on the blog, we wanted to share with you an extreme design we created for Powersport Parts on eBay. This design features an engaging welcome image, rough edges to suit the brand spirit and more. Stay tuned for the design story below, as well as some other designs you may want to see from the OCDesignsonline team.
An engaging first impression
The moment you enter Powersport Parts' eBay storefront visitors are greeted by the image of a motorcyclist in the middle of using a product that customers that would shop at this store will know and love. The image perfectly sets the tone for the customers, especially since the dirtbike is coming out of the welcome image in a splash of white accents. This gives off a 3D effect that fits the rest of the textured design in the storefront.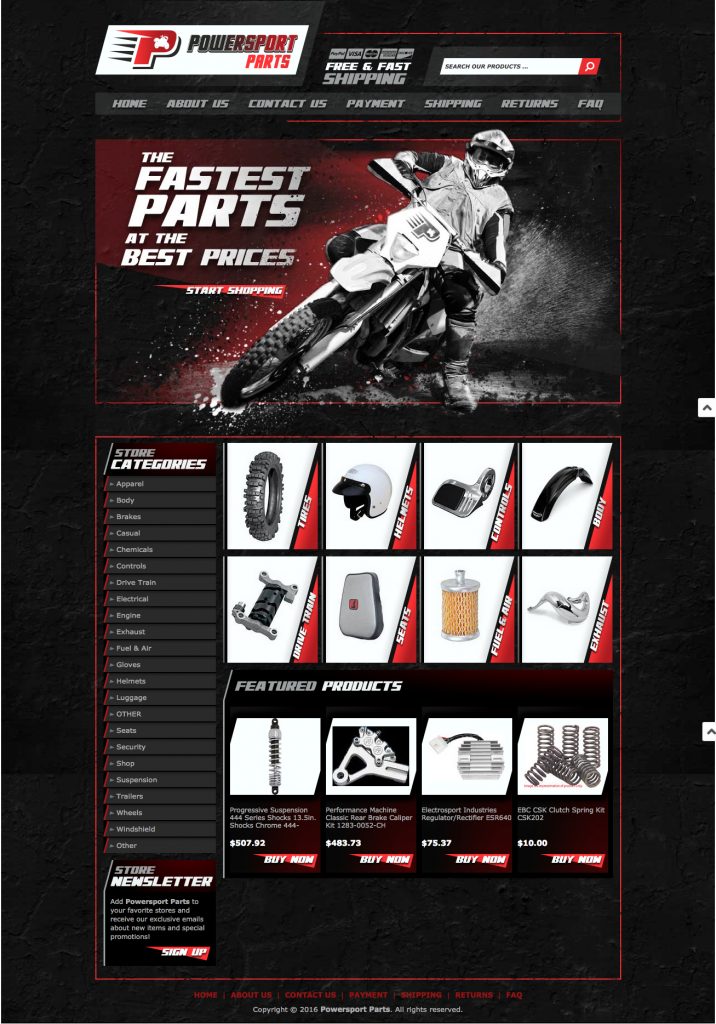 Powersport Parts' extreme design perfectly reflects the atmosphere those who participate in powersports, helping encourage more shoppers that they belong in this atmosphere.
It's all about the details
While the welcome image is a big part of the extreme storefront look, the smaller details really add to the design and complete the look. This is really important in design, as it adds custom elements to the stores in question – helping our eBay HTML template design customers stand out on eBay. The store categories feature a slanted, helping to draw the eye of customers. This technique is utilized again int eh Featured Products area to the call to action phrase "Buy Now".
If you want an eBay design that helps you impress customers at first glance, is free of active content as per eBay's 2017 requirements, sell more products, and helps you reach your eCommerce goals than you need to contact the OCDesignsonline team for a free quote as soon as possible.
Here are some other designs you may want to explore from our team:
Request a free quote now to get started
OCDesignsonline has a large portfolio of clients, spanning several years and platforms, so browse our portfolio to get a feel of our quality of work and then request your free website design quote to see what we can do for you. Don't forget to also follow us on our social media accounts: Facebook, Twitter, Google+, and Pinterest for more updates.