The new design we have created for Classic Cycle Parts impresses customers and we are not shy to say so. Check out the OCDesignsonline design process in the below post and then immediately jump to grab a free quote on fixing up your eBay storefront design.
Classic Cycle Parts sells hard to find parts for motorcycles, mopeds, BMX bikes, and more. To help them get the clientele and feel they are looking for, we followed a few steps.
Color palette is important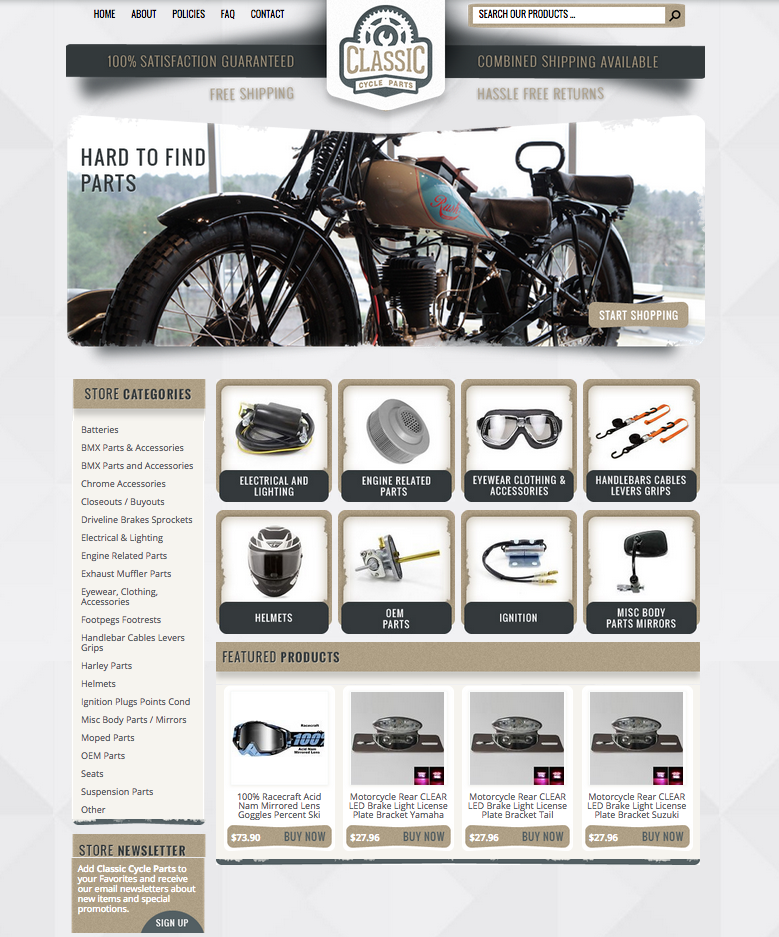 Since Classic Cycle Parts really wants to maintain that high quality and vintage feel, we chose a muted and calm palette of browns, greys, and a darker bluish/black for the header and category areas. This darker color really pops and brings attention to the areas we want to emphasize.
These colors subtly work with the name and welcome image to bring about the brand image Classic Auto Parts is looking for.
The welcome image works well with this color theme and also features a "start shopping" call to action.
A "Why shop with us?" area shows value available for customers
In the header area (where we have the custom logo we provided for our client) we added some buzz statements to encourage shoppers why they should bring their patronage to Classic Cycle Parts. Showing potential customers right away, while they are shopping, what you bring to the table is a valuable tool.
For our client we took time to emphasize their free shipping, easy return policy, and satisfaction guarantee.
Having a featured products section increases sales
A featured product area is a very valuable tool for eBay sellers as it can show more about what a store has to offer at a glance and make high performing or rare items more visible to customers. For our client, they can make more prominent the rare items they sell — which will help them live up to their brand image.
If you want to bring your store up to snuff, you need a design that shares the soul of your products.
Contact us to get a free quote on your new eBay storefront or eCommerce design
OCDesignsonline has a wide array of eBay listing templates to choose from on the site. Take a moment to browse our portfolio and request a free quote. Also, don't forget to find us on Facebook, follow us on Twitter and check out our Google+ Page too!