Here at OCDesignsonline we are excited to be part of an amazing process, helping entrepreneurs boost their sales. This client took some initiative by taking advantage of our package deals for multiple projects. This is a clever way to create save money on a brand portfolio.
Ladorns used our custom eCommerce package to get a beautiful new design for their luxury homeware Volusion store and to revamp their eBay storefront for their second brand, Luxe Factory Outlet, that specializes in designer clothing auctions and more. See the design details below.
Our client's Volusion storefront shines with a look that suits their image
Ladorns' slogan is "designer living for less" and we feel we really encompassed that sophisticated image with their custom Volusion storefront. We mixed in simple blue/grey tones into our clients store, and added some important information into their header to engage customers.
Sharing their fast shipping standards up front and center helps encourage customers to think fast about their purchases, which boosts sales. Additionally, we added a rolling brand reel at the bottom of the page to encourage the luxurious image our client want's to produce.
Another important factor is that we added a banner to the left side of their page that encourages our client's customers to also shop at the associated eBay store for Ladorns' second brand.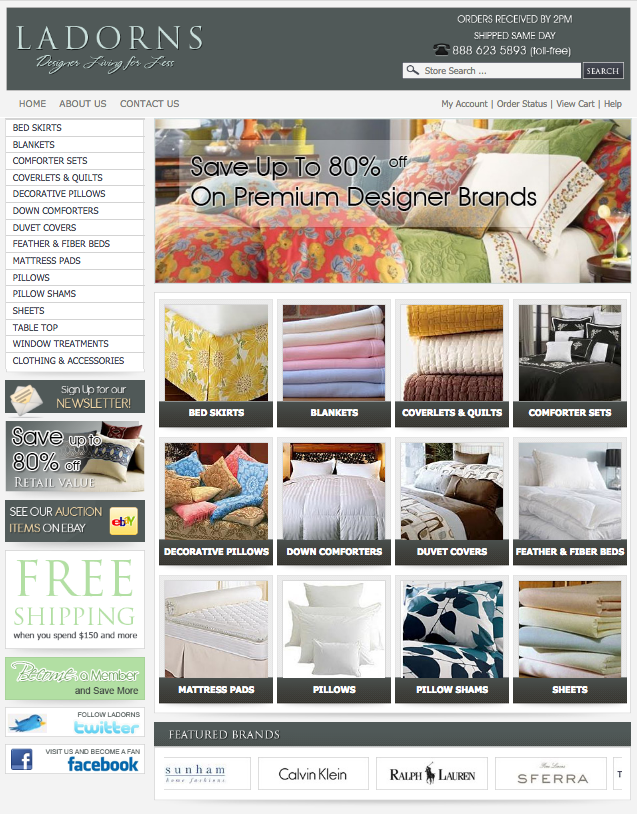 Then our client requested a custom eBay storefront for their second brand, Luxe Factory Outlet
The Luxe Factory Outlet has a totally different look from Ladorns as it goes for a hip and young vibe with the lively pink, orange, and blue hues we chose for this design. Although this targets a different demograph than the original Ladorns' store, this design still targets their main message — a designer life without the big price tag.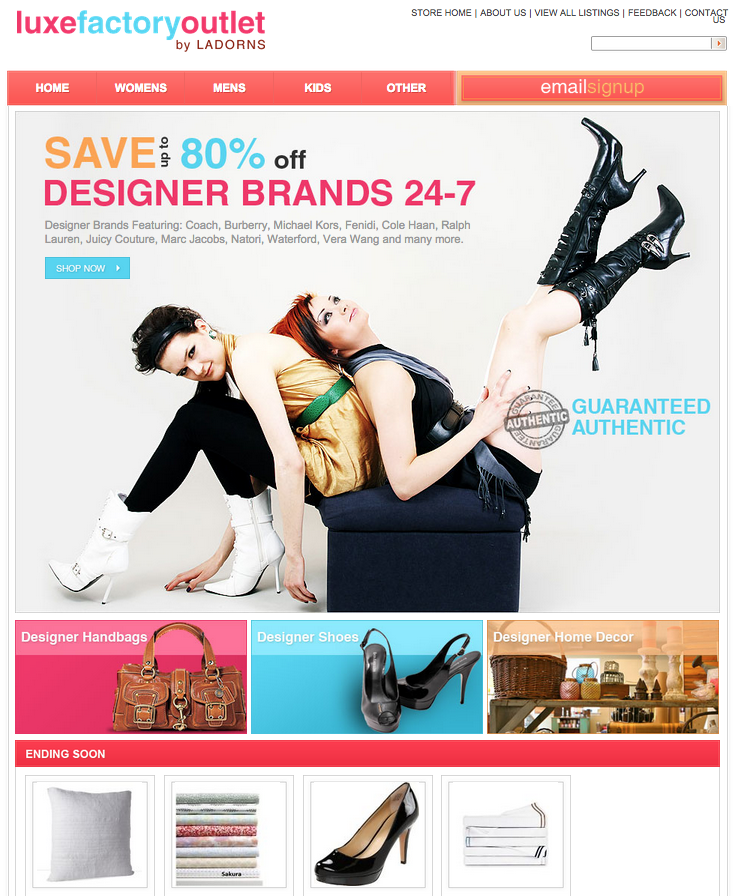 We kept the menu bar simple so that it could emphasize the main categories of the site while also bringing attention to their large sales image in the middle of this page. Underneath this photo is an "ending soon" menu to help boost our clients impulse sales. When something is more limited, customers find the item more valuable and act quickly.
Our client also purchased a custom eBay listing template, which helps our client's customers feel engrossed in the brand image.
Contact OCDesignsonline for a free quote on your custom eBay store design
OCDesignsonline have a wide array of eBay listing templates to choose from on the site. Take a moment to browse our portfolio and request a free quote. Also, don't forget to find us on Facebook, follow us on Twitter and check out our Google+ Page too!