When our clients want to save money, we're happy to help them at OCDesingsonline. When our client at Webtron-x approached us for help with creating an affordable eBay store design, we suggested our premade store package as a viable solution. Not only does selecting a premade store package save money, but it also saves time. We can easily plug in the information specific to our client's needs, and have the store up and running in no time at all.
The folks at Webtron-x sell electronics of all kinds – radios, speakers, cameras, video gaming equipment and much more. They've branded themselves in a way where their products are in line with their name. Thus, a basic store works quite well for their needs.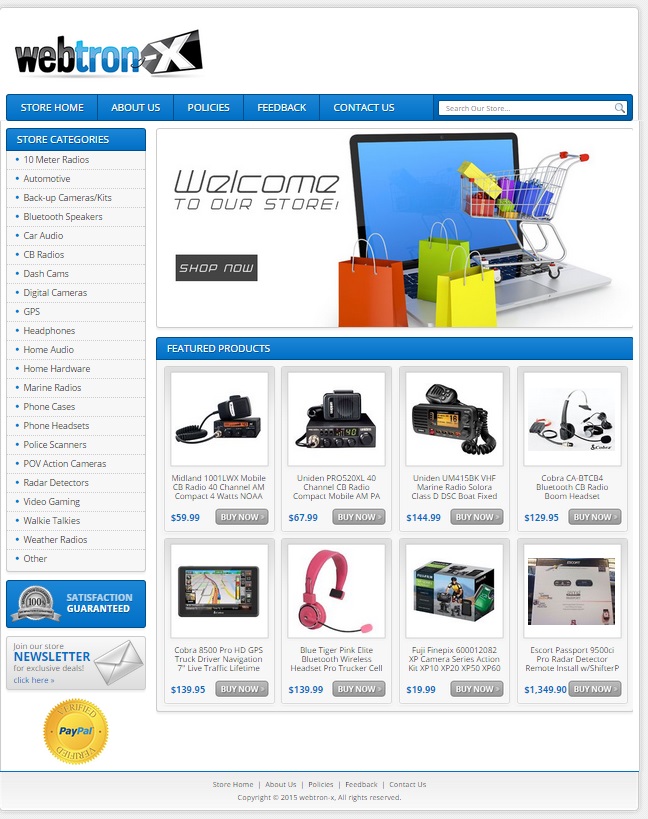 Featured items take center stage in this eBay store
Rather than have custom tabs for each category, the premade store package our client chose has a large space for featured items. Featured items are a way that eBay stores can show customers what's new, on sale, or of particular interest on any given day. When our clients switch out their featured items lists on a rotating basis, it helps keep customers coming back to visit. People enjoy seeing what's new and whether that special item they've been wanting is on sale.
A place for everything and everything in its…
Our premade store packages have a place for our clients to put everything they need to include in their store. We've got category templates in the sidebar, a place for a unique selling point (For Webtron-x, "satisfaction guaranteed"), and a place where our client's customers can sign up for a newsletter. We also have the menu bar so that we can help our client's customers find the information they need about the store's policies.
Premade category search page and listing templates too!
When you choose one of our premade store packages for your eBay store, you'll find it's less expensive than our custom designs are – but that doesn't mean we skimp on your ability to brand all the pages in your store. Our premade stores have templates for category search pages and listing pages so that customers will always know that they are still within the pages of your store. Just because you're saving money doesn't mean you're losing out on style or the potential to impress your customers. In fact, our premade store packages are an affordable way to make a great professional impression on your target market.
Contact OCDesignsonline today for a free quote on a premade or custom eBay store package
At OCDesignsonline, we have a wide array of eBay listing templates from which to choose. Please browse our portfolio and when you see something you like, request a free quote. We're on Facebook, Twitter and Google+, so be sure to check us out on your favorite social media platform!