Phone cases do more than just protect a cell phone when it falls to the ground. They also convey a sense of style, and some can even serve as wallets. When OCDesignsonline worked with Loggerhead Cases to create a custom Bigcommerce site for their products, we did so knowing how important it was to us to help them boost their sales by at least 40% and help get their products in front of more people.
We stuck with simple graphics on this site. The menus use the same color blue as can be found in the header, and the background is white. When we do use borders, they are either black, or they are the same color green as can be found in the company's logo. We wanted the site template to really pop and have a clean graphic feel.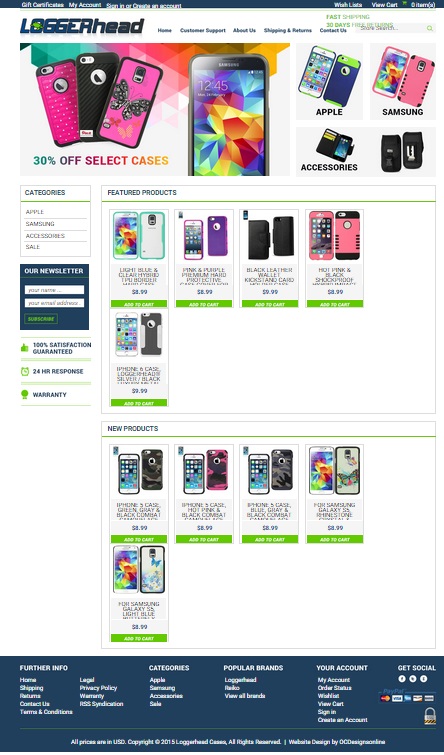 It all begins with creating a great header
When customers land on a Bigcommerce site, the first thing they see is the site's header. We wanted to grab customers' attention right away. At the very top of the page, customers will find the usual area for purchasing gift certificates, their account information, wishlists, and shopping cart. Directly underneath that in green, we listed the store's two big unique selling points – fast shipping and 30 days free returns. Next comes the menu with the Loggerhead Cases logo, a large image depicting the different types of phone cases one can find in the store, and click buttons for the different types of cases or accessories. This makes it easy for a customer landing on the site to go exactly where they need to within moments of landing on the page.
The sidebar helps to direct this custom Bigcommerce site's customers
To make sure that customers are directed to the categories they wish to explore, we also created a sidebar menu. When a customer clicks on the category buttons either in the header or one of the categories in the sidebar, they are directed to a page where they can make further sidebar selections to narrow down their choices. This helps customers to find exactly those products for which they are searching. In the landing page sidebar, we also created a space where customers could sign up for the store newsletter and where further unique selling points could be listed.
Boost sales with featured items and new products template boxes
It was important to us that we help Loggerhead Cases increase their bottom line and encourage customers to come back over and over again. Thus, we created both featured items and new products areas. This way, our client can highlight the various items that are on sale, of particular interest to their potential customers, or new. By doing this, it encourages even customers who have already made a purchase from Loggerhead Cases to come back and make another purchase.
The site's footer helps really take this Bigcommerce site home
We wanted customers to be able to navigate the site no matter what page they are navigating from. Thus, we ensured that the footer is viewable on all pages of the store. On listing pages, just above the footer we have a section where products that are recommended based upon viewing history appear. The footer was created using the same blue from the Loggerhead Cases' logo. We then listed out different links to pages: further info, categories, popular brands, your account, and get social. This allows customers to find the information and products they're looking for- no matter from where they navigate.
Let OCDesignsonline create a custom Bigcommerce site for your store
At OCDesignsonline, we have a wide array of Bigcommerce templates from which to choose. When you're looking to increase your sales revenue, browse our portfolio and request a free quote. We can also be found on your favorite social media networks: Facebook, Twitter and Google+!