Who doesn't love to feel pampered? We head to salons to have our hair done, our nails painted, and our eyebrows waxed. When Australian salon product distributor, Salon Mega Mall approached OCDesignsonline for help with their custom eBay page, we were happy to help. We wanted to create a site that would help salon owners and those looking for salon-quality products at a great price.
We wanted to keep glamour in the site, so we used the high contrast black and white with grayscale images that signify class and glamor. We wanted to keep the font similar to the font used in Salon Mega Mall's Logo, so we went with that, and we kept edges sharp and crisp. We were really happy with the result.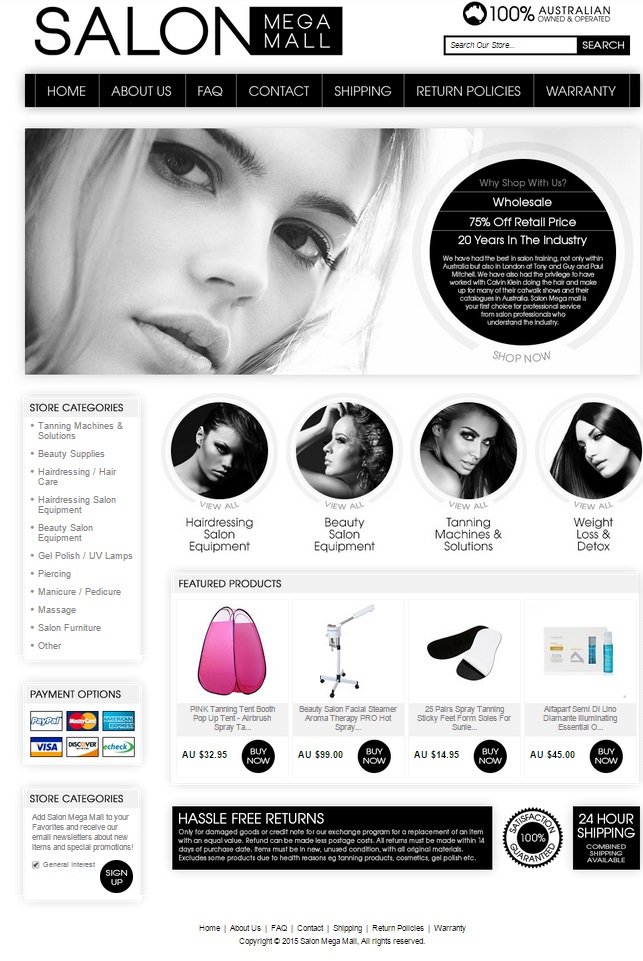 Our high-style header draws in customers
We wanted to create a high-impact impression for customers arriving at the site. The heading bar is black with white font and all-caps. Customers can easily read the menu options so that they can find what they are looking for. We used an image of a beautiful woman with great skin and eyes adjacent to the store's unique selling points. We put the selling points in a circle, and made the whole banner clickable. It was important to us that our client's website would draw people in, and that it would be clear that they were selling salon supplies and beauty products.
Categories and custom eBay store category pages
We used a clickable black and white image – also using a circle template – for each of the categories available on our client's site. When we create custom eBay stores for our clients, we like to make sure that prospective customers can find what they are looking for – both through search functions and on the website. When we created pages for Salon Mega Mall, we also made each of their category pages according to our templates. We kept the same header on each page, and we ensured that each category page had the same high-contrast feel to it as the custom store page has.
We also created custom eBay listing templates
At the bottom of the custom eBay storefront we created for Salon Mega Mall, you'll notice that we created a special area for our clients to feature items. When customers click on items they wish to view, they will land on a custom listing page for each item. On the custom page we put together for our Australian client, we kept the very top of the header (the logo and the menu bar) and used the same font we'd used throughout the rest of the custom store. At the bottom of the listing, we included information about Salon Mega Mall's return policy and shipping policy.
We can create a custom eBay page and listing template for your online store
When you're looking for someone to primp your eBay store and help you get more customers, OCDesignsonline can help. We have many listing templates to choose from on our site. When you're ready, please browse our portfolio and when you see something you like, don't be afraid to request a free quote. Also, don't forget to find us on Facebook, follow us on Twitter, and Google+!