Peanuts, hot dogs, Cracker Jacks – these are all things we associate with baseball and softball. Quality equipment is necessary for the sports. When Softball Bat Club approached us for help in creating a custom eBay store for them, we at OCDesignsonline were happy to help. We think we hit this one out of the park.
As we do with each of our clients, we wanted to be sure that we were keeping with the theme of our client's business – in this case, vendor of softball bats. Because of this, we used stadium seats as the background image for the whole store. We took the red, white, and black from the business's logo and we carried that through their entire site.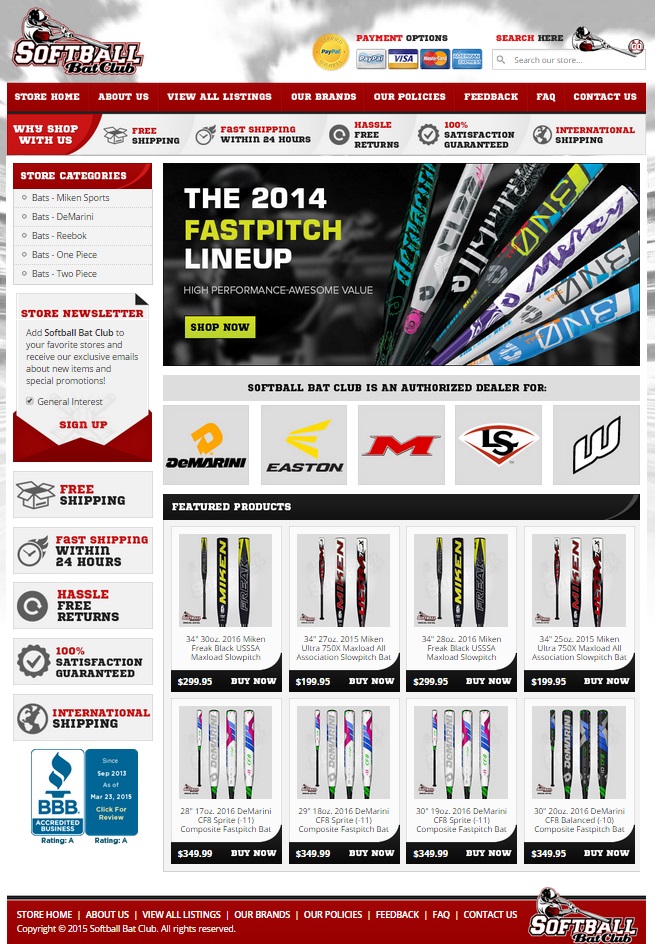 We highlight Softball Bat Club's USPs in the header
We wanted customers to be able to identify exactly what makes Softball Bat Club unique when compared with other bat supply stores on eBay. Thus, in the header, we listed out each unique selling point the store has – free shipping, international shipping, and hassle free returns. We also included information in the drop down menu at the top to ensure that each customer visiting the site can find the information he or she is looking for before making a purchase from our client.
We make sure our client doesn't strike out
We used the image of baseball bats and the verbiage, "The 2014 Fastpitch Lineup" to help draw customers into the site. When a customer clicks on the image, they can view all listed items in all categories. Underneath the bat, we used each brand name bat maker's logo to help customers select the category they are searching for when visiting the site.
Featured products in this custom eBay store
We made it easy for customers to see what's new, on sale, or of interest when visiting Softball Bat Club. We included a two row featured products section, so that our client could list softball bats of particular interest to their customers. By listing out featured items, it helps entice customers to click and make a purchase.
Even the sidebar works hard for our client
We made use of every inch of space on the site. On the left-hand sidebar, we listed out the various categories of bats that our client sells. Under that is a place for customers to sign up for a newsletter, a second listing of unique selling points, and a Better Business Bureau banner displaying the client's A rating with them. We also customized the site's search bar – the baseball contains the word "go," which provides a nice touch for this custom eBay store.
Let us give you a ballpark figure for your custom eBay storefront
At OCDesignsonline, we complete quality work for a great price. If you need a custom eBay store for your products, don't wait. We're here to help. We have a variety of eBay listing templates to choose from. Browse our portfolio and request a free quote for your project. For more ideas each business day, follow us on Facebook, follow us on Twitter and check out our Google+ Page too!