What do chicken cordon bleu, a Caesar salad, and a deli sandwich all have in common with one another? Outside of the fact that these all taste delicious, particularly when prepared well, these are all things made using restaurant equipment. Restaurant equipment supply shops, particularly those offering equipment at discount prices, are the foundation of our fine dining experiences. When JK Restaurant Equipment approached us for a new custom eBay storefront design, we were happy to help. At OCDesignsonline, we enjoy helping other businesses to get their products and services to those who can most benefit from them.
From commercial faucets to stainless steel shelves and from kitchen worktables to dishwasher trays, JK Restaurant Equipment offers everything a new or existing restaurant may need. We took their logo, worked in green and wove the color throughout the storefront. We kept things simple, and we accented the green with white and a silver-gray, the color of many of the products offered by this online retailer.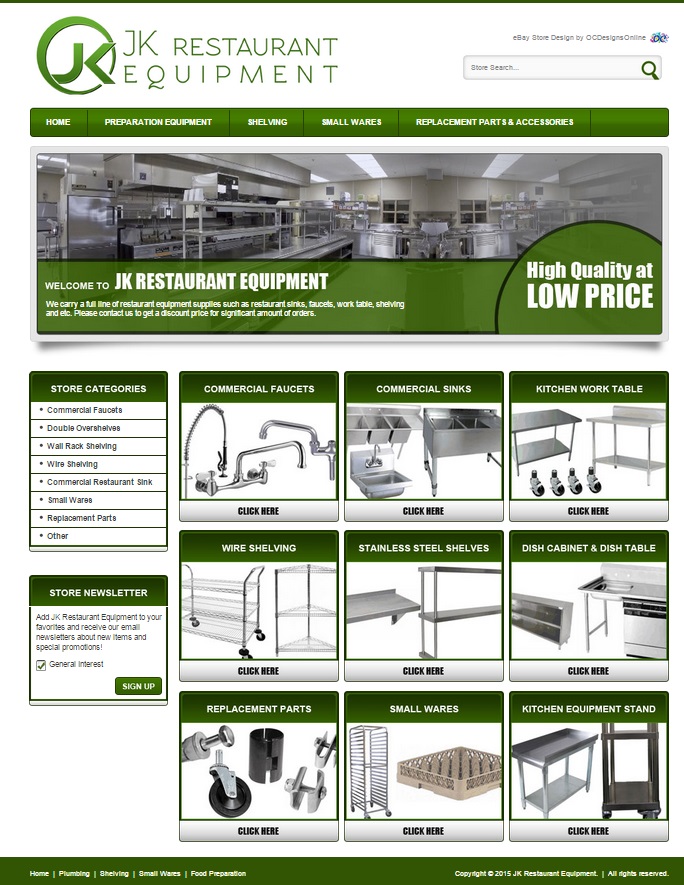 We kept everything streamlined and clean
Restaurant counters need to be streamlined and clean, why shouldn't a site featuring kitchen equipment share the same features? We wanted to keep with the theme of the custom eBay store's products our client offers, so we kept things simple. We used a white background so that the stainless steel and green accent colors would pop, drawing customers further into the site to browse or search for their needed items.
"High Quality at a Low Price"
Isn't this what customers want most when shopping for restaurant equipment? We wanted to highlight this unique selling point, and so we think juxtaposed next to a crisp restaurant kitchen and prep area, it really shines. Our client really wants customers to be able to afford quality equipment at a reasonable price. The header allows customers to browse JK Restaurant Equipment's seller policies.
Easy to navigate buttons on this custom eBay storefront
Customers can find what they're looking for quickly and easily. We ensured that there was an example of at least two products for each category depicted on the buttons. We also included a category list in the sidebar, so that even on the category pages for this eBay store, customers can easily navigate the site.
We also created custom eBay listing pages
We wanted our client to have consistent branding throughout all eBay listings, so we created a custom listing template. This way, when their customers scroll down, they wil see the company logo, the product for sale, and details about the product in the same color scheme as is found throughout the rest of the client's store.
Contact us today to have us set up and design a custom eBay storefront and listing template that meets your needs
We want to help you get more customers visiting your eBay store and staying in the store to browse. We offer a large variety of  eBay listing templates to choose from on the site. Please take a moment to browse other work in  our portfolio and request a free quote when you find a look you like. Meanwhile, please "like" us on  Facebook, follow us on Twitter and check out our Google+ Page for regular updates showing examples of our work!