Today on the blog, we wanted to share with you an attractive design we created for Speedcrete Construction Tools on eBay. This design features a bold use of red in the category images, a custom eBay listing template, and more. Stay tuned for the design story below, as well as some other designs you may want to see from the OCDesignsonline team.
Speedcrete's design encourages browsing with smart color choices
The majority of the store is a simple combination of black and white, which provides a clean, clear look for the storefront as a whole. However, select portions of the storefront are colored red such as: store categories, store newsletter, a selection of car parts, and more. The use of the red coloring for the most important sections of the storefront helps draw the eye of shoppers and encourages more browsing and clicking throughout this eBay design.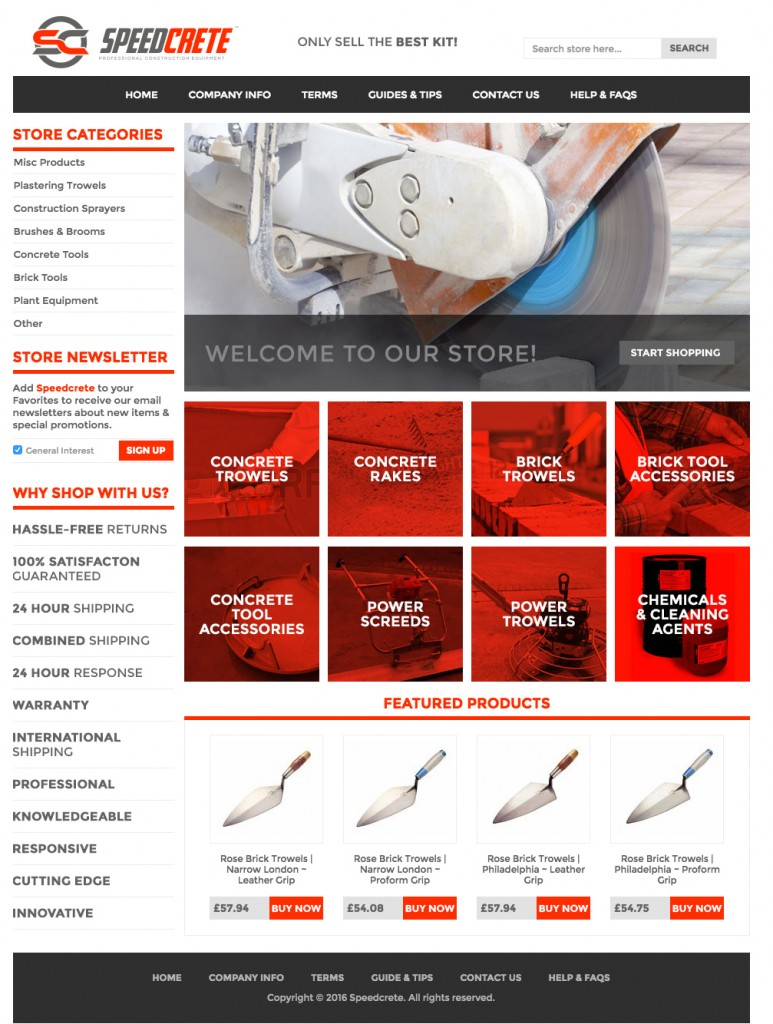 Tucked away neatly in the lower left side of the storefront is a section revealing what customers can expect from Speedcrete. These include assurances of hassle-free returns, 100% satisfaction guaranteed, 24 hour shipping, 24 hour response, and more. The choice of highlighting these features and presenting them in a clear manner, while not explicitly throwing them in the customers faces add value and credibility to the storefront as a whole, making the store more trustworthy to shoppers.
Then, the custom listing template brings in more shoppers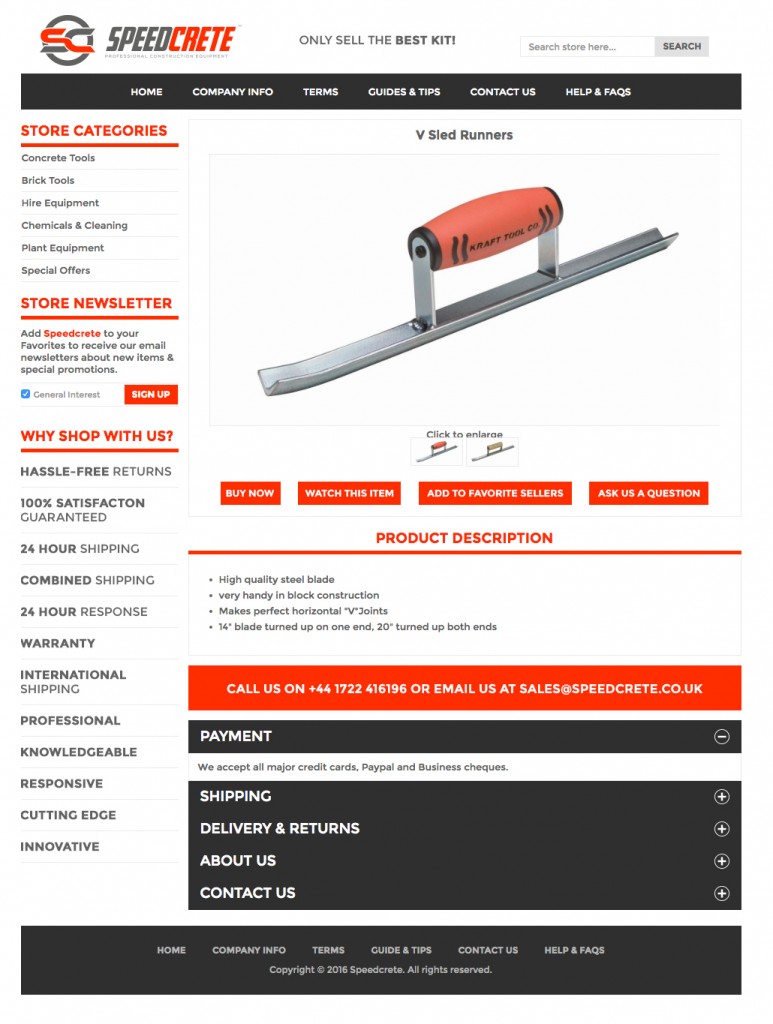 A main component of eBay shopping is searching for products across all storefronts, not just our clients. However, if someone finds our client through eBay search then they are more likely to check out their storefront as well because of the custom eBay listing HTML template we created for Speedcrete. This template matches the storefront, bringing a cohesive brand look and sharing a professionalism that stores on eBay need to share. It all helps products sell more.
If you want an eBay design that helps you impress customers at first glance, sell more products, and helps you reach your eCommerce goals than you need to contact the OCDesignsonline team for a free quote as soon as possible.
Here are some of the recent designs and articles created by our team that you may want to explore:
Request a free quote now to get started
OCDesignsonline has a large portfolio of clients, spanning several years and platforms, so browse our portfolio to get a feel of our quality of work and then request your free website design quote to see what we can do for you. Don't forget to also follow us on our social media accounts: Facebook, Twitter, Google+, and Pinterest for more updates.