In commercial and print ads for clothing the models always seem to love the camera. Dresses always drape over the body nicely and light fabrics flutter in the wind. Vibrant colors radiate from the floral and tropical patterns making every outfit a joy to wear. It's at LookBook Store that ladies can steal the look from the advertisement and bring the fashion to life! The clothing shop wanted a stylish, easy-to-skim eBay store design and found it at OC Designs Online. With over thousands of eBay templates the fashion forward Australia eBay store found a design that fit like a charm.

The white and pink header of this Australia eBay shop design is delicate and soft. The store name is broadcast in a fun font in the top left hand corner of the storefront. Below the store name is a delicate pink panel with different clothing categories listed in a black font. Each clothing category tab is a direct link to browse that specific area of the Australia eBay store. A search tab can be found in the right hand corner. It's this tab that allows online shoppers to browse the store for products and policies. If they're having any doubts they can look right below the tab and see a satisfaction guarantee from Lookbook Store. They're sure you'll be satisfied with your new outfit!

The midsection of this eBay store design puts a crochet pearls dress in the spotlight. The model clutches her bag that completes her ensemble with a soft green background. The delicate pinks in her dress match the pink in the top panel keeping a soft feel throughout the storefront. Directly to the left is a vertical grey panel hosting store category tabs. This section includes direct access to new inventory, dresses and even clearance items within the shop! If customers have no direction and just want to browse the store they can start by clicking the "Shop Now" tab in the middle of the main picture. No matter what tab is clicked customers will be on their way to turning heads and looking drop dead gorgeous in Lookbook Store apparel.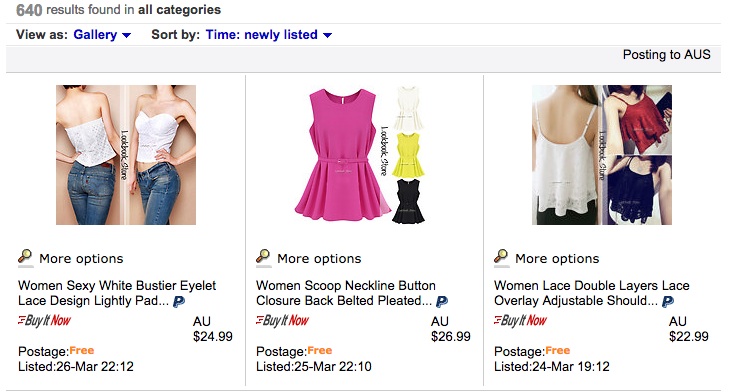 The remainder of this Australia eBay shop design is dedicated so all the items listed in the shop! Each tab has a picture of the item, a brief description and an option to "Buy It Now" through the eBay store. The fact that postage is free will make most scream with glee.
Take some time to browse our portfolio of classic stylish designs, and then request a free quote. Don't forget to find us on Facebook, follow us on Twitter and check out our Google+ Page too!