A collaboration between percussion retailer, Mass Music, and OC Designs Online has resulted in a captivating eBay store design for online shoppers.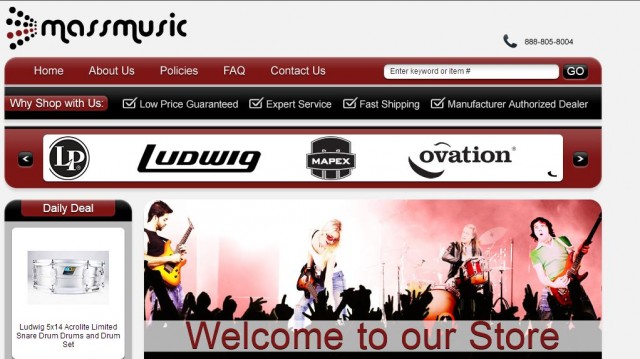 The monochromatic look and edgy feel of the storefront alludes to the array of products would-be drum seekers will find within the inventory listings.
Underneath the sleek logo all pertinent company information is listed in tab form including a "policies" and "FAQ" section. Directly below are categorical reasons for customers to feel secure shopping with Mass Music. They highlight the store's promises of expert service and fast shipping among others.
These guarantees are again repeated below the Welcome graphic as larger icons, accompanied by an option for buyers to chat live and address any pressing concerns. This increases the ease with which customers are able to receive answers to questions which could potentially deter or delay their purchases.

The site wastes no time launching into the product lines of well-known names offered in the inventory, and directly below the header employs a fast moving crawler to adequately display the logos of the most recognized percussion brands. For the shopper who may not remember the name of a particular drum kit but recognizes its logo, this is a great way to draw in potential buyers.

At the top left, the site offers another key selling point with a changing "Deal of the Week"

feature. Here, customers can clearly see where they are sure to come upon substantial savings. To further entice buyers to act quickly, there is a countdown alerting customers to the time-sensitive nature of the deal. Here, they are able to clearly see the time left to make their purchases at the reduced rate.
Continuing along the left margins, are advanced search options where buyers are able to enter perimeters specific to their personal criteria. By culling the available inventory by Brand, Instrument, and/or Price shoppers quickly and easily access only those products which fit their particular needs.
Additionally, thanks to their use of clear category links, eBay store templates such as these are particularly effective in helping users navigate the site. For example, underneath the personalized search criteria is a vertical list of Store Categories offering shoppers a second way to locate and purchase their instruments or accessories.
As yet another alternative, a grid of hi-res images that are pleasing to the eye help engage online shoppers with a clean display of these same store categories such as drums and drum sets, cymbals, guitars, and more.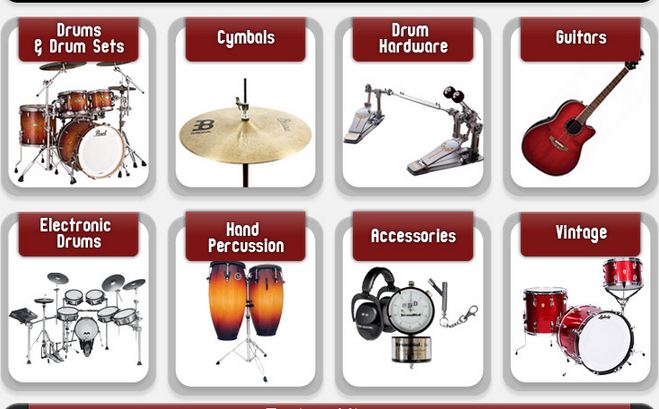 Drifting back to the left side, the Newsletter sign up field ensures your promotional deals and sale items will get noticed by the most interested parties and likely buyers. The panel also clearly indicates acceptable payment methods and international shipping availability, offering shoppers a plethora of choices in which to purchase and receive their merchandise.
Finally, if the buyer still hasn't found a match, they are able to browse the row of eight individual, clickable featured products, all of which are represented by compelling, high-quality graphics of the equipment.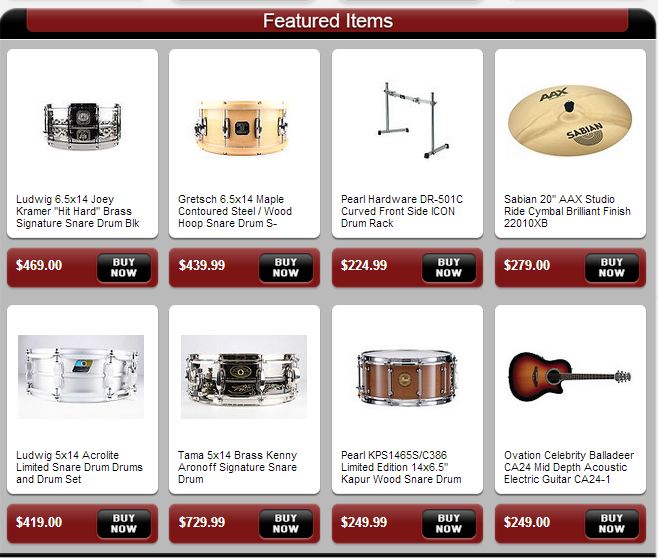 Let OC Designs Online show you what a carefully crafted eBay store design can do to boost your site traffic! We are experts in the template designs guaranteed to grow your online business and we invite you to browse our ever-growing portfolio.
Contact us about your eBay store design—it's easy to request a quote!
We invite you to like us on Facebook and don't forget to follow us on Twitter!