You might think a bait and tackle shop would only be found near a body of water, but Jim's Bait and Tackle is accessible to anyone with an Internet connection.

When this unique online retailer was ready to set up their site, they turned to OC Designs Online to create the perfect nautical themed eBay store design just for them.
When you visit Jim's Bait and Tackle, you almost feel as though you have stepped through the door of a waterfront fishing supply store. The background of this eBay store design features a weathered wood appearance reminiscent of the walls of a brick and mortar bait and tackle shop, or perhaps a favorite family seafood restaurant. The store's logo, featuring a colorful marlin illustration encircled by a wood-framed porthole, is prominently highlighted at the center of the top of the page.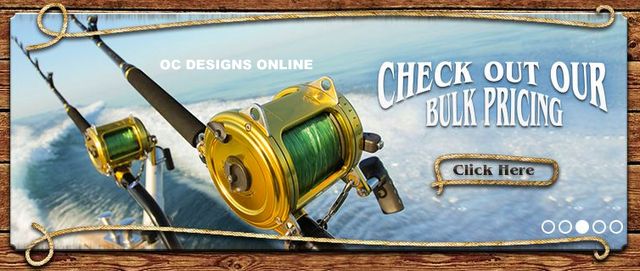 The navigation menu flanks the logo, itself a blue banner surrounded by worn and weather-beaten rope. Customers can use this menu to access the Home, About, Policies and Contact pages from anywhere within the eBay store.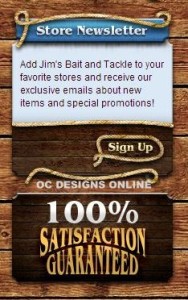 The payment options information and the site search box offset the menu with one on each side. Looking as though they are carved or burned into the wood-paneled background, these objects also feature battered rope embellishments, continuing the integrity of this eBay store design.
A dynamic welcome section cycles through five graphic informational slides, including a start shopping option, details on their free shipping offer and a link to their Deal of the Day page. Clicking on any slide takes shoppers directly to the correlating web page.
The Shop by Category section provides pictorial links to various groupings of the eBay store, such as hooks, reels, lures and tools. The Featured Items section has a similar appearance, but changes to display the products that the seller feels should have special attention.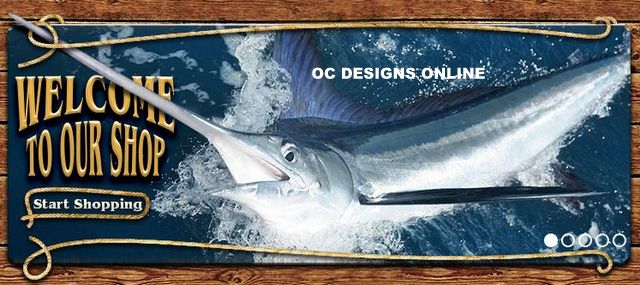 Shoppers will notice the Deal of the Day box on the left side of the page, showing off a special product including its selling price and the remaining purchase time it is available. Clicking on the box takes customers straight to the listing page where they can make a purchase.
The eBay store design continues down the left side of the page with a detailed list of store categories, a store newsletter signup link and a Satisfaction Guarantee image.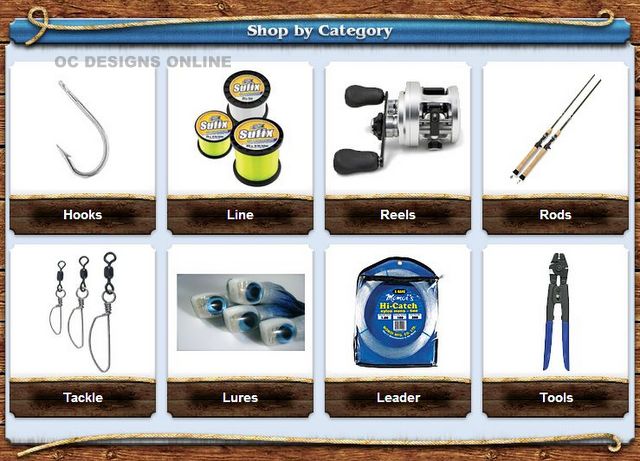 There is nothing fishy about it. OC Designs Online can create a custom, polished, perfectly tailored eBay store design for you, too! Please look through our increasing portfolio of impressive designs and request a quote to learn more.
Don't forget to look us up on Facebook, follow us on Twitter and check us out on Google+.