In 1993, Australian importer JLD Trading acquired a franchise for Mack Boots™ in Australia and New Zealand. The Jeminex Group purchased JLD Trading in 2008, increasing the brand's availability across Australia.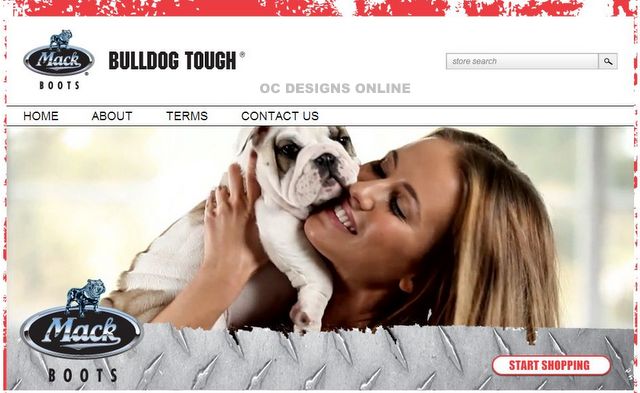 The company decided to make their "bulldog tough" hiking, safety and casual boots available via their eBay store, so they entreated OC Designs Online to create a custom eBay store design for them.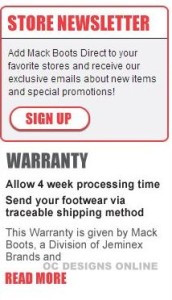 The page design incorporates the renowned Mack bulldog icon with rugged textures and quality images. This eBay store design is unpretentious, presenting the products in a straightforward, professional manner, which is likely to appeal to the hardworking and hard playing folks who are shopping for resilient yet tasteful boots.
The page has a red border, which appears to be weathered and worn. Just inside the top of the border is the Mack Boots logo, featuring the metallic bulldog emblem made famous by Mack trucks. A convenient site search box is parallel to the logo, streamlining the process of searching for a specific item in the store inventory.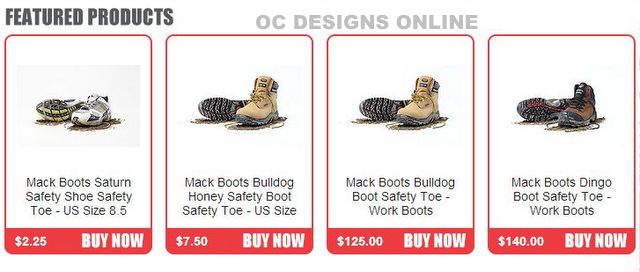 Next is the navigation menu. The Home tab allows shoppers to return to the home page from any site location. The About tab provides insight into the company's history. The Terms tab provides details on the store's commitment to privacy, and the Contact Us tab presents a direct message method for comments or questions.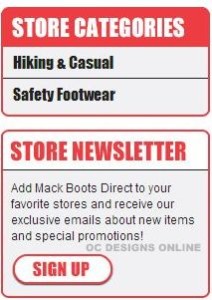 Customers will notice the Start Shopping section immediately. Although an attractive young woman with a dazzling smile adorns the background, it is the darling bulldog puppy she is cuddling that takes center stage. A diamond plate steel graphic tears through the bottom border of the section, and the Mack Boots logo is again prominently displayed. Shoppers can click anywhere on this area to access the store's inventory.
This eBay store design provides order and organization by utilizing a Shop by Category section. Customers can choose from Hiking and Casual, Safety, Non-Safety and Thongs, with each category surrounded by a vivid red box and steel plate background. The categories feature relevant, high-quality images, as well. The Featured Products section duplicates this design.

Whether you want an eBay store design that is tough and rugged, something more delicate and fancy or anywhere in between, OC Designs Online can help. Please look through our increasing portfolio of impressive designs and request a quote to learn more.

Don't forget to look us up on Facebook, follow us on Twitter and find us on Google+ too!