OC Designs Online once again has rejuvenated an ecommerce retailer with an eBay store design that not only stands out—shoppers might think they're not even on eBay! With so many platforms for ecommerce retailers these days, it's important to ensure your eBay store is noticeable and eye-appealing and that's just what we did for Discount Eyewear.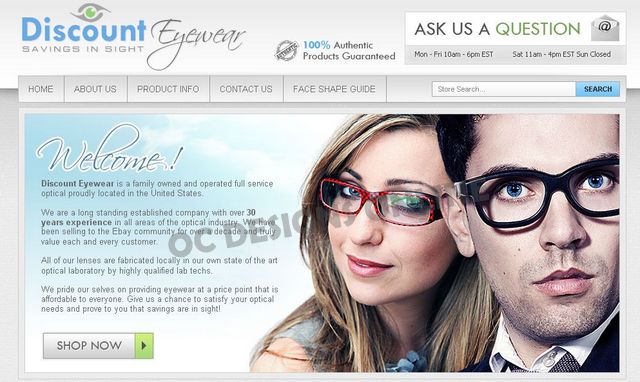 This U.S.-based eyewear eBay retailer calls their store a "full service, one-stop shop for all of your optical needs." And because they offer both designer eyeglasses and sunglasses at discounted price points, it's easier than ever to get the look you've been searching for. Discount Eyewear is not new to eBay—they've been selling on eBay since 2002 but with this fresh eBay store design, their storefront is welcoming and engaging!
At the top of this eBay storefront, we inserted the Discount Eyewear logo and their catchphrase—"Savings in Sight." Shoppers find out right away they only sell 100 percent authentic eyewear and we also included a venue where shoppers can immediately ask this seller a question along with their store hours—a must have to ensure customer comeback visits.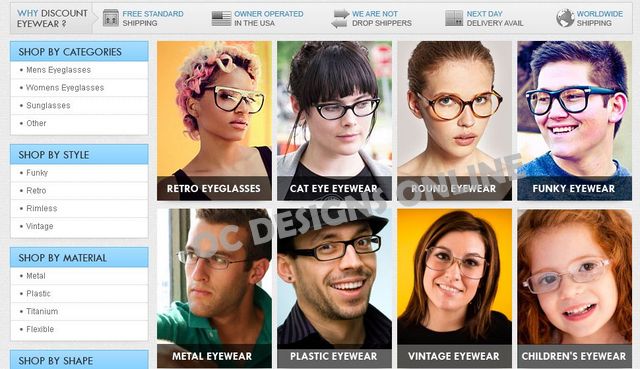 Below that is the top navigation bar where shoppers can search the store, read their about us section, learn about the products they sell, contact the seller and an awesome element, a link to their face shape eyewear guide tool. Next comes their welcome text with exciting and colorful imagery of folks wearing designer glasses and a shop now radio button.
This eBay store design is broken up into neat and helpful sections. Next comes the why buys from Discount Eyewear including that they offer free standard shipping, that they are owned and operated in the USA, a message letting shoppers know they are not drop shippers and that they offer worldwide and next day shipping.
Next comes clickable boxes for the various types of designer eyewear this eBay retailer offers with lots of imagery and the left sidebar offers up neat links so shoppers can shop by category, by style, by material or by shape or colors—all with useful sub-headings.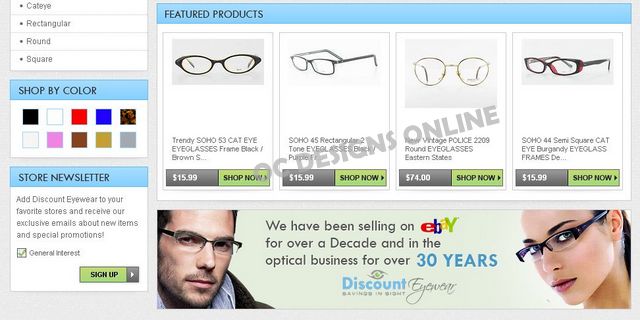 The featured products section is next along with a sidebar tool where shoppers can sign up for the store's newsletter. Sellers also learn they have been selling eyewear for over a decade and have been in the optical field for over 30 years.
Finally, the bottom of this eBay store design offers a listing banner of the designer eyewear brands they carry along with the types of payments they accept. A mini sitemap rounds out this eBay storefront and the repeating bottom logo boosts buyer confidence and helps to build their brand.

No matter what you sell on eBay, at OC Designs Online, we want you to dominate your market niche. That's are our eBay store designs so affordable and we also offer ecommerce store solutions with matching eBay listing templates.
Take your store to the next level and request a quote from OC Designs Online, browse our portfolio where you can visit our store creations live and be sure to visit us on Facebook!