Many ecommerce retailers have taken advantage of OC Designs Online store solutions which includes social media—Facebook page designs! One such retailer, Trailer Hitch USA has done just that with an inviting eBay store design and a way social media followers can also connect to their store offerings via Facebook!
About Facebook Page Design
Social media venues like Facebook and Twitter are all the rage these days. Not only are companies creating their own business Facebook pages, they are also looking for unique designs for their Twitter pages too and are steering clear of those standard or dull template designs—they simply don't help an ecommerce retailer stand out!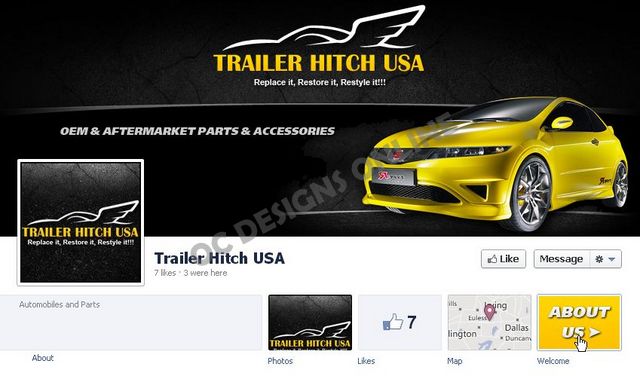 As of August 2012, 66 percent of people surveyed said they prefer to do their shopping online and 77 percent do at least half of all shopping online. When it comes to social media, 47 percent chose to purchase from eBay stores and other retailers who had not just an eBay store but a business Facebook page. Why? These folks say the Facebook page helps to build trust because if they post a question or concern, the eBay retailer is more likely to answer their questions and also interact with them; a sense of true commitment if you will.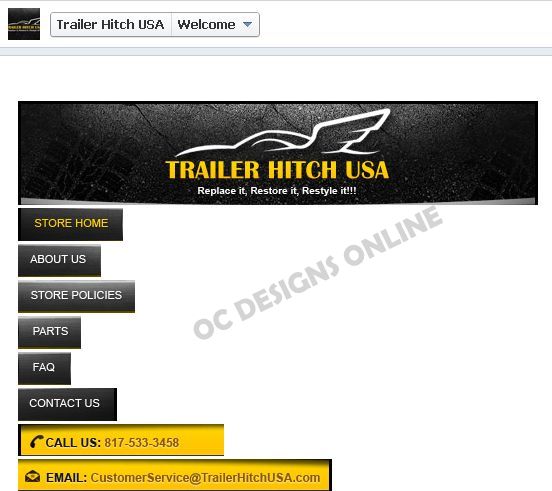 While we know all eBay retailers strive to answer each and every seller question but with a custom Facebook page design, you can increase the chances to engage with online shoppers, help build your brand identity and connect with customers who feel because you are using social media, you're not only an eBay retailer—you're Internet savvy—and that's what online shoppers want these days—they want choices.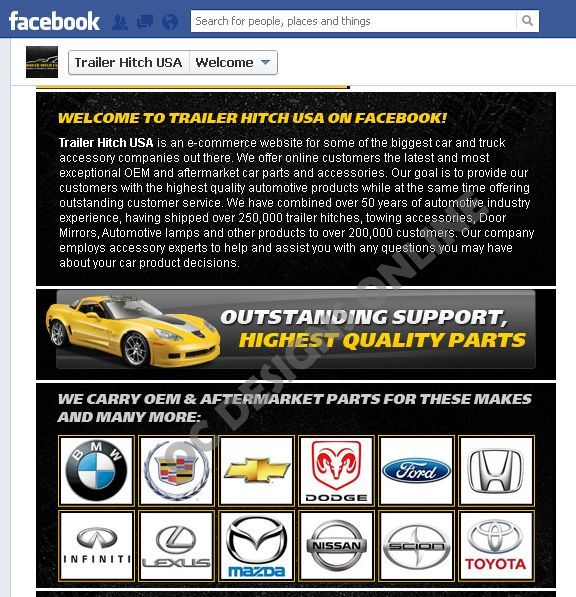 There are rules for selling on Facebook, however. Your main business Facebook page can't actually sell, but if you create a page dedicated to your eBay wares offering links to your store, that's entirely acceptable as far as Facebook goes and at OC Designs Online, we're helping clients drive sales with custom eBay store designs and exciting Facebook page designs to get online shoppers to their store and keep them buying.
With the Facebook page we designed for Trailer Hitch USA, it compliments their eBay store by inserting logos and colors that match their business Facebook page. All shoppers do is click on the Facebook "About Us" yellow tab and they are directed to what Facebook calls a "page" or "pages." Essentially, this page design offers those must-have links to the eBay storefront but also welcome text and a quick line-up of brands and products Trailer Hitch USA sells. Yes, your customers can buy right from Facebook and it's all done with magical (well not so magical) linking!
Online shoppers who find Trailer Hitch USA's Facebook page can quickly browse from the page or enter the eBay store by clicking on "Store Home" which sends the seller to the eBay store—all while still keeping Trailer Hitch USA's Facebook page open. If shoppers first finds products on the eBay store, they will also find a link that easily connects them to Trailer Hitch USA's Facebook business page. It's a win-win all around!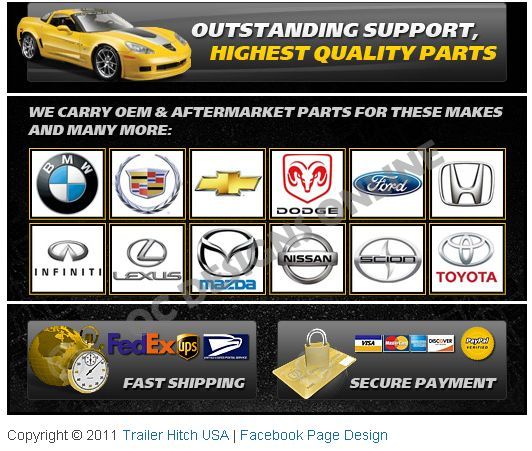 Custom Facebook page creations from OC Designs Online offer more than one venue for ecommerce retailers to attract customers with seamless imagery and corporate colors that help build brand identity. And because 47 percent of online shoppers trust businesses with Facebook pages, the chance of purchases grow quickly and that helps to build a big customer base.
eBay Stores With Imagination
At OC Designs Online, we also offer the most affordable custom eBay store design for ecommerce retailers today—and the more you take advantage of combo offerings such as a Facebook page design and an eBay store design, the more you save!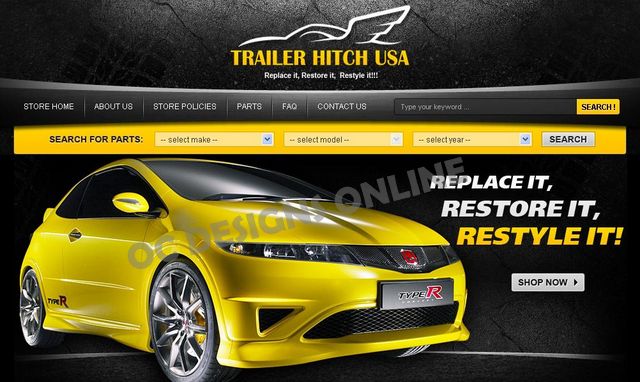 Functionality is the main purpose of a great eBay store design but our designers' imagination makes our stores the most exciting out there today.
First we implement logos and catchphrases—for Trailer Hitch USA—"Replace it. Restore it. Restyle it!" and the same yellow imagery of the Facebook page design. The eBay storefront is transformed into a stunning store that separates itself from their competitors and even offers what auto parts shoppers look for most, a place to quickly find the hitches they need with the ability to search by vehicle make, model and year.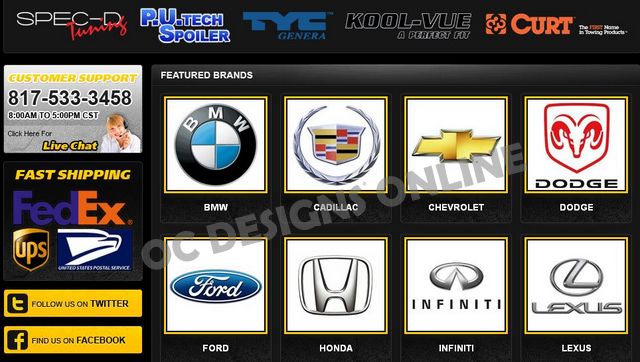 There are also the standard eBay tabs on the top navigation bar so shoppers can learn more about Trailer Hitch USA, learn what their policies are, a search for parts tab and tool, an FAQ section and an easy way for shoppers to contact this eBay retailer. Beneath the striking vehicle imagery comes logos of the top brands they sell.
The next section includes featured brands with clickable boxes and the left sidebar menu offers their toll-free telephone number, fast shipping options, social media tabs (this is where shoppers can link right to their Facebook business page) and of course the types of payments they accept. A featured product section wraps up this eBay storefront.
Combining the Two
It's important for all ecommerce retailers to understand there are many ways to advertise eBay stores or other online stores—no matter what platform you use to sell your products. In these days of Google smart searching, one venue is simply not enough!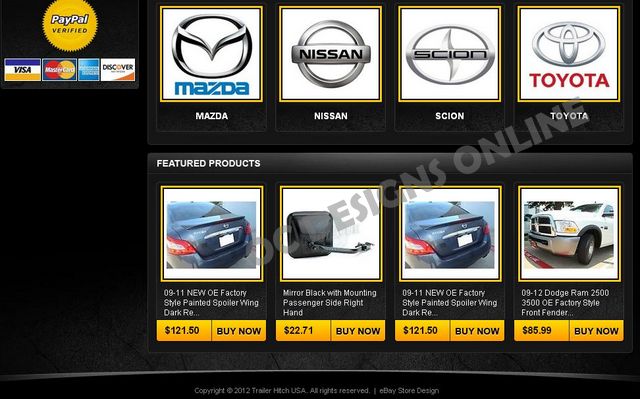 This is why OC Designs Online offers many combo store solutions including eBay store design and custom Facebook page design. We also offer combo store solutions like eBay and Volusion store packages or eBay stores and matching eBay store listing templates.
With so much competition online these days, OC Designs Online makes it easier than ever to compete with your competitors and increase your sales revenues.
Contact us or request a quote to learn what we can do for you as far as combo packages including customizing your Facebook page and turning your eBay store into an inviting and enjoyable online buying experience for all of your shoppers.