Since 2001, Capuccis Closet has had one focus—fashion! Because of their new eBay Store Design courtesy of OC Designs Online, this e-commerce retailer is getting noticed a remains a strong believer in helping folks find the right designer fashions including their personal shopping service.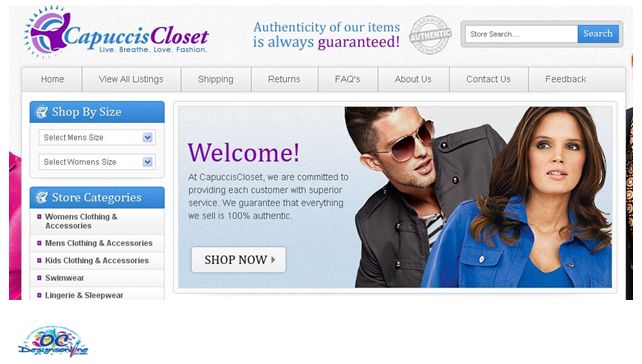 Located in Michigan, Capuccis Closet stocks the brands folks want like Abercrombie and Fitch, Lucky Brand Jeans, Hollister, Joe's Jeans, J Brand Jeans, Polo Ralph Lauren plus much, much more!
With all eBay store templates we design, our focus is on making the merchant stand out with imagery and trust-building page elements—including catchphrases such as Capuccis Closet's catchphrase – "Live. Breathe. Love. Fashion." It was also important because they are an eBay retailer offering designer brands to include at the top of their eBay store all of their fashions are "authentic." We did this by including text and an image on authenticity.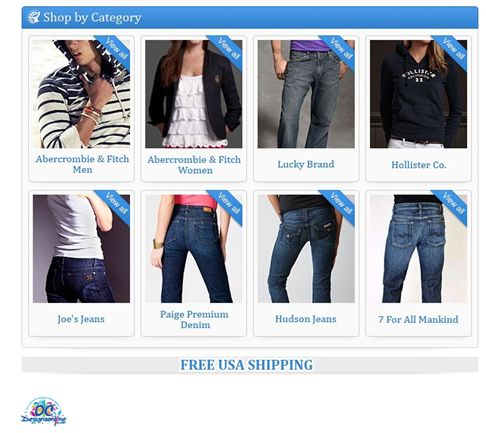 With this eBay store design we offered the must-have top navigation bar where buyers can view all listings, learn about shipping polices, check the retailer's feedback and contact Capuccis Closet. On the side bar to help buyers narrow down choices, we created a shop by men's or women's size drop down tool and underneath that, a listing of all their store categories. The main section of this eBay store design offers click on boxes for buyers to shop by brand and a venue where buyers can sign up for a free Capuccis Closet newsletter. At the bottom, we inserted the types of payments they accept and that they offer free U.S. shipping.
eBay is a competitive world but at OC Designs Online we can help you gain the extra edge you need to find buyers and build a following of repeat clients. If your eBay store is in need of pumping up, check out our eBay store design portfolio page and you'll be convinced to Request an Affordable Quote that will not only boost your sales but build consumer confidence!