Selling jewelry and watches on eBay is pretty common so when Johnnys Diamonds asked OC Designs Online to brighten up their eBay store design to help them get noticed and stand out, we came up with what we think were some pretty cool ideas.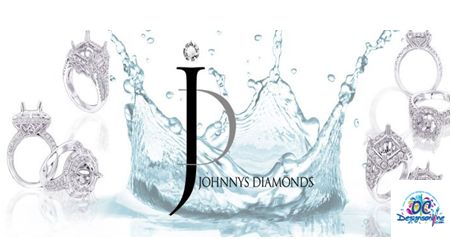 In business for 20 years, Johnnys Diamonds eBay store sells both men's and women's jewelry and watches along with watch bezels and dials. Each of the products they sell comes with a guarantee offered by their parent company, JD Watches.
From engagement rings to timepieces to that special diamond jewelry gift, Johnnys Diamonds eBay storefront design now reflects the imagery they needed to catch the eye of potential eBay buyers—and make them browse the store.
OC Designs started this eBay store template design by adding a large image of Johnnys "sparkling" diamonds along with reasons why buyers should choose their store: "24 Hours Response, 1-Year Warranty and International Shipping"
We kept the top of this eBay store design simple but included the must-haves: PayPal Verified and 100% Satisfaction Guaranteed badges. Also above the diamond imagery we included tab headers including an About Us tab and a Check Our Ratings tab where buyers can read and post feedback.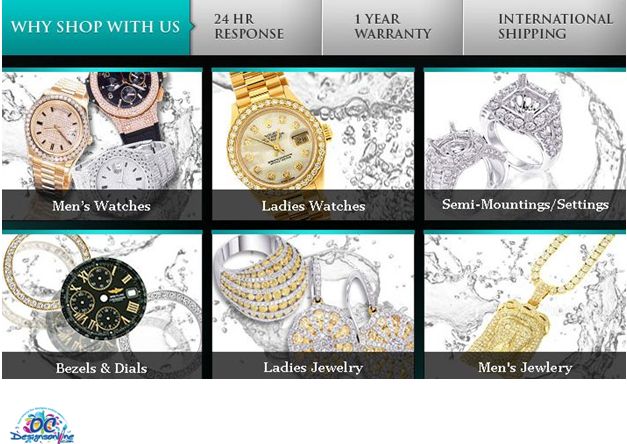 A store category side menu compliments the larger click on category boxes and those interested in staying on top of what's new at Johnnys Diamonds can sign up for a free newsletter. We wrapped up this eBay store design by letting buyers know they offer hassle-free returns and 24-hour shipping.
eBay store designs such as this one offers sellers a chance to list their policies on shipping, returns and how to contact the seller easily. Johnnys Diamonds lists all of these policies under their About Us tab so it's compact and easy to find.
At OC Designs Online, we specialize in eBay store designs so whether you're just getting started as an eBay store owner or need a fresh look to your eBay store template design, simply contact us and we'll be happy to offer you a quote that will fit within your budget. We also invite you to check out our eBay store portfolio web page and don't forget for a limited time, we are giving away one free eBay holiday redesign so head on over to Facebook to enter—the last day to enter is October 10, 2012!