GearXS, a big retailer selling computers, accessories and gadgets recently got a facelift to freshen up their eBay storefront and OC Designs Online is proud to say we were a part of this eBay store design template process.

E-commerce and selling online is a must-do for retailers these days because savvy Internet consumers are using the World Wide Web to find and buy what they need and skipping the long lines at brick and mortar stores.
Located in Niles Illinois, GearXS knew in order to stay competitive they needed to make a presence on eBay where among other things they are known for price-matching and free shipping as well as a safe place to shop online with a privacy policy to boot!
With products from well-known names like Apple to Lenovo to HP to Dell to Logitec, the new eBay storefront now offers two great categories: Featured Items and Ending Soon. A sidebar menu was inserted for easy navigation—just click on the products you're interest in and browse around and you can even sign up for their newsletter to stay on top of specials.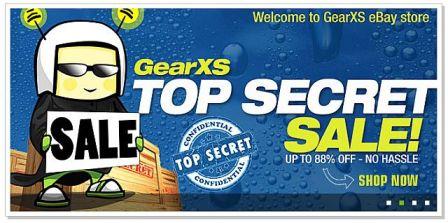 You can also shop their Top Secret Sale with up to 88 percent off, check out their daily deal and read some of their great eBay feedback (a 98.8% positive feedback at that!) Also included in this OC Designs Online eBay store are must-haves like a Contact Us tab, PayPal verified logo and a policy tab for a quick overview of shipping and return policies. Or, for the adventurous, you can choose the "View All Listings" and dive right in and shop.
At OC Designs Online we incorporated their "alien robot" logo and if you scroll down on the eBay store home page, you'll see colorful spaceship images where alien robots carry their GearXS wares in happy joy!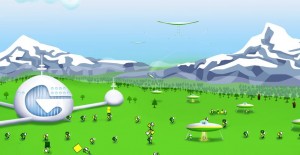 From the images of the GearXS new and polished eBay store seen here, we hope you get an idea of what OC Designs Online can do for your eBay business—even if you're just starting out. Since 2005, OC Designs Online has helping retailers make a dent on eBay with store templates and e-commerce website design. Beyond these offerings, we can also help with Volusion, Zencart, Channeladvisor, Big Commerce, 3dcart and Virtuemart to aid customers in finding the right solutions for their e-commerce needs.
We know GearXS is happy with their new eBay store design and if you are looking to turn your online sales around, let OC Designs Online show you what we can do for you—just click on the Request a Quote tab above and be sure to check our portfolio line-up to gain insight on how we can turn an opaque eBay or e-commerce store into an online smart store with a distinct presence!