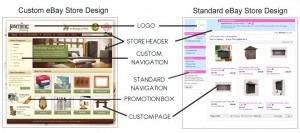 Starting an eBay business can be profitable but to hang there with the "big sellers" your store needs to have a professional look and certain elements to entice people to bid on or buy your products. With eBay ever-evolving it's hard to maneuver all the tools they offer to make your store the best store it can be. It's best to get a head-start by seeking out eBay store designs companies that offer both full store designs along with eBay store templates so you can jump in and start listing your products.
Gaining an Edge
Many sellers on eBay miss the mark because they aren't offering things like a "search the store" tool, unique and attractive designs, PayPal certified logos, live chat and above all professionalism. eBay buyers are smart these days and are skipping brick and mortar stores and instead, opting to purchase from trusted eBay sellers. Even if you've had a store for quite a while and find sales are low, perhaps it's simply because your eBay store design needs a facelift.
This is where OC Designs Online can help because we offer affordable eBay store templates and full eBay store designs at prices so reasonable, even eBay has posted a YouTube video on eBay Advanced Marketing Strategies mentioning OC Designs Online and our affordability—check the video out here!
Spotting a Non-Producing Store

If you browse eBay stores there are a few ways to spot how well the store is doing including:
Visitors – If store listings have a "number of visitors" counter that is low, it probably isn't selling as much as an eBay store designed for optimal sales because it may lack a marketable presence.
Poor Categorization – If you sell watches and jewelry for example, if a potential buyer has to search all of your listings instead of being able to use a tight and easy-to-use menu sidebar of individual categories or brands, expect these buyers to seek out stores that do offer this element.
Marketing – All the eBay store designs and eBay template designs we offer include the must-haves but as the owner of the store, it's up to you to find the very best ways to market your store. Although our expert designs can get you going, you need to optimize your listings with great SEO (search engine optimization) using the right keywords. You can find the right keywords by visiting eBay labs and entering your item name to find competitive keywords or use Google Adwords to find strong keywords to guide buyers to your website.
Poor Images – It's a good idea to review your images and enlarge all of them to ensure even the tiny details can be seen by the buyer. If images are not of high quality, buyers won't bid or hit the "buy it now" button.
Bad Response Time – All eBay stores offer a venue for potential buyers to contact the seller. If you don't respond to these questions quickly, because there are so many eBay stores, you'll lose out to a competitor who is on top of answering queries.
Time for a Better Design

Because we have produced hundreds of eBay store designs and also offer eBay store templates, OC Designs Online understands your store may need a little help getting off the ground. Even if your store has been up a while and you're not seeing the profits you expected it may be the fault of some of the reasons above along with a poorly designed store.
We invite you to take a look at two of the options we offer for eBay sellers:
eBay Store Designs – Here you get the best bang for your buck and this package includes the eBay listing template, eBay storefront design, logo design, video tutorial, a free listing template editor and full store installation.
eBay Template Designs – This package includes a free template editor, no monthly subscription fees, delivery of your original Photoshop file (most eBay store template companies don't offer this), video tutorials to help you list items the right way, custom navigation menu bar and custom header designs. And all of our templates work with most listing platforms like Solid Commerce, Blackhorne and Inkfrog to name a few.
Why Wait?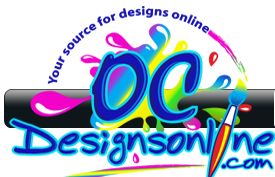 With even eBay mentioning our company, OC Designs Online and its expert team of graphic designers ask you: "What are you waiting for?" If no one finds your eBay store or your eBay store design is too confusing to manipulate, you will lose sales. And, beyond designing your eBay store, if you just can't find the right words to sell your products or wares, we also offer listing writing services to give your listings the extra boost they need to be found with great SEO and keywords.
Turn lackluster sales into profits and compete with the popular stores by asking us how we can help you with fantastic and one-of-a-kind eBay store designs and eBay store templates. Every business whether it's e-commerce or not needs to spend some advertising dollars to gain a customer base and in the eBay arena along with that customer base comes great feedback and positive feedback is your goal.
Don't you agree you'd be more likely to buy from an eBay seller who has it all going for them with awesome designs and positive feedback?
You have to start (or refresh) your store somehow and even the tried and true stores may need a facelift to stay competitive with so many eBay sellers to compete with.
Ready to get started? We thought so! Request a Quote today and if you need more convincing, we invite you to browse our eBay store design portfolio to get an idea on just how incredible your store can be!