OCDesignsonline has the pleasure today to share with you some of the design process behind our recent client, Fine Line Retail. This seller specializes in clothing for both men and women and shares both discounted and brand name items. We took a fun graphic approach with this eBay client so we can't wait to share with you some of the details.
Don't forget to check out designs we have made for similar clients below, as well as details on how you can get a free quote to get started on your new design.
We used a graphic only approach with this client
To show the beauty of the clothing that will be available from our client, we put together a storefront filled with graphic images to represent the categories they will sell once the get all of their merchandise back in stock.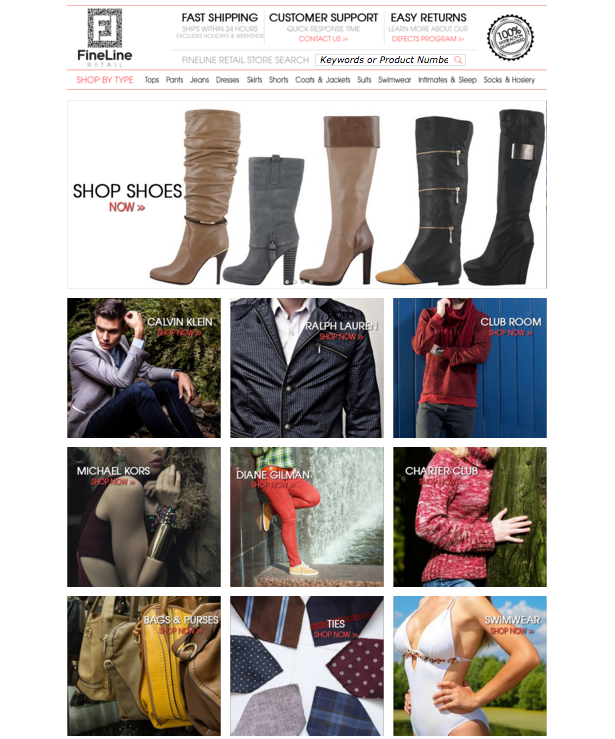 Each square has a similar high quality feel and color palette so that all together these images match, even though they are from multiple brands and stock photo sites. These clickable images all feature a "Shop Now >>" call to action to help encourage customers.
To break up the images, we made sure that the welcome image was a moving slideshow. This helps add more interest to the customer while also providing a place for customers to see advertised sales.
The header helps keep all merchandise organized in a more specific way
Since the images in this design share more about specific brands, we knew it would be important to share items categorized by type in the header so that customers can look for specific products when needed.

Additionally, we shared store guarantees above the header so that customers can learn a little more about who they are shopping with. This helps potential customers feel secure in their shopping decisions online.
Other eBay clothing stores we have designed:
Tell us what you have in mind for your design, or what your store's goals are, and we'll share with you a quote on how much it will cost. We know what works and what doesn't, you aren't just getting a facelift for your store. You are receiving a better performing eBay storefront. Get started now.
Request a free quote now to get started
OCDesignsonline have a wide array of eBay listing templates to choose from on the site. Take a moment to browse our portfolio and request a free quote. Also, don't forget to find us on Facebook, follow us on Twitter and check out our Google+ Page too!