OCDesignsonline has been getting together a big portfolio of successful coin company redesigns. It's exciting to see a niche on eBay reaching out to bring designs to their stores that will create long term sales changes.
Today we are exploring a design we did recently for The Happy Coin. But before we get into that, isn't that a cute eBay name? It's nice to see a friendly named store.
We knew our design for The Happy Coin would have to feature a deep blue. Blue is such a great color for coin sites because it is versatile enough to suit both gold and silver coins. Like we do in many other designs we made a point to mention the categories along the side of the page to help with our client's SEO and listed payment methods to help our client gain the trust of their customers.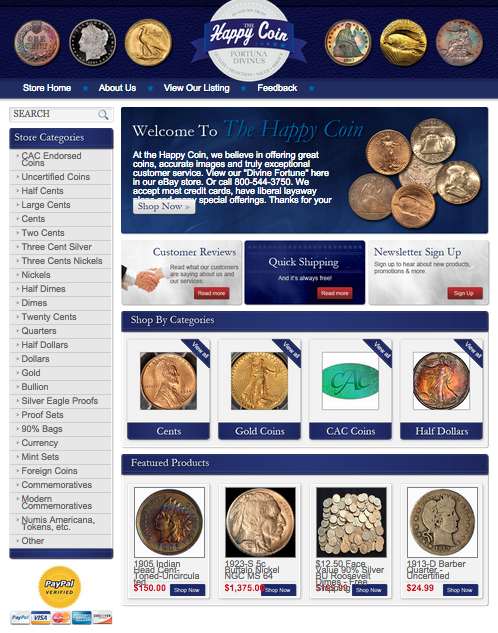 What we did different in this design is we made sure to feature their stellar customer feedback, which is not something every store gets to brag about. This brand also promotes a free shipping policy. Every item ships free and that needed to be emphasized so that The Happy Coin's prospective customers could use this information in their purchase decisions.
The logo we created for The Happy Coin also reminds us of happiness because we created a coin wearing a banner, which we use as a callback to their great service. The additional coins in their header design also share the variety available to those that shop with our client.
In addition to this trust building design, we also created a custom category page for our client with a listing page to impress potential customers
We'll say it again and again. If an eBay store doesn't have a listing page that matches its storefront design, that store is underperforming.
The listing page we created for The Happy Coin features their accreditations as well as a link back to their eBay store and different category pages. This helps our client encourage more browsing and higher product turnaround.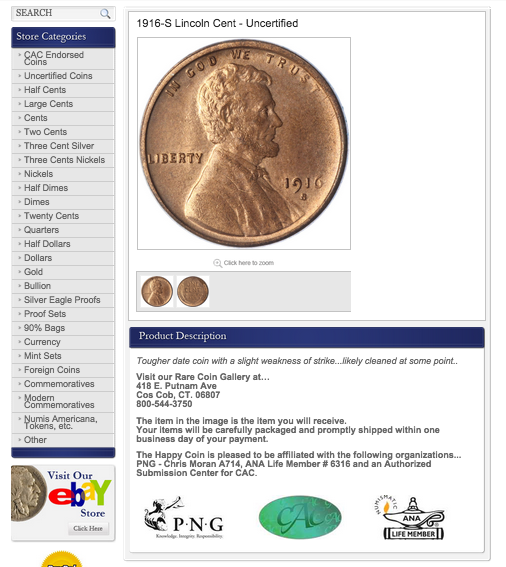 Contact OCDesignsonline for a free quote today on your new eBay design
OCDesignsonline have a wide array of eBay listing templates to choose from on the site. Take a moment to browse our portfolio and request a free quote. Also, don't forget to find us on Facebook, follow us on Twitter and check out our Google+ Page too!