At OCDesignsonline we love giving stores facelifts. There is nothing better than helping a small business owner stand out. We did just that for our client, Diablo Auto Parts.
eBay storefronts create a professional brand for eBay sellers
For Diablo Auto Parts we worked with their name to create a one of a kind storefront design. Their logo is also their mascot, a little devil. Except this little devil is not the stereotypical fire hydrant red, we went with a deeper tonality to keep our client's diablo unique. The head of the diablo works in several different levels as a logo figure but also the diablo has a bat-like body that covers the header and spreads outward into the background.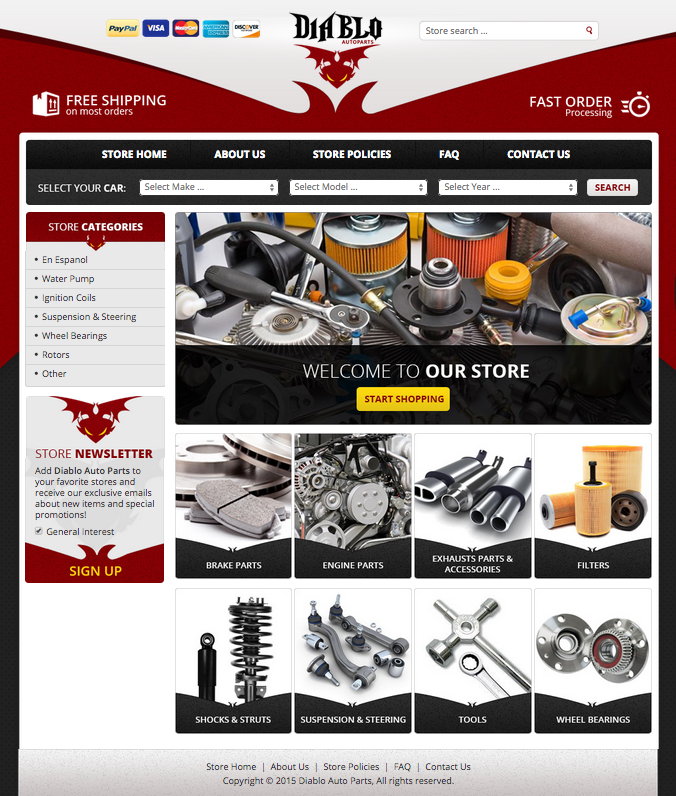 Also in the header we added two important store promotions, that our client's store has fast order processing and free shipping on most orders. This creates a value that our client's customers can see right away, which encourages more sales.
Calls to action and photo categories boost impressions and sales
In the middle of the storefront there is a bright yellow button, "start shopping." Simple commands around a page can make a subtle impact on sales as it encourages people to start browsing right away. Then the category page links beneath this button and also to the side gives customers opportunities to browse specific categories rather than just the shop as a whole.
Overall, this was a fun and creative eBay store design to create and we are happy to say that our client's sales have increased because of it.
Contact OCDesignsonline for a free quote today on your new eBay design
OCDesignsonline have a wide array of eBay listing templates to choose from on the site. Take a moment to browse our portfolio and request a free quote. Also, don't forget to find us on Facebook, follow us on Twitter and check out our Google+ Page too!