Here at OCDesignsonline we love to help create completely customized eBay storefronts for our customers. It is something we take immense pride in because in the design world, it can be easy to be scammed by designers that reuse elements from previous projects to cut costs and time. That is not how we operate.
Today we are sharing with you a totally original eBay design and listing template we created for our client, Fly Motorsports.
It started with a unique header and background
Our client specializes in motorsports machines like motorcycles, snowmobiles, and watercrafts so we wanted to remind his customers about these fun sports just by looking at the header. So we created the logo to look like the dashboard on a motorbike and then created the info pages around it to mimic the throttle and brake mechanisms on the handles of the bike. 
To make this area even more customized, we added the search bar into the logo area and curved it to perfectly fit while also making the winged info page headers turn red when highlighted. It's an exciting menu that the customers of Fly Motorsports are going to remember, which helps increase customer retention and boosts sales.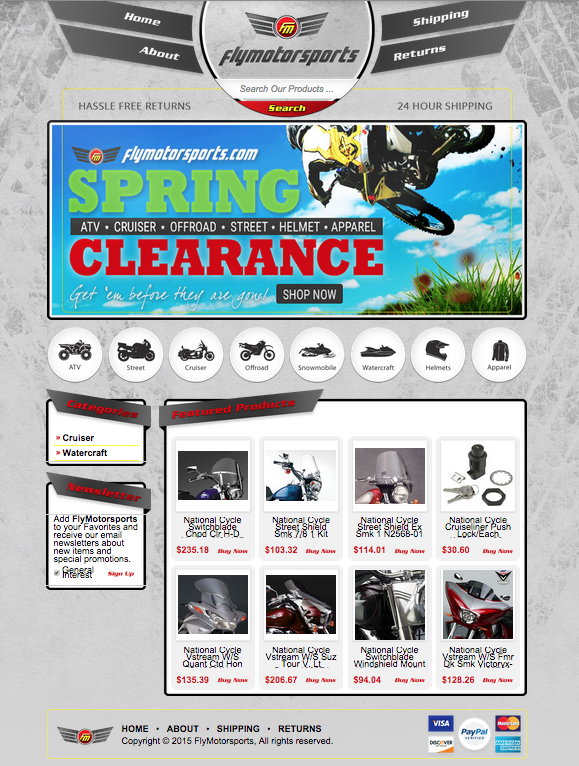 The background of the page is also unique since we made it grey, to mimic concrete, and added skid marks from a motorbike. This really brings some excitement to the page.
Since the header is so elaborate, we made the rest of the page simpler to create the perfect balance
The balance of certain design elements is often overlooked by designers but it is something we feel very passionate about because if done incorrectly, a bad design can throw off a company entirely. Since the custom header we made held so much energy behind it — we knew the rest of the page needed to be calmer. So we created a simple circle design with the different sports machines silhouetted within. This highlights what is important without making the design too cluttered. We then showed a sample of featured products so that our client could rotate certain sales items or seasonal sports merchandise that may not be relevant later in the year.
Last but not least, a custom listing page to boost sales
Time and time again we have told our clients what a huge difference custom listing pages can make in sales. If you have a custom listing page, when someone finds your item for sale through eBay search they will be introduced the the character of your store right away. This creates life long customers.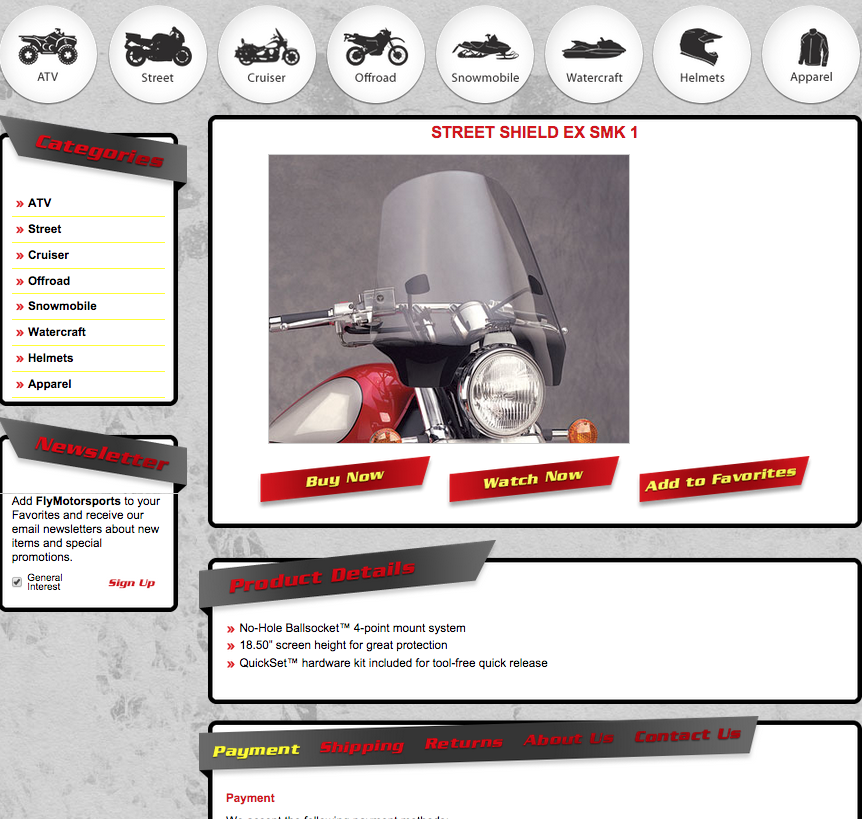 Contact OCDesignsonline for a free quote today on your new eBay design
OCDesignsonline have a wide array of eBay listing templates to choose from on the site. Take a moment to browse our portfolio and request a free quote. Also, don't forget to find us on Facebook, follow us on Twitter and check out our Google+ Page too!