Everyone has to wear them – shoes are a big part of our daily lives. They can make or break an outfit. The right shoes help you stay comfortable all day while looking stylish, the wrong shoes make your feet hurt and can cause you to limp. When My Shoe Stop approached us at OCDesignsonline for help with their new custom eBay shoe store, we were more than happy to oblige.
We started the site, as we always do, by using the theme of the shop and our client's logo as inspiration. We carried the brows from the company logo throughout the entire site, using the color of leather as our inspiration. Many of the bars, borders, and fonts on the site are colors in which leather can be found. This way, the site looks like a cohesive whole, no matter which products our client chooses to feature.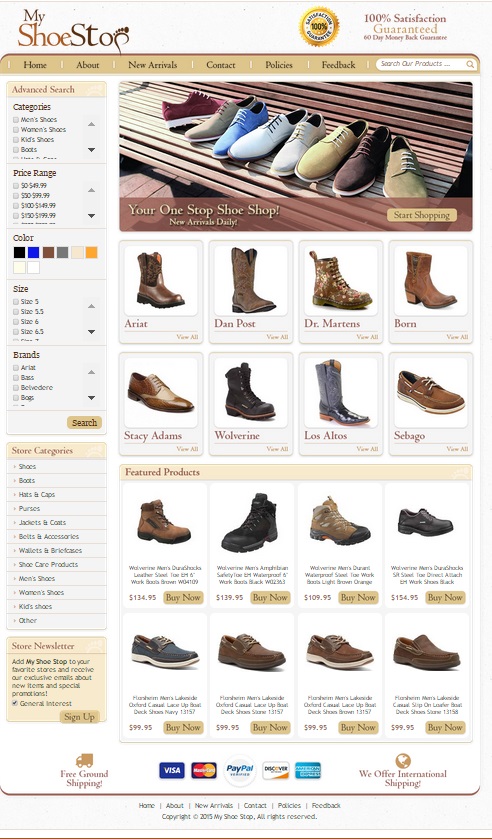 We lead the customer into the site – one foot at a time
We began the site with an eye-catching header. The client's logo and their satisfaction guarantee are at the very top of the page. We followed this with a menu bar featuring the color tan most often found on the soles of shoes. Our client's customers will be easily able to find out about the shop's policies and practices. We also included a search bar, so customers could easily look for desired products. We used an image of several shoes in different colors of suede as our header image to call the customer to attention while browsing the store.
Brand categories direct customers in this custom eBay shoe store
We categorized the page using brands in the center. That way, customers can easily search for their favorite shoe designer's products that our client stocks. We also included advanced search capabilities in the sidebar (we are the only eBay company to do so), making it easy for our client's customers to search for exactly the type, color, and size of shoe they need. By making things this easy to navigate, it makes it easy for our client's customers to go from browsing to purchasing.
Featured products keep customers coming back
Choosing which products to feature on a regular basis can help improve the development of a list of regular customers. It's important to give customers a reason to repeatedly visit a store, and My Shoe Stop does a wonderful job encouraging this. Featured items give customers a chance to see what's new, what's on sale, and what's of particular interest.
We'll help you take your custom eBay shoe store up a notch
Whether you're selling shoes, clothing, jewelry, video games, or anything else, we can help you boost your bottom line. At OCDesignsonline, we have a large variety of eBay listing templates to suit any taste or need. We're sure you'll find something you like when you browse our portfolio. When that happens, request a free quote. Also, don't forget to find us on Facebook, follow us on Twitter and check out our Google+ Page!