True blue. Wisdom. Royalty. Calming. Focusing. What do all of these have in common? They are all traits that have been used to describe sapphires. When we were approached at OCDesignsonline by Sapphire Collection and Saksham Gems to create a brand new eBay jewelry store that would showcase these and other beautiful gemstones, we were more than happy to oblige.
We took the beautiful pattern appearing inside high-quality sapphire stones and we used that in the store's log. We chose to use a black background and white and gold font so that we could really let the gemstones have their moments in the spotlight. We wanted to keep things simple so that the design elements of the site wouldn't compete with the luxurious feeling of the sapphires, diamonds, rubies, and other gemstones our client is offering for sale.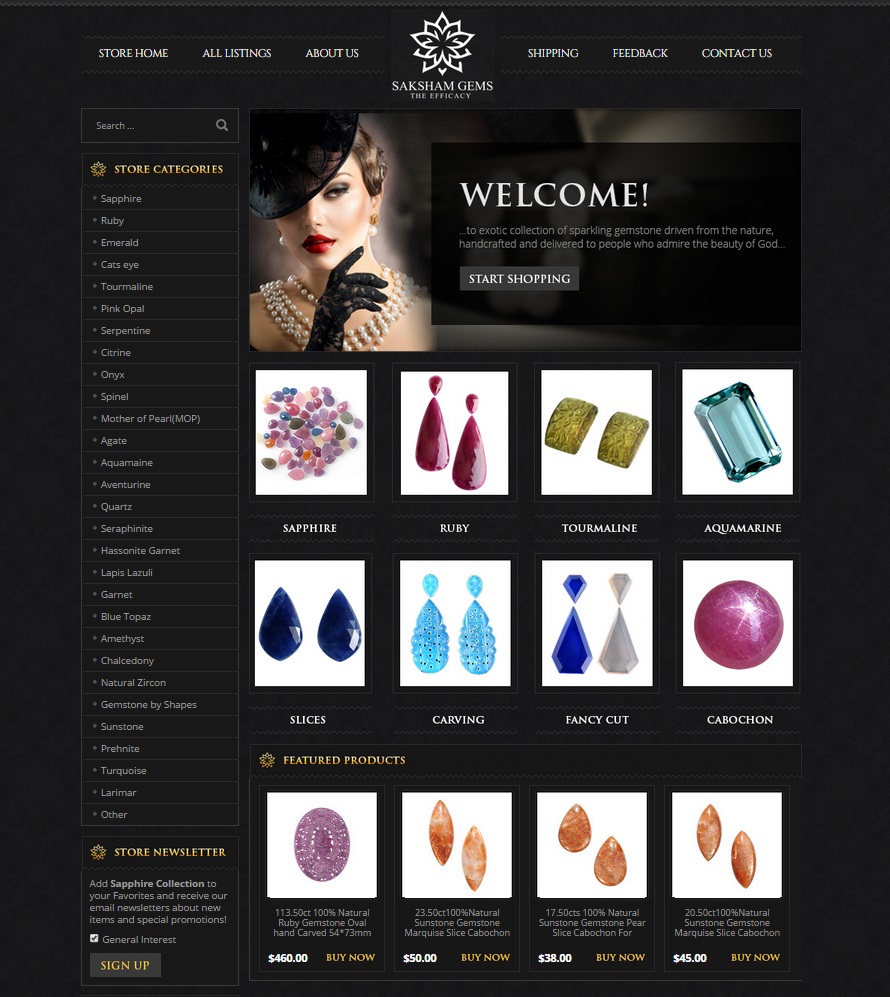 A sparkling header sets the tone for the whole site
We wanted to catch people's attention right away. That's why we paid special attention to how the header of the site would appear to our client's customers. We led the site off with the logo and menu right away. This way, customers can see, immediately upon landing on the site, how elegant this site's products are. We used a glamour shot of a woman with a tipped hat, gloves, and pearls to complete the site's regal feel.
We really want customers to browse this eBay jewelry store
The more customers browse and the longer they stay on this custom eBay jewelry store's site, the more likely they will be to make a purchase. We created custom buttons so that customers could browse by their favorite gemstone. In addition to the image buttons depicting examples of each precious stone, we also listed out categories in the sidebar. All this works together to help drive sales for our client.
Featured items help drive impulse buys for our client's store
We created a space where our client could highlight sale items and gemstones of particular interest for their target customer. By keeping a featured items area up to date, our client can help further drive sales as well as build repeat business. When featured items are changed out regularly, it creates an incentive for customers to keep coming back – time and time again – to see what's new and what's interesting. This is a great way to boost a store's bottom line and drive list-building efforts. By including featured items in a newsletter, our client can also drive traffic to their site.
Let OCDesignsonline help with your custome eBay jewelry store
We want to help you drive your sales and take them from boring to bling! We have many different eBay listing templates from which to choose on our site. Please, take a moment to browse our portfolio. When you're ready, feel free to request a free quote. We're also on Facebook, Twitter and Google+ – be sure to follow us on your favorite social media network for more ideas!