Waxing, shaving, exfoliating, deep-conditioning – all of these activities help women (and men) to look glamorous day in and day out. Who doesn't love to feel pampered on a daily basis? When Super Goods approached us for help with their Australia-based eBay beauty store, OCDesignsonline was happy to help. After all, they help others primp and get photo-ready; we wanted to help primp their site so that it would be customer ready.
We looked to their brightly-colored logo for color inspiration on the site. How fun it is to play with color! We used the different colors included in the logo – hot pink, bright blue, lime green, and sprinklings of red and orange to pull the site together into a cohesive whole. We chose to use photographs of models using the products distributed by Super Goods, so that there would be no confusion as to what kinds of products they carry.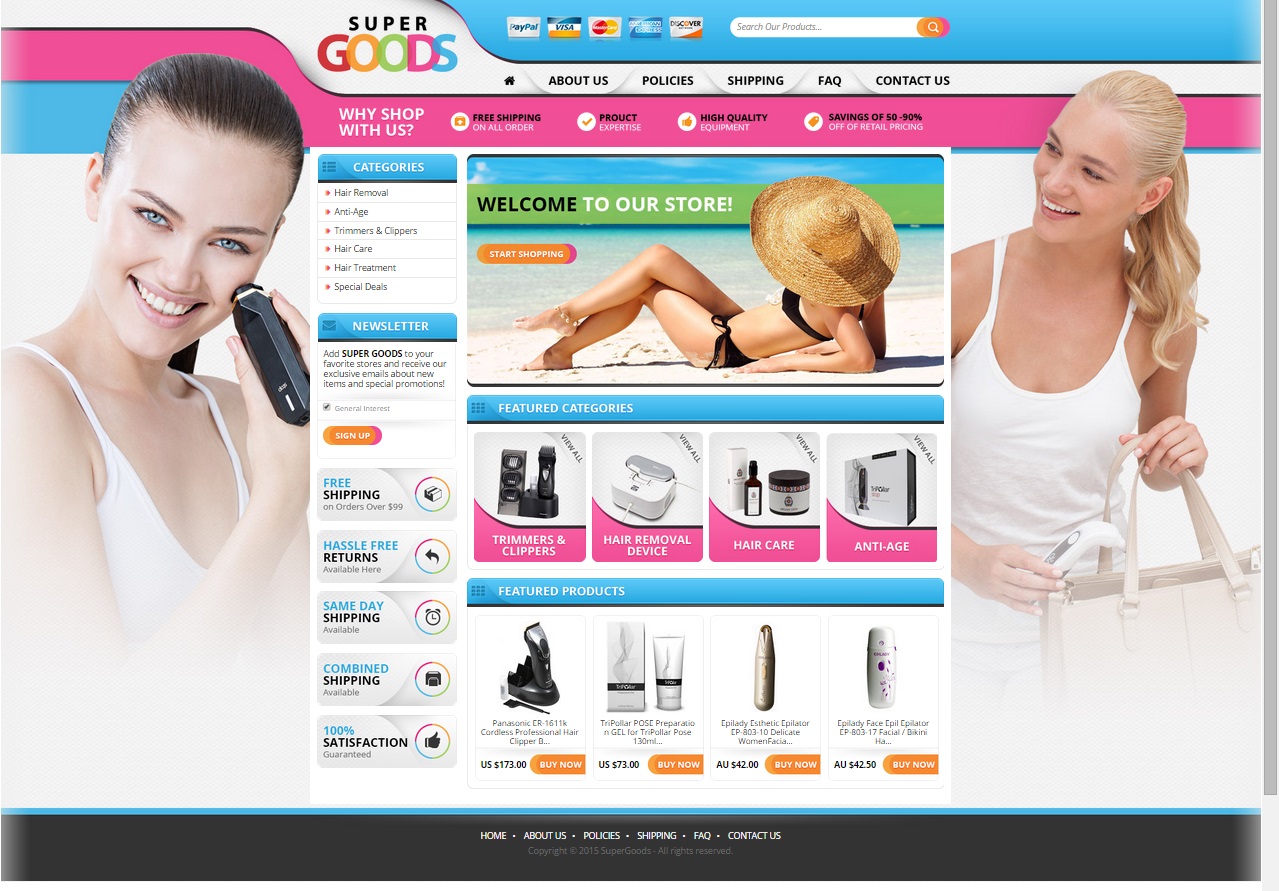 We started at the header and worked our way down
We used the blue and pink in the header, and had the colors curl around a white menu bar and our client's logo. At the very top, customers can see that the store accepts all major credit cards plus PayPal. There is also a search bar available for customers to help them find exactly the product they are looking for. The pink strip contains the company's unique selling points, and holds the answers to the question, "Why shop with us?" The main header image invites customers in by welcoming them and depicting a well-groomed woman enjoying the beach.
Featured categories and products show what this eBay beauty store has
Our client has a variety of products available for sale, but we wanted clients to be able to easily find what they were looking for. We also included a full list of product categories in the left-hand sidebar. The category buttons each have an image of the type of product customers will find in that section. Under featured categories, we created a section for featured products so that our client could display what's new, of special interest, or of particular value to the customers visiting the site.
Custom category pages and listing pages help with brand awareness
We carried the sites theme throughout the custom category pages and listing pages we created. Custom search categories still have the header colors without the header pages – like this one. Customers can still see the unique selling points and find information about shipping and other eBay store policies. Listing pages have detailed information about products, and have buttons at the bottom for featured categories – encouraging further browsing on site.
Contact OCDesignsonline for a free quote on your custom eBay beauty store
Whether you're running your business from the U.S., U.K. or Down Under, we can help create a custom eBay store that will highlight all the products you wish to sell. OCDesignsonline has a wide array of eBay listing templates from which our customers may choose. Please, browse our portfolio and request a free quote when you find something that catches your eye. We are on Facebook, Twitter, and Google+, so don't forget to check us out there and follow us on your favorite social media platform!