It's February 14th and Saint Valentine's Day is celebrated with nice dinners, roses and fine jewelry. Cinema has found some of it's most special moments centered around jewelry. There's the unforgettable scene in Pretty Woman where Richard Gere surprises Julia Roberts with a beautiful necklace. Then there's the time you may have watched the elderly Rose drop the diamond into the ocean in Titanic. Jewelry marks the day for a momentous occasion and although it may be too late to order for Valentine's Day, it's never too late to say, "You're someone special." AYALA Jewelry has a new Nature Collection perfect for this upcoming Spring. With their new collection came a new eBay store design by OC Designs Online. Now, the shop is simple, sleek and ready to help make your next occasion something unforgettable.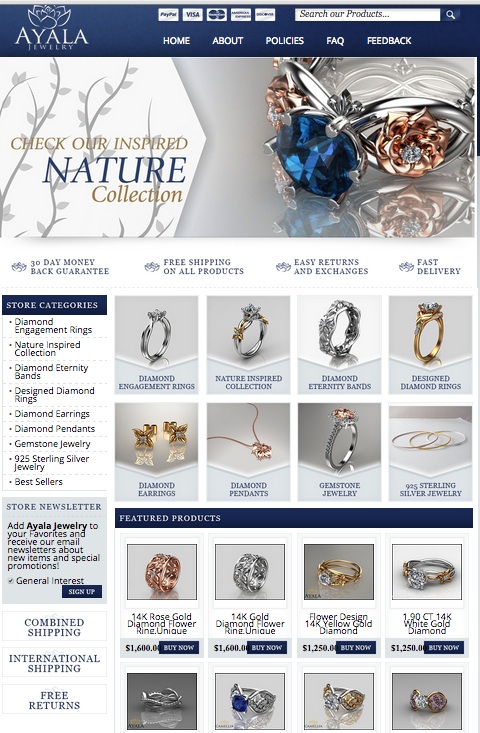 The header of this custom eBay shop design has a simple blue, gold and grey theme to match the store collection. A stunning ring with a blue gem and golden flowers steals the show in the welcome pane. Vines grow up the left hand side of the pane along with a welcome to browse the new Nature Collection. An information panel, custom search tab and visual list of payments accepted at the shop can all be found at the top of the shop!
The midsection of this eBay store design assists in easy shopping with a custom category area. Online shoppers can scroll through both a list and visual format for browsing the shop. The larger, more visual tabs have a category title and a high resolution image to represent the category. Whether it's diamond pendants or designed diamond rings, they're easily accessible through this section of the shop!
The footer of this eBay shop design is customized for showcasing specific items in the store. A beautiful ring with an exquisite floral design and a rose gold ring are two of the featured products at Ayala Jewelry. It's the perfect section to highlight a new collection, introduce customers to something they may overlook, or simply show your store favorites!
OC Designs Online have a variety of unique eBay listing templates that meet your needs as well as the needs of your customers. Take some time to browse our portfolio of dazzling store designs and request a free quote.
Don't forget to find us on Facebook, follow us on Twitter and check out our Google+ Page too!