A room full of colorful, jumbo sized candles, balloons and cake mark the spot for a joyful occasion. Whether it's a Birthday celebration or end of school year final hurrah, the occasion gets started at JJ Express Store! The ecommerce store brings classic "Teenage Mutant Ninja Turtles" to Disney's recently released "Frozen," to life with party favors. Life size balloons and cartoon themed party favor bags add the cherry on top of the sundae to any child's special occasion. JJ Express Store just gussied up their online presence with a custom eBay store design. The graphic designers at OC Design Online added a colorful, upbeat theme to the party favor store!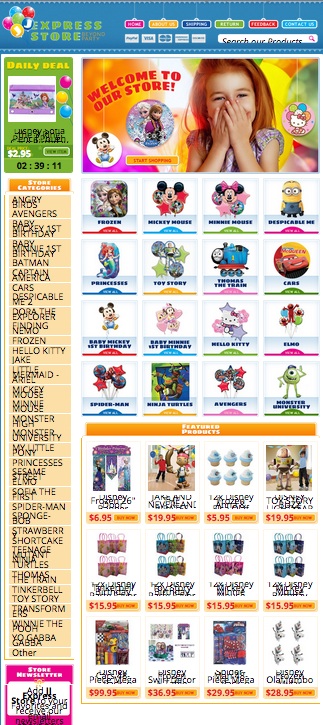 The header of this custom eBay shop design has colors galore! The logo of the store lies in the left hand corner of the site amongst a cluster of balloons. Neighboring to the right of the store name are an assortment of tabs in the same colors of the balloons! Online shoppers can browse over the different tabs to become more familiar with the shop.
The welcome pane brings excitement to children and adults with the Daily Deal tab on the left hand corner of the site. It's here that the store can highlight products with a special sale price for the day. The sense of urgency will have customers clicking the "View Item" tab within seconds of entering the shop.
The midsection of this eBay store design makes shopping by store category a cinch. A category section in list format can be found on the left hand side of the site. However, it's the larger tabs in the center of the shop that typically grab customer attention. Each tab has a category title and an image to represent the category. Thomas the Train and Disney Princesses are just two mentioned above that will be sure to light up a child's eyes!
The footer of this custom eBay shop design has a featured product section to highlight special items in the store. This is an excellent place to showcase new inventory, top party favors and sale items! Each tab holds a picture of the product, a brief description of the item and a price. Checking out with Olaf jumbo balloons is only a Buy Now tab away!
Partner with OC Designs Online for fun eBay listing templates that meet your needs as well as the needs of your customers. Take some time to browse our portfolio of colorful store designs and request a free quote today.
Don't forget to find us on Facebook, follow us on Twitter and check out our Google+ Page too!